Excerpts from Deutsche Bank report

Analysts: Joy Wang & Chien-Fie Man

Where are stocks heading?
Despite the strong performance of the physical residential market, Singapore developers have underperformed over the last month.

We believe that the divergence in performance reflects
1) increased concerns regarding potential government measures in response to rapid ASP growth;
2) increased concerns about uncertainty on the interest rate outlook and
3) lowered risk tolerance as a result of ongoing macro events.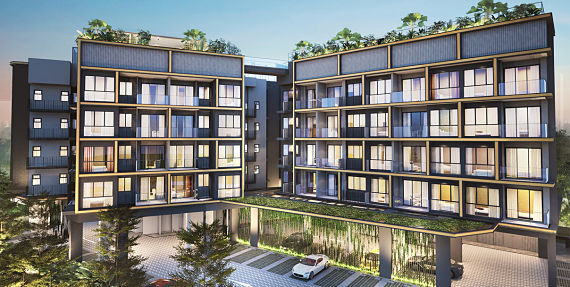 The recently-launched Navian: A freehold six-storey condo in Jalan Eunos by Roxy-Pacific Holdings. Artist's illustrationWhile we think investors could remain uncertain on the developers in the near term, we see a lengthening of the current virtual cycle for the Singapore residential property market.

We also believe that policy measures are unlikely in the near term, especially with HDB re-sale pricing yet to bottom.

Indeed, with the bulk of the en-bloc money yet to be released and existing supply yet to be demolished, we are probably just at the beginning of this cycle.

We reiterate our positive stance on the developers City Developments and UOL Group, our top picks.