When Food Empire started to emerge out of an earnings slump, its CEO bought its shares at 35.2 cents.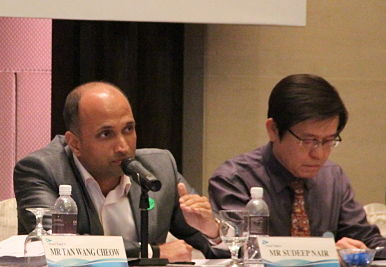 CEO Sudeep Nair at Food Empire's AGM. His 10.33% stake now is worth about S$38 million.
Photo: CompanyThat was in Nov 2016 and his timing has proved pretty good.

Since then, he has made a number of big purchases (see table) and, somewhat surprisingly, he did it again recently.

He bought 1,474,900 shares at 68.5 cents, or nearly 2X as high as when he bought back in Nov 2016.


Food Empire

Share price:
$0.69

Target:
$1.00
His purchase came two trading days after Food Empire said on 19 Jan that it expected to record a pre-tax loss for 4Q2017, mainly due to its exposure of around USD10 million to its associated Korean company, Caffe Bene.

For the full year results, Food Empire expects to report a profit.

RHB Research, in a 19 Jan 2018 report, has a target price of $1.00 for the stock.


Date

No. of shares bought

Average price

Cost

Shareholding
(stake %)

23 Jan 2018

1,474,900

68.5 c

$1,009,892

56,083,499
(10.51%)

15 May 2017

813,800

65.8 c

$535,155

12 May 2017

2,800,000

65.4 c

$1,830,920

2 March 2017

3,175,800

58.2 c

$1,847,680

1 March
2017

824,200

56.5 c

$465,591

22 Nov 2016

2,500,000

43.2 c

$1,080,000

16 Nov 2016

2,500,000

41.7 c

$1,042,250

15 Nov 2016

1,350,000

40.3 c

$544,185

14 Nov 2016

1,558,400

35.2 c

$548,713

For more on the CEO, see: Getting to know SUDEEP NAIR, the new CEO of Food Empire