Oxley Holdings, instead of winding down in the last month of the year, is seeing a very strong newsflow.


Oxley Holdings

Share price:
62 c

Target:
74.3 c

Source: UOB Kay Hian
♦ 1 Dec: Oxley announced that its stock has been included in the FTSE ST Large & Mid Cap Index and the FTSE ST Mid Cap Index. (By the way, year to date, Oxley's share price has risen about 59% -- from 39 cents to 62 cents).

♦ 6 Dec: Oxley demonstrated a continued appetite for United Engineers, buying another 458,400 of its shares for about $1.2 million. This raised Oxley's stake to 15.02%, which has a current market value of about $250 million.

Oxley obviously sees a gem -- probably unpolished -- in United Engineers, having rapidly accumulated its stake after emerging as a substantial shareholder (more than 5% stake) only about 4 months ago (Aug 2017).

♦

8 Dec:
It held a soft opening of its second hotel in Singapore, the Mercure Singapore on Stevens. At an adjacent spot, Oxley had opened its doors in Oct 2017 to its Novotel Singapore on Stevens. Both hotels sit on the site of the former The Pines Country Club.
(A quick online check showed that room rates at both hotels start below S$200 a night for Dec 2017 bookings.)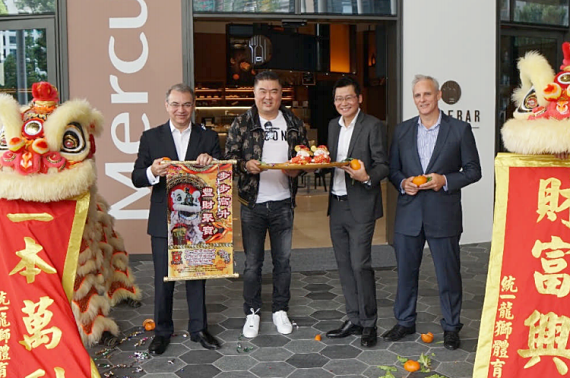 Celebrating the opening of Mercure Singapore on Stevens: Ching Chiat Kwong, Executive Chairman and CEO of Oxley (second from left), with Eric Low, Deputy CEO of Oxley (third from left). Photo: Company
Stock price

62 c

52-week range

39-68 c

PE

7.8X

Market cap

S$2.0 b

Shares outstanding

3.24 billion

Dividend
yield

2.2%

Source: Bloomberg
♦ 12 Dec: Oxley said it had bought all eight apartments in a low-rise development at 21, Meyappa Chettiar Road, in the Upper Serangoon Road area. The consideration is S$21.53 million.

The purchase bumps up a bit Oxley's already massive landbank with projects expected to be launched from 1H2018.

Oxley intends to redevelop the freehold site at Meyappa Chettiar which spans 898.1 square metres and is zoned for residential use.

So, in these last few days of December, will there be even more newsflow from Oxley or it's time for Oxley's top duo (Ching and Low) to put up their feet and perhaps enjoy a hearty meal at The Food Exchange at Novotel Singapore on Stevens?