If all goes well, eight months after it announced its plan for a primary dual-listing, Catalist-listed LHN Limited will see its shares traded on the mainboard of the Hong Kong Stock Exchange in a matter of weeks.
LHN, in a
filing
to the Singapore Exchange last Friday, said it "expects the Proposed Listing may take place on or about 29 December 2017."
Investors who wish to trade on the Stock Exchange of HK must have their LHN shares registered on the Hong Kong Branch Share Register by submitting the request for withdrawal of securities form to CDP and a removal request form to the Singapore Principal Share Registrar. Fees are applicable. See LHN's announcement for details.
The Listing Committee of the HK exchange convened a hearing on 27 Nov 2017 to consider LHN's application for the listing.
As part of the listing, LHN will issue new shares and raise an as-yet undisclosed sum of money.

About 77% of the proceeds will go to acquiring properties for its logistics services management business and for its "space optimisation" business.
The use of proceeds is spelt out in LHN's
draft prospectus
lodged on the HK Stock Exchange website.

What's not explicitly expressed is the management's hope for higher liquidity and valuation for its stock compared to the Singapore market's response.

LHN closed at 16.7 cents last week, compared to its net asset value of 19.59 cents. Its 30-day average trading volume is 230,223 shares.


On the road to the dual listing, LHN recognised S$3 million as expenses in its FY2017 (ended Sept 2017) financial statement. There's another S$2.4 million to be paid upon successful listing.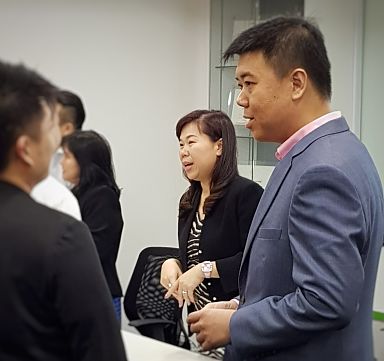 LHN executive chairman Kelvin Lim and deputy MD Jess Lim speak with investors after its FY17 results briefing last week. Photo by Leong Chan TeikIts FY2017 profit was dented not only by the listing expenses but also by a S$1.9 million fair value loss in its industrial investment properties in Singapore and a commercial property in Indonesia.

This was partially offset by a S$3.8 million gain on acquisition of Four Star Industries.


Stock price

16.7 c

52-week range

16.1 – 23.5 c

PE

26

Market cap

S$60 m

Shares outstanding

362 m

Dividend
yield

1.2%

Year-to-date return

-17%

Source: Bloomberg
Not only in FY2017 but also in FY2016, LHN's results reflected swings in the value of its investment properties.

In FY2016, it reported a total of S$9.1 million fair value gain.

For FY2017, LHN reported net profit of S$2.3 million attributable to shareholders.

It proposed a 0.2 cent a share in dividend, down from the 0.6 cent a share for the full FY2016.


LHN gave the following business outlook in its FY17 results announcement: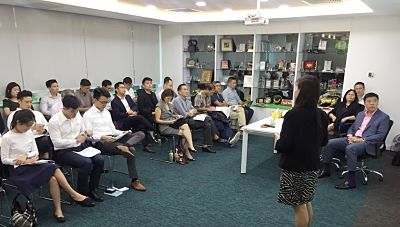 LHN's FY17 results briefing. Photo by El Lee.♦ Space Optimisation business -- Expected to expand its property portfolio in the countries and regions that it currently has a presence in and into other countries and regions with a particular focus on Asian countries including the PRC and Cambodia.

♦ Facilities Management business -- Expected to expand as it seeks to secure more carparks under management and to increase car park rates.

♦ Logistics Services business -- Expected to grow with the possible acquisition of its own ISO tank depot in Singapore, the proposed operation of a second container depot in Bangkok and possible JV with a global shipping group to offer container depot services in Singapore.

For a fuller story on its business, see: LHN: Reshapes Urban Spaces with Artistic Flair