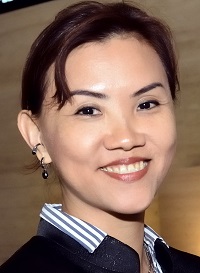 This article, written by Jennifer Tan (left, Director, Research & Products, Equities & Fixed Income, at the Singapore Exchange), originally was published on SGX My Gateway kopi-C. The article is republished here with permission.


For Kelvin Lim, Executive Chairman and Group Managing Director of property management services group LHN Ltd, less is usually more.

Lim, who has a penchant for the minimalist aesthetic, prefers unbroken expanses and clean lines in his living and working areas. Using a play of natural light, soft colours and crisp detail, he goes for serene, uncluttered spaces that are simple yet stylish.

"I love that Zen look - the mix of geometric lines and white space," he said. "For our previous home, I designed a skylight that stretched from the living room to the bedroom - it was a feature that added warmth and radiance to the whole house."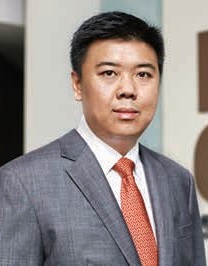 Apart from leasing space, we wanted to introduce design concepts, as well as implement methods to improve space utilisation and efficiency.

- Kelvin Lim
Executive Chairman
LHN Limited

(Photo: Company)
Lim's eye for design plays a key role in LHN's space optimisation business, where the Group secures master leases of old and underutilised properties, and through a process of innovation and planning, followed by renovation and refurbishment, transforms them into creative, usable space.

The value of these industrial, commercial or residential units is enhanced by raising their net lettable area as well as potential rental yield per square feet.

LHN also offers the GreenHub brand of suited offices - which are ready-to-work, premium-fitted and energy-efficient units - in Singapore, Indonesia and Myanmar. Other services include its facilities management business, comprising cleaning and related property maintenance, car park management and security services, as well as its logistics business, which includes chemical transportation services and container depot handling.

Lim, 39, has more than 19 years of experience in the leasing, facilities management and logistics business.

He was appointed LHN's Group Managing Director in 2008, before taking on the role of Executive Chairman in 2015. His foray into the real estate industry began more than two decades ago, when he joined the family business.

"The family business had shifted away from wood trading operations, as it was becoming a sunset industry in the late '90s. When I joined, my role was to rent out our vacant warehouse and factory storage space to other companies in the woodworking industry," he recalled.

"After the Asian Financial Crisis, we received many enquiries from contractors who needed space to store their equipment and scaffolding."

There was little value-add from renting that space, so Lim began to rethink the company's strategy.


Unfazed by Slowdown

Named after Lim's 65-year-old father Lim Hean Nerng, LHN grew from its humble sawmilling roots into a property management services company with a market capitalisation of S$83 million.

Listed last April on Singapore Exchange's Catalist Board, LHN has averaged an annual revenue of S$86.5 million and net attributable profit of S$8.1 million between the financial years ended 30 September 2012 and 2015.

In the 2016 year-to-date, LHN's shares have generated a dividend-inclusive total return of 76.8%, outperforming the benchmark Straits Times Index's 6.4%.

The Group's diversified real estate portfolio comprises 36 commercial, industrial and residential properties in Singapore, two commercial sites in Indonesia and a residential project in Myanmar. These properties have a total net lettable area of more than 4.5 million square feet and an average occupancy rate of over 90%. It has more than 700 tenants and averages a tenancy renewal rate of 72%.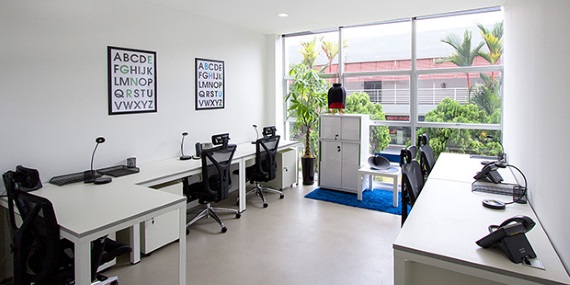 LHN's Greenhub offers a one-stop serviced office package that includes a fully-fitted office easily accessible to the CBD and port. (Photo: Company)
Meanwhile, Lim remains nonchalant about slower growth in the domestic economy.

"A slowdown actually offers more opportunities. In this business environment, leases are cheaper, landlords are less optimistic and easier to negotiate with," he said.

"There's also less competition in securing master leases, which don't come cheap. We have a longer time frame to assess the viability of the property and make a decision, whereas in the past, we had to give an almost instant expression of interest."



We try to strike a balance between occupancy and rental rates, but if we need to choose between the two, we would reduce rentals to reach our target occupancy rates.

- Kelvin Lim
Executive Chairman
LHN Limited

And when it comes to securing tenants, pricing is paramount. "We're very sensitive to pricing," Lim said.

"We try to strike a balance between occupancy and rental rates, but if we need to choose between the two, we would reduce rentals to reach our target occupancy rates. In that sense, we may function differently from normal landlords who tend to prioritise rentals."

LHN is also able to tap a large pool of recurring customers from a swathe of industries. "Even in a down market, there will be sectors that are doing well, while other sectors suffer. Companies from both sides will need new space to expand or downsize," Lim said.

"As long as we have the scale, are able to provide flexibility for our clients' evolving needs and price our product correctly, we will ensure that existing customers stay with us and new customers seek us out."


♦ Rejuvenate and Restore
Another competitive strength is LHN's design skills. "Most of the buildings we take over are quite old, and our job is to rejuvenate these structures - restore their former charm and find modern uses that can be integrated into the project," Lim said.

That requires a balance of creativity and objectivity.

"When we come up with a design theme for the project, we need to take into consideration its original concept. We are in the business of master leases - we're not owners of the property, so we can't overdress it or be too heavy-handed in our approach," he noted.


"Otherwise, we end up with a refurbished property that doesn't blend in with the environment and cost overruns."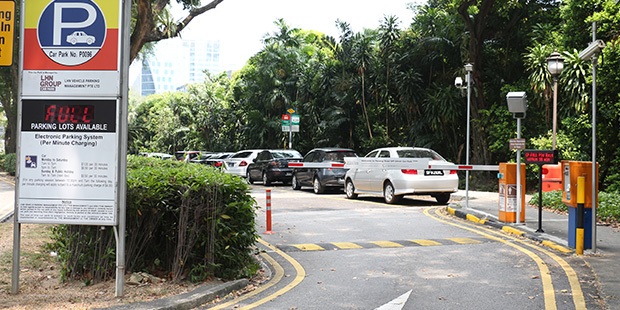 LHN's car park management services for the government and private building owners includes an online portal for users to manage car parks and monitor activities remotely. (Photo: Company)
Take for example the Phoenix Park office campus at 300 Tanglin Road, which previously housed Singapore's Ministry of Home Affairs.

"It's a heritage site, but because of its use by the Ministry, security was very tight - there were multiple gates and high fences with barbed wires. We had to remove most of the fencing to reveal the original colonial architecture," Lim recalled.

The Group also carried out a significant amount of landscaping, and added amenities like childcare centres and cafes, to turn the site into a commercial development that was lush yet modern.

"Previously, it was like an army camp. Now, it has the feel of a garden community, and retains most of its original character, while the net lettable area has increased by 10%," he added.


LHN Ltd

Stock Price

21c

Market Cap

S$75.6 million

52-week High Low

12.6c - 24c

Dividend Yield

2.38%

Debt/EBITDA

1.856

Source: SGX StockFacts
(data as of 30 Sep 2016)
Looking ahead, LHN plans to expand its GreenHub brand in Indonesia and Myanmar with more locations, as well as its Work + Store self-storage solutions in Singapore.

"Companies in the info-communications and e-commerce sectors are growing rapidly, while others are streamlining their operations," Lim said.

"Self-storage options are suitable for new start-ups or companies that are downsizing, while serviced offices are good for businesses that want to remain lean and nimble."

The Group will continue to explore new markets in ASEAN, and over the longer term, China, through its master lease business model.

"China is a very big market that is experiencing rapid urbanisation. In the Tier 1 and 2 cities, such as Shanghai and Xiamen, we're seeing a lot of opportunities to rejuvenate older buildings," he added.
Building New Partnerships
Recently, LHN acquired several properties through joint ventures. These include a 341,000 sq ft property at 38 Ang Mo Kio Industrial Park 2 and a S$26 million, 540-carpark lot property at Golden Mile Tower.

The Group has also entered into a sales and purchase agreement to acquire mattress manufacturer and wholesaler Four Star Industries Pte Ltd. The acquisition includes Four Star's six-storey, purpose-built flatted factory building, with 17 years left on its lease. This is expected to pave the way for LHN to employ its space optimisation expertise on the furniture business and property.

"We are constantly looking to add to our portfolio of properties, and seeking opportunities where we can apply our expertise to increase the usability and productivity of the site," Lim explained.



Going into joint ventures makes sense for us - they allow us to spread our risk, gain valuable partners to drive the business, and enable us to build in a management fee for such projects.

- Kelvin Lim
Executive Chairman
LHN Limited

Giving old and tired structures a new lease of life requires a keen eye and sensitivity to one's surroundings, said Lim who derives new ideas and inspiration from his travels.

"My passion is exploring and observing various cultures and architectural styles in different countries," he added.

"From these trips, you can see how people occupy their space - whether it's commercial, residential or retail - and earn their livelihoods. This provides insight into the trends of different communities."

Apart from regional jaunts, Lim also enjoys greenery and walking. "I love being close to nature," he added.

Values that he places a premium on include focus, discipline, and organisation. He hopes to impart these attributes to his five children - four sons and a daughter aged three to 14.

"I try to teach the older ones to pay more attention to their surroundings, be flexible in their thinking, and systematic in the way they carry out their tasks," Lim said.

"These are important qualities, and can help them succeed in any and every aspect of their lives."
| | | | | |
| --- | --- | --- | --- | --- |
| Year ended 30 Sep (S$ '000) | FY2015 | FY2014 | FY2013 | FY2012 |
| Total income | 96,374 | 90,740 | 83,748 | 75,124 |
| Profit before Tax | 4,268 | 14,004 | 6,899 | 9,293 |
| Net attributable profit | 4,223 | 12,756 | 8,238 | 7,094 |
Quarter ended 30 Jun
(S$'000)

3QFY2016

3QFY2015

YoY Change

Total income

26,757

23,919

11.9

Profit before Tax

2,374

1,201

97.7

Net attributable profit

1,865

649

187.4
Source: Company data
---

Outlook

---

Due to the sluggish global economy, LHN expects demand in the real estate sector to remain weak as businesses continue to streamline and/or delay expansion plans. Its industrial and commercial properties, purposefully chosen for their locations outside the central CBD area, stand to attract firms relocating to properties with cheaper leases outside or in the city fringes.

The Group is also targeting companies in the fast-expanding e-commerce sector and new start-ups by rolling out its "Work + Store" office concept at five locations in Singapore.

Beyond Singapore, LHN's operations in Thailand, Indonesia and Myanmar remain stable. The Group intends to further grow its businesses in ASEAN, and will be looking out for acquisitions, joint ventures and/or strategic alliances that will provide access to new markets, customers and businesses.

LHN Ltd

LHN Ltd is a real estate management services group with the distinguishing ability to generate value for its landlords and tenants through its expertise in space optimisation. The Group currently has three main business segments: space optimisation, facilities management and logistics services. Under its space optimisation business, the Group secures master leases of unused, old and underutilised commercial, industrial and residential properties and through re-designing and planning, transforms them into more efficient usable spaces, which are then leased out by the Group to its tenants.

The Group's facilities management business offers security services, car park management services and property maintenance services such as cleaning, landscaping, pest control, repair and general maintenance principally to the properties it leases and manages, as well as to external parties.

Under its logistics services business, the Group provides transportation services and container depot management services. The Group transports mainly ISO tanks, containers, base oil and bitumen, and provides container depot management services which include container surveying, on-site repair and storage of empty general purpose and refrigerated containers (reefer). LHN operates mainly in Singapore, Indonesia, Thailand and Myanmar.

The company website is: www.lhngroup.com.sg.

Click here for the company's StockFacts page.

For third quarter ended 30 June 2016 financial results, click here.