| | | | | | | |
| --- | --- | --- | --- | --- | --- | --- |
| USD m | 3Q17 | 3Q16 | 2Q17 | 2Q16 | 1Q17 | 1Q16 |
| Revenue | 46.2 | 46.5 | 37.8 | 31.4 | 36.4 | 33.2 |
| Net profit | 3.9 | 3.1 | 4.9 | (1.4) | 1.6 | 0.6 |

Memtech International's total revenue was stable at US$46.2 million for 3Q2017 but its net profit surged 26.5% to US$3.9 million.

The automotive and consumer electronics segments continued to be key growth drivers for the company which is a global components solution provider.
3Q2017 highlights
♦ Net profit surged 26.5% to US$3.9 million fueled by improved product mix and operational efficiency.
♦

Shift in focus towards higher margin and complex products within the automotive and consumer electronics segments; gross profit margin expanded to 18.4%.
♦

Strong positive operating cash flow of US$3.7 million.
♦ N

et cash rose to US$28.2 million.
The automotive segment posted a 17.3% year-on-year increase to US$20.3 million during the quarter.

It became the largest revenue contributor to the Group, accounting for 44.0% of sales.

In line with Group's ongoing strategy to improve earnings quality, the focus shifted towards the production of higher-margin, complex engineering parts.

Other operational efforts include the gradual elimination of lower profit and margin production processes which were typically outsourced.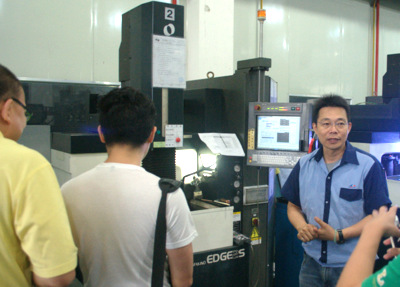 @ Memtech's factory in China: Top-end Makino machine from Japan for producing moulds.
NextInsight file photoAs a result, the Group's consumer electronics segment slipped 8.8% y-o-y to US$17.1 million for 3Q2017.

In spite of this decline, the Group continues to earmark its consumer electronics segment as one of its key growth drivers, leveraging on its niche capabilities to secure new contract wins.

Along with the improvement in product mix, the Group continued to invest in enhancing technological capabilities and increase automation of its manufacturing processes.


Stock price

$1.06

52-week range

58.5 c- $1.19

PE (ttm)

7.6X

Market cap

S$149 m

Shares outstanding

140.9 m

Dividend
yield (ttm)

2.36%

1-year return

92%

Source: Bloomberg
In addition, the Group received more government incentives and subsidies as recognition for its differentiating technological capabilities.

The Group, meanwhile, continued to contain costs: Sales and marketing expenses decreased 19.0% y-o-y to US$2.0 million for 3Q2017.

Bottomline: Net profit surged 26.5% y-o-y to US$3.9 million and operating cash flow amounted to US$3.7 million for 3Q2017.

This led to Memtech's net cash level rising to US$28.2 million (31 Dec 2016: US$19.3 million) as at 30 Sept 2017.


Executive Chairman Chuang Wen Fu said, "Our strategy of diversifying our business risks a few years ago has begun yielding a positive impact on our financial performance. While these strategies has seen our earnings recover over the quarters, we remain in a transitional phase.



"Our collective efforts are targeted towards improving our product mix by producing higher value added parts for our customers. In this light, we will focus on leveraging on our innovative technological capabilities to differentiate ourselves from competitors in order to secure complex projects with better earnings quality. To further boost our profitability and mitigate the impact arising from an increasingly costly and competitive labour market, our goal is to intensify efforts in increasing automation within our manufacturing facilities.





"This is just the beginning.... We are continuing to make investments in our key growth areas – automotive and consumer electronics. We believe that our ability to value-add with our engineering design capabilities will strengthen our relationship with key customers and translate to an increase in allocation in time to come.





"At the same time, we will also be taking the initiative to further diversify our customer base, particularly for audio-related products and smart home devices.



"We have focused on ensuring earnings stability. As such, we have pledged our confidence with our inked dividend policy of rewarding shareholders with at least 30.0% of our earnings."



See also SGX kopi-C article:

MEMTECH: Shifts Gears to Meet Growth Challenges