For all its life as a listed company, Artivision Technologies tried to make inroads with its proprietary video management and solutions technology.

Didn't happen.

It has the dubious distinction of delivering revenue averaging just S$4.5 million a year in its past 10 financial years. And it has never had a profitable year.

Instead, it burnt through a lot of cash which it raised not only at its IPO in 2008 but subsequently through rights issues, bond issues and share placements.

By 30 June 2017, its accumulated losses had come up to a staggering S$72.5 million.

Time for change.

In early 2017, Artivision sought to divest its core business (Artimedia) but a potential acquirer decided against buying it. See: ARTIVISION: Cash to exceed share price soon?


In August, Artimedia was finally sold to Artivision's co-founder, executive director and chief technology officer, Dr Ofer Miller.

This week, Artivision said it signed a conditional and non-binding Heads of Agreement to acquire a 100% stake in Mobile Credit Payment ("MC Payment"), including its convertible bonds.

This a reverse takeover attempt.

It's spearheaded by Mr Ching Chiat Kwong, who first became a substantial shareholder of Artivision in 2012 and has since seen his initial and subsequent investments dwindle significantly in value.

(We think he missed our 2011 story: ARTIVISION: Not a stock for the value investor)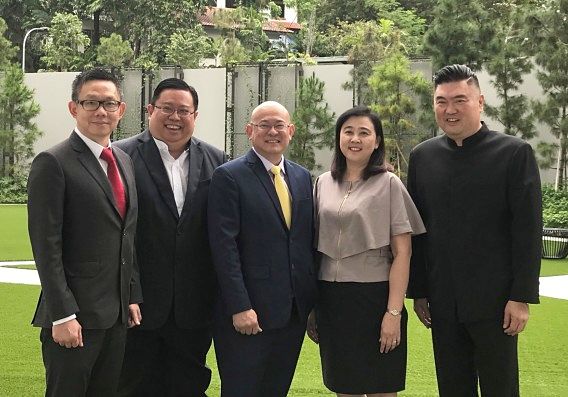 L-R: Johnny Ng, Director of MC Payment | Robson Lee, Partner of Gibson, Dunn & Crutcher LLP | Anthony Koh, Founder & CEO of MC Payment | Susan Choo, Financial Controller of Artivision Technologies | Ching Chiat Kwong, controlling shareholder of Artivision Technologies. Photo: Sheryl Sim

The target company: MC Payment was e
stablished in Singapore in 2005 and is a pioneer of omni-channel and
omni-payment solutions in the Asia Pacific region, with a presence in
Singapore, Malaysia, Hong Kong, Thailand, Indonesia, Australia and Cambodia.


MC Payment
currently provides services to over 2,000 active merchants, and its proprietary product
offerings include e-wallet applications, B2B invoicing and payments processing, mobile
point-of-sale systems, and non-cash payment products.

A recent acquisition was that of Genesis Payments Solutions, one of Singapore's
merchant acquirers for Alipay for some of the largest merchants in Singapore including
Aspial, Imperial Treasure and Sincere Fine Watches.

MC Payment
recently entered into several partnerships such as with Mastercard for its frictionless retail
experience through digital mobile payment app, Qkr!.

It also jointly developed digital tokens
with iFashion for use in iFashion's retail network of over 1,400 independent brands which
includes Artbox, a highly successful regional creative pop-up market.

MC Payment's strategic
partners in the region include Cambodia's Soma
Group, Sri Lanka's Frostaire and Indonesia's Sinar Mas Group.


The base consideration for the acquisition of MC Payment is S$80.0 million with an additional consideration being equivalent to the cash raised by MC Payment from the date of the HOA until the completion of the reverse takeover.

The total consideration will be fully satisfied by Artivision issuing new shares to the shareholders and bondholders of MC Payment at an issue price of S$0.014.

The number of consideration shares will represent at least 60.07% of the enlarged share capital of Artivision.

To reduce the outstanding debt of Artivision and possible dilution to the vendors, Mr Ching Chiat Kwong, the controlling shareholder, will acquire all of Artivision's outstanding bonds and options from their respective holders. He will be issued 2,000,000,000 new Artivision shares at S$0.014 apiece.

With that, Mr. Ching will hold about 25.18% of the enlarged share capital of Artivision.

Currently the executive chairman and CEO of Oxley Holdings, Mr Ching will serve as a consultant of Artivision to connect brick-and-mortar industries to MC Payment's growing business of instantaneous, secure and efficient payment solutions.


Rationale for the Proposed Acquisition
The proposed acquisition coincidentally comes on the back of Singapore's push towards cashless payments. The market for payment solutions in Singapore remains largely fragmented and offers opportunities for consolidation as the country moves to simplify and integrate the industry.


| | |
| --- | --- |
| MC Payment | FY2016 |
| Pre-tax loss | S$1.46 m |
| Net book value | S$6.07 m |
| Net tangible asset | S$0.22m |
In line with its vision of perfecting payments through continual innovation and research, MC Payment has also submitted a proposal to key government agencies in response to the government's call for a Request for Information (RFI) on a cashless payment solution.

Artivision said its acquisition of one of Singapore's earliest fintech firms is timely as it allows its shareholders to participate in a business with a proven business model which has the potential for significant growth.


A New Chapter of Growth
Mr Kenneth Goh, Executive Director and CEO of Artivision, commented, "The expansion into the fintech business aims to breathe new life into the Company as we reposition ourselves for long-term growth.


"
I am reasonably confident
that the ability to capture the rising opportunities of the fintech industry will deliver a reasonable share of value to shareholders of the Company. As a major shareholder and
leveraging on my business network, I look forward to play a more active role in this new business venture and to steer the Company back to profitability."



-- Ching Chiat Kwong (photo),




Controlling shareholder of Artivision
"This would also make us one of the first fintech companies to be listed on the Singapore Exchange, at a time when Singapore is positioning herself to be the world's leading fintech and innovation hub. We are confident that this is an exciting industry which offers a multitude of growth opportunities that will provide long-term shareholder value."

Mr Anthony Koh, Founder and CEO of MC Payment, said, "The proposed listing in Singapore through Artivision marks a significant milestone in our growth story. Over the years, we have aimed to build a cashless society and our vision is to be the region's foremost omni-channel and omni-payment solutions provider. The result is the establishment of a scalable infrastructure which transcends borders and payment systems in the APAC region."

Details of the Heads of Agreement here.