Details on the development of its Bald Hill mine abound in the FY17 (ended June) annual report of Alliance Mineral Assets Limited (AMAL) uploaded on the SGX website last Thurs (5 Oct).

The annual report contains 7 pages on its Operations Review -- it's all about the work done, is progressing, and what lies ahead as the project races towards becoming Australia's next (and fourth) lithium concentrate producer.

Included are photos (some of which are republished here) of the engineering works, which are the first concrete signs of infrastructure coming up rapidly at Bald Hill.

This comes hot on the heels of a Pre-Feasibility Study that concluded that the mine will enjoy very high cashflow and a very high internal rate of return. (See: ALLIANCE MINERAL ASSETS: Strong cashflow, 185% IRR for starter pit)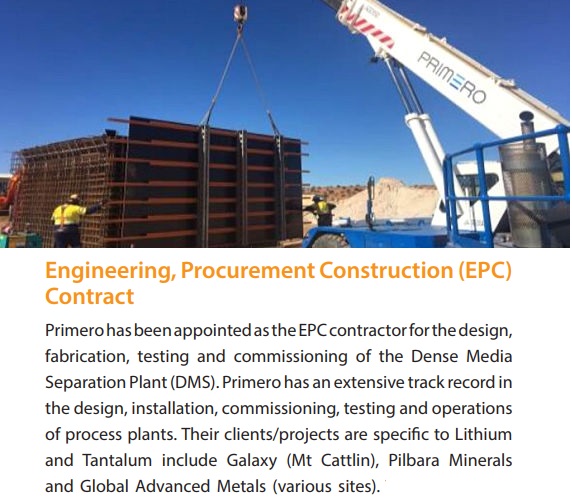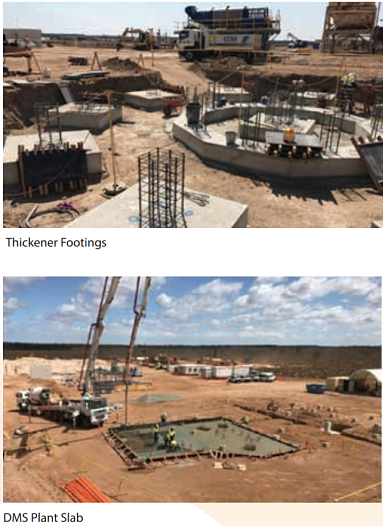 AMAL and its JV partner, Tawana Resources, have awarded a A$30-million EPC contract to build the Dense Media Separation process plant to the Primero Group.

They are "on target to becoming one of the major lithium and tantalum producers in Australia with shipments commencing in Q1 2018.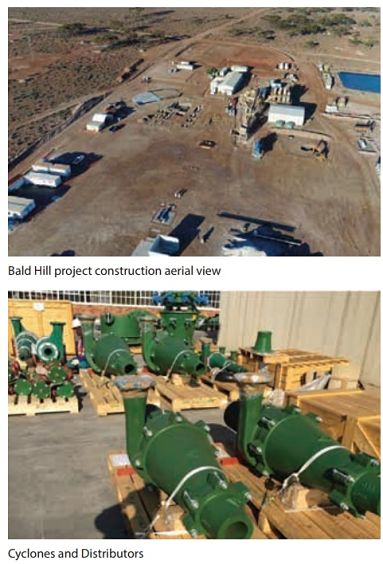 "With continued exploration and resource definition, life of mine should be progressively extended with a target of beyond 10 years being feasible."

The commencement of construction received Australian media coverage such as the following -->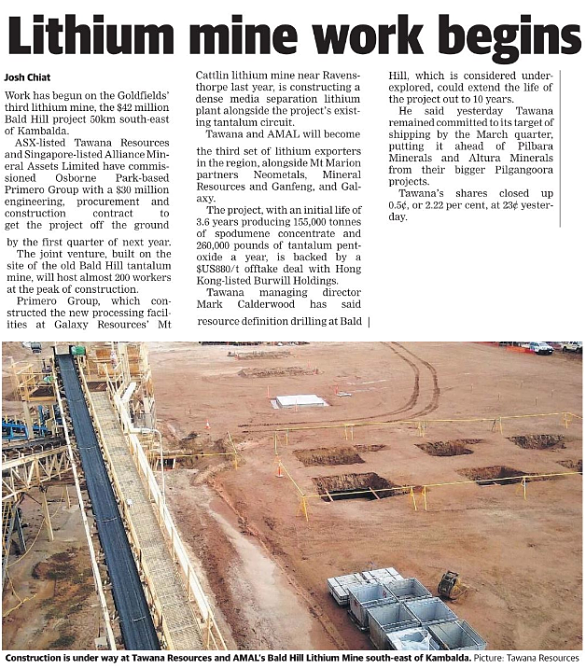 Next up
Mining Contractors


Three mining contractors have been shortlisted and are currently being assessed as per tender process previously described. Award is anticipated in the first week of October with site mobilisation immediately thereafter. All contractors shortlisted have requisite equipment and staff available for an immediate start on site.

Source: AMAL annual report FY2017

Bald Hill is not just about lithium. Its lithium-rich ore will also be delivering tantalum, making Bald Hill one of the largest tantalum producers in the world.

AMAL is expected to secure an offtake agreement prior to the start of production of the mineral that is used in the making of capacitors found in electronic products such as computers and mobile phones.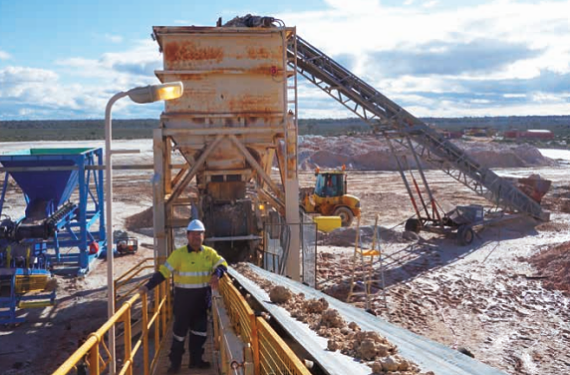 Bald Hill has existing infrastructure for the production of tantalum but it will be the subject of ongoing upgrades and fine-tuning.
Burwill Holdings puts more $ down on Bald Hill and AMAL
Lithium concentrate from Bald Hill will be delivered to HK-listed Burwill Holdings, which signed an offtake agreement in April 2017 to buy at least US$200 million worth of the product through 2018-2019.


In a further vote of confidence in the Bald Hill project and AMAL, Burwill last week agreed to buy a 13.47% stake in the enlarged share capital of AMAL via a placement of new shares for A$19.575 million, equivalent to 27.8 Singapore cents a share.

Burwill's statement said: "Lithium upstream resources are very scarce worldwide. As elementary materials for new energy electric vehicles and other industries, there is huge market demand for lithium resources. The Board believes that there is long-term good development prospect for the lithium concentrates project at Bald Hill in Western Australia, which will have lithium concentrates delivery in the first quarter of 2018. Through the Subscription, the Company not only can secure its interests under the Offtake Agreement, but also enjoy the increase in value of AMAL shares, which is in line with the Company's business strategy development direction."
The price for 2018-2019 has been fixed at US$880 per tonne for 6% Li2O, a world record which reflects the surging demand for lithium to make batteries that power electric vehicles and store energy. (The price is subject to adjustment for grade, punctuality of delivery and punctuality of acceptance of delivery.)

Burwill has exclusive rights to the lithium concentrate produced from the Bald Hill Project for five years and pre-emptive rights for the subsequent five years.

Burwill is likely going to channel the lithium concentrate to a new 50-50 JV with Jiangxi Jiangte Mining Development Co., which is establishing production lines with an annual production of up to 10,000 tons of lithium carbonate and 5,000 tons of lithium hydroxide.

These chemicals are used in the production of lithium-ion batteries.

Burwill's JV partner is a big player in the battery development business in China.

Jiangte Mining is a wholly-owned subsidiary of Shenzhen-listed Jiangxi Special Electric Motor (market cap: RMB21 b), an electric motor manufacturing company and a national high-tech enterprise which has been actively participating in the development of new energy - lithium battery industry in recent years.