Mohd Salleh, CEO of Second Chance Properties (and a recent Singapore Presidential hopeful), met up with some investors last week.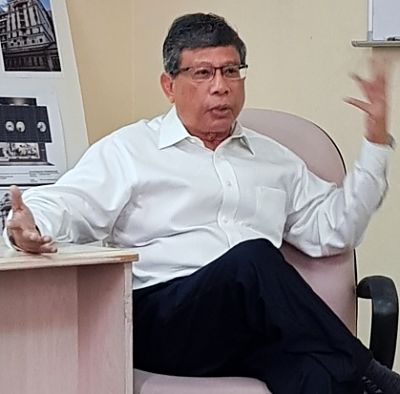 Mohd Salleh, CEO of Second Chance Properties.

♦ Jan – Sept 2017: Bought 9.675 million shares of Second Chance.

♦ Approx cost: S$2.5 million.

♦ Shareholding: Raised from 66.08% to 67.51%

(Photo by Leong Chan Teik)
He shared that the company's business of retailing apparel and gold and jewellery products has been hurt by a declining retail scene.

From 48 shops selling apparel four years ago, Second Chance now has 7 only. The number is expected to decline further as leases expire and are not renewed.

Second Chance, in recent years, has disposed of a number of its retail-related investment properties such as those in Sim Lim Square.


Key takeaways from the meeting:

1. Sim Lim Square: Second Chance Properties owns 12 retail shops there (aggregate value: about S$23.1 million), having sold 10 shops in recent years as prices rose.

Subsidiary proprietors representing at least 20% of the total share value in Sim Lim Square have recently agreed to appoint a sales committee for an en-bloc sale.

Ultimately, an en-bloc sale can only go through if there is at least 80% support from subsidiary proprietors - and if there is a buyer at the asking price.

Sim Lim Square is attractive for redevelopment, in part because it is just a few minutes walk from an MRT station (Rochor).

Market prices of Sim Lim Square units have gone up in recent years but, ironically, rental rates have dropped significantly in line with the decline in the retail scene in Singapore.

2. City Plaza: Second Chance owns 17 retail shops there.

In the past, there have been a few attempts at an en-bloc sale. There is fresh interest in doing so currently, and what's needed as a first step is the support of at least 20% of the subsidiary proprietors in writing.

That's not to say it will be easy, as market prices of units there have gone up over the past few years with the redevelopment of Paya Lebar Central and en-bloc asking prices may not be attractive to developers.

In addition, the building's plot ratio has been fully achieved. However, it might be possible to apply to the government for a higher plot ratio as the site is close to a MRT station (Paya Lebar).

Ultimately, any en-bloc sale can only succeed if property giant City Developments - which completed the building of City Plaza in 1980 -- supports it. CityDev owns 30% of the total share value of City Plaza.


Stock price

26 c

52-week range

22 – 28 c

PE (ttm)

22

Market cap

S$195 m

Shares outstanding

751.1 m

Dividend
yield (ttm)

0.77%

Year-to-date return

13%

Source: Bloomberg
3. Surplus cash: Second Chance has a securities investment segment. Internally, it has set a limit on how much it can invest: 35% of its NTA.

At a NTA of $260 million currently, that translates into $90 million, a figure close to what has already been deployed into securities such as bonds and blue-chip stocks.

Any further sale of investment properties by Second Chance will generate cash which the company will sit on while waiting for opportunities to come by, or invest if the board agrees to raise the investment ceiling.

"We are waiting for the next crisis, as it's the best time to buy property other than retail properties," says Mr Salleh.

As of end-May 2017, Second Chance had an attractive debt profile with about $300 million in assets and only $46 million in borrowings.

4. Retail woes: Shifts in consumer habits are evident.

"The older generation buys gold as an investment. The young today won't spend on gold -- if they have $5,000 surplus, they'd either buy a nice handbag or go for a holiday," notes Mr Salleh.

In Malaysia, the weak economy and currency are taking a toll on the apparel business. And some of the younger generation prefer to wear Western clothing (instead of traditional garb) and put on a tudung.

5. Share purchases: Mohd Salleh has been very frequently buying shares of his company throughout this year at 25-26 cents, the lowest the stock has been in at least the past 5 years.

The purchases totalled about S$2.5 million. He said he was reinvesting sales proceeds from disposing his Second Chance warrants early this year.

The warrants have an exercise price of 25 cents each, so he'd rather monetise the warrants as there was sufficient liquidity. If he had decided to hold on till 2020 to convert them into shares, he would have to fork roughly $140 million to do so. If he doesn't exercise the warrants by the expiry date, they will have zero value.

His share-buying has ceased in the past two weeks as the company entered a 1-month blackout period before the release of its 4QFY17 results.

(Incidentally, the warrants look attractive as they don't trade at a premium and instead have a whopping gearing of 37x).