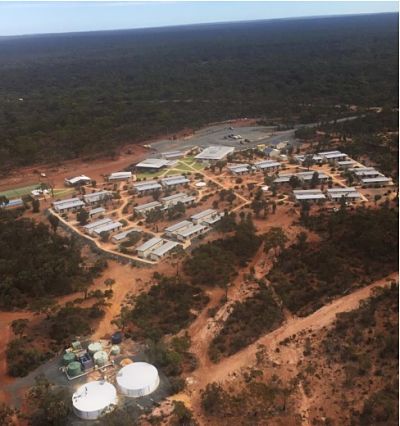 This camp will house up to 150 men who will construct infrastructure for mining lithium concentrate at Bald Hill. Photo: CompanyTawana Resources' share price shot up 9.4% to 24 Australian cents on the Australian Stock Exchange on Thursday, 6 July 2017.

What it said in response to a stock exchange query is relevant also to Singapore-listed Alliance Mineral Assets Limited (AMAL) even though the latter's share price inched up by 0.5 cents only to 33.5 cents on that day.

Tawana is the 50-50 joint venture partner of AMAL in developing the Bald Hill mine in Western Australia. (For more, see ALLIANCE MINERAL: Clinches US$200-m lithium offtake agreement, races to production...)

The partners are racing to produce and deliver lithium concentrates worth at least US$200 million over two years (2018-2019) from the mine under an offtake agreement with Hong Kong-listed Burwill Holdings.

The following are excerpts from Tawana's reply to the Australian Stock Exchange (full version here):


The Company provides the following potential explanations for the recent trading in the Company's securities:


a) On Wednesday, 5 July 2017, Volvo Car Group announced that it will cease producing petrol-only vehicles from 2019 and has thereby become the first major traditional automaker to set a date for phasing out vehicles powered by internal combustion engines.
As lithium is a major component of lithium-ion batteries that are used in the electric vehicle industry, it is likely to have provided market assurance about the longevity of current lithium pricing which Tawana, being a near-term producer, can take advantage of.
b) This has also been compounded by Neometals Limited (ASX: NMT) and Mineral Resources Limited (ASX: MIN) announcing on 5 July 2017 that it had reached agreement with Ganfeng Lithium that effective 1 July 2017 the price payable per tonne of 6% spodumene concentrate produced at Mt Marion and delivered CFR had increased from US$750 to US$841, also confirming that the current pricing of lithium concentrate is sustainable.
c) All major Australian, listed lithium producers and/or developers have also enjoyed increased trading and price appreciation.
AMAL
Stock price

32.5 c

52-week range

7.3 – 42.5 c

PE (ttm)

--

Market cap

S$156 m

Shares outstanding

481 million

Dividend
yield (ttm)

--

Year-to-date return

257%

Source: Bloomberg
News to look out for next from AMAL and Tawana:

♦ Definitive Feasibility Study for mining at Bald Hill Project.
♦ Second prepayment by Burwill Holdings of A$8.75 million on 15 July 2017
(First prepament done in April: A$7.5 million. Third and final prepayment to come: A$8.75 million on 15 Sept 2017).

For further reading: