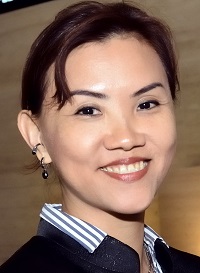 This article by Jennifer Tan (left, Director, Research & Products, Equities & Fixed Income, at the Singapore Exchange) was published in SGX's kopi-C: the Company brew series on 5 May 2017. The article is republished with permission.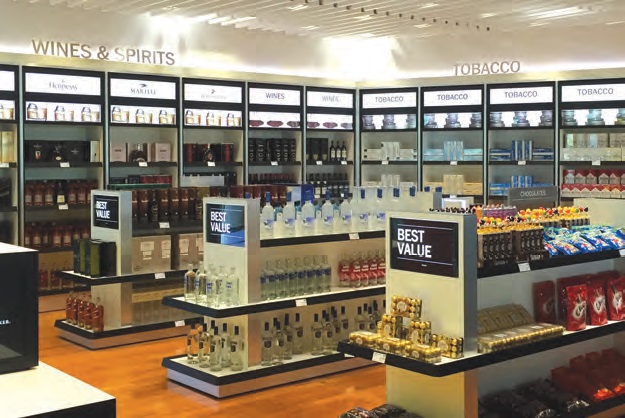 Singapore Myanmar Investco has 6,700 sqm of retail space at Yangon International Airport. (Photo: Company)
Mark Bedingham is driven by an insatiable curiosity.

The Malaysian-born Briton and Chief Executive Officer of SGX-listed Singapore Myanmar Investco Ltd (SMI) finds exploring the unfamiliar totally exhilarating.

"I'm not a person of routine, so I need constant disruption. And I don't want to lose that sense of discovery. So far, it seems it hasn't deserted me either," he grinned.

Bedingham, who spent his entire career - more than four decades - working in Asia Pacific, describes his passion for the region as a subconscious association resulting from the first seven years of his life in Malaysia.

"My father was in the Malaysian police - in anti-Communist intelligence - before and after Independence, and my parents had many friends who lived and worked in this part of the world," he recalled.

"All of that was constantly in the background, and by some osmotic process, gave me a sense of identification with Asia. As a result, I was determined to travel in the region as much as I could, as soon as I could."

After graduating from St. John's College, Oxford University, with a degree in Biological Sciences in 1977, Bedingham began his career with Jardine Matheson. He held positions in various key consumer divisions in Hong Kong, Malaysia and Japan before being appointed Director of Jardine Pacific.

His 15-year posting in Japan was particularly memorable. "The country can be rather disorientating. Though I wasn't good at foreign languages, I decided to focus on learning Japanese, and managed to speak it fairly well - that was a huge discovery, and I loved it!"


Over the years, I've learned to build local partnerships - long-lasting ones - in different markets. In Myanmar, I've been doing business with two to three people I've known for 20 years.


- Mark Bedingham
CEO
Singapore Myanmar Investco

"And I haven't looked back since."

Next stop, China.

Bedingham, who also holds a Master's degree in Agricultural and Forest Sciences from Oxford University's School of Biological Sciences, joined LVMH Moet Hennessy in 1995 as its Regional Managing Director of Asia Pacific.

Based in Hong Kong, he spearheaded the development of Moet Hennessy's business in China, growing the country into the Group's largest global market. During his tenure, he also led an expansion of new subsidiaries in emerging markets across South East Asia, as well as Australia and New Zealand. Under his management, the Asia-Pacific region became the largest contributor to Moet Hennessy's global business activities.

Robust Potential

Fast-forward to 2015, when Bedingham began the next leg of his journey in one of Asia's largest frontier markets.

In January that year, he was appointed CEO of SMI - a diversified business group with a primary focus on Myanmar. The company, previously known as Singapore Windsor Holdings Ltd, exited its printed circuit board business due to price competition, and changed its corporate name to SMI.

Why Myanmar? "In my view, it's too late to get into markets like Vietnam, Philippines and Indonesia - they already have very well-established domestic companies," Bedingham noted.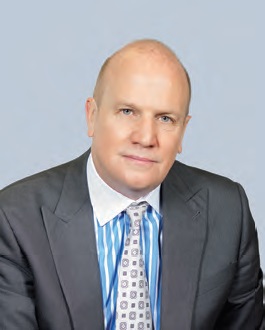 It's too late to get into markets like Vietnam, Philippines and Indonesia - they already have very well-established domestic companies.
- Mark Bedingham
CEO
Singapore Myanmar Investco
(Photo: Company)
"I've been travelling to Myanmar for the past 20 years, and have good contacts there. I believe this market has better medium- to long-term potential."

SMI has a current market capitalisation of S$137 million. In the last 12 months, the stock has generated a total return of 37.2%, outperforming the benchmark Straits Times Index's 19.6% and FTSE ST All-Share Index's 19.0%.

In the three years since SMI began its transformation into a Myanmar-focused group, it has narrowed annual comprehensive net losses to US$159,000 (S$221,853) for the year ended 31 March 2016, from HK$87.0 million (S$15.6 million) in the year ended 31 March 2014.

For the six months ended 30 September 2016, SMI reported a total comprehensive loss of US$2.4 million, versus a total comprehensive profit of US$4.4 million after exceptional gains in the previous period. It swung to a gross profit of US$1.9 million from a loss of US$50,000 in the previous half-year, while revenue more than tripled to US$10.4 million.

The Group's operations revolve around five business pillars - duty-free travel retail, food and beverage, auto services, construction services and infrastructure.

"Our mission is very simple - to play an active role in the modernisation of Myanmar, and to bring in products and services that are not present," Bedingham said.


♦ Franchise Opportunities
The outlook for the first pillar is bright, after SMI secured 90% of the commercial space in Yangon International Airport's new terminal for 10 years. The contract covers multi-brand and multi-category space that spans nearly 2,200 square metres on three levels of the terminal, and over 4,500 square metres of mono-brand fashion, lifestyle and travel retail concepts, all of which are duty-free. A total of 39 stores have opened since September 2016.

The Group's exclusive 10-year supply agreement with DFS forms an integral part of its business model, which aims to raise Myanmar's airport shopping experience to the next level, said Bedingham, who served nearly seven years on the board of the world's leading travel retailer.


Stock price

53.5c

52-week range

35c - 65.5c

Market cap

S$135.6 m

Price/Book

5.0 x

Dividend Yield
-
PE
-

Source: SGX StockFacts
"Duty-free and travel retail will be a major growth driver over the next few years. We buy from DFS, with Singapore as our logistics and processing hub," he added.

The next phase of SMI's strategy involves introducing major F&B franchises, such as Crystal Jade, IPPUDO and The Coffee Bean & Tea Leaf, to the airport and broader domestic market.

"We're extremely confident about the Crystal Jade franchise. We're starting with a mid-tier concept, and hope to do a higher end Crystal Jade Palace later on."

One Crystal Jade Kitchen outlet opened last year in the new terminal, and the second began operations last month in Junction City, a mixed-use development with total built-up area of 260,000 square metres in downtown Yangon. SMI has also inked an agreement with Crystal Jade to develop six restaurants in the country over the next decade.

SMI opened the first IPPUDO ramen restaurant last month in Junction City. It signed three franchise agreements for The Coffee Bean & Tea Leaf for the airport, with the third outlet being located in the new domestic terminal.
Purchasing Power

The Group has also made inroads into the domestic retail market. It secured about 65% of the commercial space on Level 1 - the luxury floor - of Junction City mall, and featured brands will include Coach, Aigner, Furla, Pandora, Love Moschino, Bering and Versace Versus.

SMI also plans to open a large Benetton store, measuring about 2,000 square feet on Level 2 of the mall, and unveil the first Shiseido counter after securing an exclusive distribution deal with the Japanese cosmetics company in February this year.

Myanmar's Tourism Ministry forecasts visitor arrivals to rise to 7.5 million in FY2020 from 5.0 million in FY2016, which will stoke demand for SMI's F&B and retail brands. Apart from tourism, international business travel will be a key driver, Bedingham said.

"Our selected brands are targeted at Chinese and Japanese business travellers. How well we're doing with travellers from Vietnam, as well as other ASEAN countries, has also been a pleasant surprise."


Duty-free and travel retail will be a major growth driver over the next few years.


- Mark Bedingham
CEO
Singapore Myanmar Investco

Meanwhile, the country's domestic demand potential should not be overlooked.

"We estimate that 300,000 to 500,000 Burmese can afford to shop in domestic malls, together with international residents," he noted.

"The wealthy are not in the habit of buying locally, largely because there was nothing to buy. We're in the process of changing that."

Bedingham expects SMI's F&B operations to expand at a rapid clip. "For retail, we'll have to see which brands and concepts work. We've no intention of introducing ultra high-end labels, but there's definitely an opportunity to bring in prestige and premium brands."

In November 2015, Aung San Suu Kyi's National League for Democracy party achieved a sweeping victory in Myanmar's watershed election, placing the country firmly on the path of political and economic transformation. The World Bank projects Myanmar's real GDP to grow 7.8% in the 2016-2017 fiscal year, up from 7% in 2015-2016, and averaging an 8.2% expansion over the medium term.

The country's population of nearly 54 million - more than 60% of whom are below the age of 35 - also offers a significant consumer base.

In auto services, SMI holds a master franchise agreement with international car rental company Europcar to provide vehicle rental and limousine services in the country. The business has long-term contracts with corporate clients, as well as tie-ups with hotels and airports.

"The potential is huge - Europcar is the only international brand operating in the country. We've already increased sales by nearly 100% over the last 12 months, and expect further growth," he noted.

Currently, Europcar operates 160 vehicles in Myanmar. "This, in my opinion, is a 2,000-car business. The only growth constraint is availability of cars due to import restrictions."


♦ Taking the Lead
For construction services, SMI has partnered Chinese heavy equipment manufacturer SANY International to market, distribute and service a full range of equipment, including excavators, cranes, drilling rigs and road machinery.

With Myanmar's economy expanding rapidly and extensive infrastructure projects in the pipeline, its construction sector will see robust growth.

To gain a leadership position in the market, SMI modified its business model by offering customers financing options through SANY Capital, as well as tying up with local and offshore banks.

"The secret lies in providing loans to customers at lower rates than the established local players. We do this by borrowing from regional banks in Singapore and using the equipment as collateral," he said.


Our mission is very simple - to play an active role in the modernisation of Myanmar, and to bring in products and services that are not present.


- Mark Bedingham
CEO
Singapore Myanmar Investco

Prospects for the logistics and supply chain industry are also "super-exciting", Bedingham said.

SMI has a joint venture with Japan's Senko to provide logistics services, and its warehouses will offer state-of-the-art cold and cool storage facilities, which are sorely lacking in Myanmar.

Future developments include building at least three warehouses over the next two years.

"Demand for cold storage is very strong in Yangon, Mandalay and the agricultural areas. This business is very scalable, and we'll be able to build a network over the next few years with discrete, manageable investments," he added.

Domestic competition, in the meantime, continues to lag. "There are no sophisticated supply chain solutions available, and most local operators are using shipping containers, which are not designed for cold or long-term storage."

All of SMI's businesses must satisfy at least one of three criteria - allow the Group to take a market leadership position, as with Europcar, or have an early-mover advantage, as seen in its logistics and supply chain operations, or be a monopoly, as in its duty-free travel retail concepts.

"We want to be a leader, not a follower," he added.

Major challenges the Group faces include forex exposure, inconsistent customs regulations and lack of a coherent power policy. "Power is a big issue, and while plans for infrastructure improvements are in place, they need to be executed."

Building Partnerships

Clearly, Bedingham has experienced his fair share of speed bumps over the last two years. "I'm very used to building businesses in new markets, particularly markets that are beginning to emerge, like I did for Moet Hennessey in the '90s," he said.

"That's because I enjoy growing things - it's an exciting process. At the same time, you realise the road is never smooth. There will always be ups and downs along the way."

The cumulative experience has been invaluable. "Over the years, I've learned to build local partnerships - long-lasting ones - in different markets. In Myanmar, I've been doing business with two to three people I've known for 20 years."

So what's unique about SMI? Its listed status, he said. "I wanted to run a company with exposure to the stock market - I've yet to experience that in my career."

And SMI's listing offers opportunities to raise both equity and debt for future capital needs. "That's the whole reason to work through a listed vehicle in the first place," Bedingham added.

And while retail is absolutely core to the Group, it would not require the largest investments. Instead, logistics could absorb the most capital.



Singapore Myanmar Investco has entered into a master franchise agreement with Europcar, a leading European car rental company, to provide car rental and limousine services in Myanmar, where it is the only international car rental brand. (Photo: Company)
"I see an opportunity to take the supply chain capability to a level that no one else has in this country. For F&B and our car leasing services, they would absorb a degree of capex, but that would likely be incremental in nature."

Not surprisingly, funding is one issue that keeps Bedingham up till the wee hours.

"This is something quite new to me, and the necessity of capital-raising is always there. Another unfamiliar area is debt funding, and I've spent a lot of time with the banks on that. But that's the reason why I joined SMI in the first place - to do things I had never done before," he smiled.

At the end of the day, it's not just about business, it's also about the organisation.

"We want to attract people who understand our vision, and have the robustness to deal with the ambiguity, uncertainty and disruptions of working in an emerging market," Bedingham said.

In return, SMI offers employees freedom from layers of bureaucracy, as well as room for personal expression and development. Most of all, for Myanmar returnees, there's the satisfaction of watching the country - after decades of military rule and isolation - embark on a journey of recovery and growth.

Bedingham strives to help his staff exceed what they think they can achieve in terms of performance. "For a business to be truly meaningful, it should bring challenge and fulfilment. Otherwise, it wouldn't be an inspiring journey," he said.

"What I've tried to do is to show those who work with me that if they trust me, they will achieve and do a lot more professionally than they could ever have imagined."



Financial results
| | | |
| --- | --- | --- |
| Year ended 31 Mar (US$000) | FY2016 | FY2015 |
| Revenue | 8,226 | 5,858 |
| Gross profit | 1,350 | 646 |
| Comprehensive loss attributable to shareholders | -159 | -6,544 |
| | | | |
| --- | --- | --- | --- |
| Half year ended 30 Sep (US$000) | 1H2017 | 1H2016 | Change |
| Revenue | 10,396 | 3,142 | 230.9% |
| Gross profit | 1,899 | -50 | NM |
| Comprehensive gain (loss) attributable to shareholders | (2,373) | 4,444* | NM |
*Mainly due to a gain on disposal of discontinued operations
NM: Not meaningful
Source: Company data
---

Outlook & Risks

---

We continued to develop and expand the following businesses in the half year ended 30 September 2016:

Operation of duty free retail outlets at Yangon International Airport (YIA)
Provision of vehicle rental and limousine services under Europcar brand name
Trading in Food & Beverage products and operation of Coffee Bean and Tea Leaf outlets at the airport
Provision of serviced offices in Yangon

The duty free and luxury retail shops at the YIA new terminal were opened in September 2016. We also opened two Coffee Bean and Tea Leaf outlets in the YIA new terminal. Both Retail and F&B businesses continued to grow as number of flights and passenger numbers increased.
The Europcar car rental business continued steady growth in terms of revenue and fleet size.
The Construction Services business was slow in the first half-year, but we expect the second half to improve.
The Group will continue its multi-business strategy, strengthen and broaden our products and services, whilst introducing enhanced ERP systems and improving cost control.
On 20 October 2016, the company announced it had entered into a Sale and Purchase Agreement for the proposed disposal of its share in the Telecom tower business.
Our joint venture with Senko commenced operations in October 2016 for the provision of logistics and warehousing services.
Singapore Myanmar Investco Ltd
Listed on the Mainboard of Singapore Exchange, SMI adopts a diversified business model to enhance its long-term growth prospects. The Group has identified several growth catalysts in South East Asia's pioneer markets, specifically Myanmar. Capitalising on the underlying growth trends in Myanmar, the Group has ventured into various consumer-related and business-related products/services, including Travel & Fashion Retail, Auto Services, Construction Services, Food & Beverage, as well as Logistics and Warehouse Services.

For its half year financial results ended 30 November 2016, click here.

The company website is: www.sin-mi.com.

The ccompany's Stock Facts page is here.