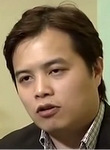 Terence Wong (photo) was head of research at RHB Research when he left and set up Azure Capital in Aug 2016. At a media event last Friday, he said: "I'm in the process of accumulating 10 stocks and am eyeballing another dozen companies."

He revealed that the largest positions of the Azure All-Star fund ($100 m of assets under management) include large-cap Global Logistic Properties and small-caps Avi-Tech Electronics, Fu Yu Corporation, and KSH Holdings.

(For the latest on KSH, see: KSH HOLDINGS: Investor's estimate of upside from Gaobeidian project)

Terence said while waiting for a potential takeover offer, he is happy to collect dividends from Fu Yu, a plastic injection moulder. The company has paid a total of 0.5 cents as interim dividends and has proposed a 1-c final dividend for FY2016.

Terence thinks the counter has another 15 to 20 per cent to go from current levels.
| | | |
| --- | --- | --- |
| Azure's stock picks | 7 Apr 2017 stock price | Year-to-date gain |
| Avi-Tech Electronics | 44.5 c | 59% |
| Fu Yu Corp | 24.5 c | 30% |
| Global Logistics Properties | $2.80 | 27% |
| KSH Holdings | 73.5 c | 36% |
| Sing Holdings | 36 c | 16% |
| Spackman Entertainment | 17.7 c | - 8% |
Avi-Tech Electronics, a "burn-in" testing services provider, can rally a little bit more than that (15-20%), he said.

For more on the company, which is expected to see steady growth from the increasing use of electronics in cars and the advent of driverless vehicles, see: AVI-TECH ELECTRONICS: Insights into its operations

From the beaten-down oil & gas industry, Terence has found a stock to own -- PEC, which provides engineering, construction and maintenance services for oil and gas players. It is run efficiently, and order enquiries have been strong, Mr Wong said.

Notably, it had a large net cash balance of $148 million as at end-Dec 2016, compared to its market cap of $181 million based on a recent stock price of 71 cents.
"I would say 60 to 70 per cent of the market is made up of privatisation plays, turnaround plays and ignored, unloved stocks."

-- Terence Wong,
CEO, Azure Capital
From another beleagured industry, there is boutique property developer Sing Holdings which Terence pointed out trades at under 0.6 times book value.

It has proposed a 1-c final dividend and 0.375-c special dividend for FY2016. The stock recently traded at 36 cents.
He also highlighted Spackman Entertainment Group, a loss-making movie production house which he thinks will turn profitable in 1Q17.