Avi-Tech Electronics' share price has continued to move up since our last report in January 2017 (AVI-TECH: After 100% gain in 1 year, what's next?), rising from 32 cents to 42.5 cents.

RHB Research, on 28 March 2017, initiated coverage of the stock with a target price of 52 cents. (See AVI-TECH ELECTRONICS: Positive long-term growth prospects )
Avi-Tech's HQ and factory in Serangoon North Ave 5. Photo: Google Maps Prior to that, Avi-Tech hosted a visit by analysts and investors to its HQ in Serangoon North Avenue 5 where we gained insights into its operations, mainly burn-in services that stress-test semiconductor chips produced by its MNC clients.

These chips are largely for use in automobiles and are tested to weed out any defective ones.

Such tests are expected to rise in volume as more electronics are incorporated into vehicles.

The automotive sector accounted for 67% of Avi-Tech's 1Q2017 revenue for "burn-in" services.

Similarly, the automotive sector accounted for 75% of the revenue of "burn-in boards" that Avi-Tech manufactures (in Singapore) for third parties.

Here's a 1-minute video, from our visit, to give you an idea of Avi-Tech's operations and facilities:



Briefly, the burn-in process: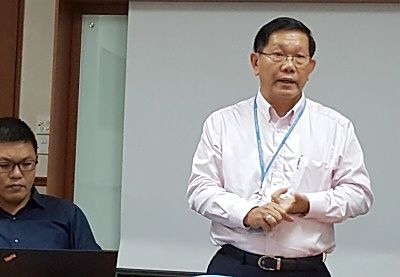 Lim Eng Hong, CEO and founder of Avi-Tech. NextInsight file photo ♦ Semiconductor chips sent by customers for burn-in are loaded onto burn-in boards.

♦ The boards are loaded into the burn-in systems, many of which were designed and fabricated by Avi-Tech.

♦ The chips are "stressed" under high temperatures and electrical voltages to uncover those with a high likelihood of failure.

♦ Burn-in boards are unloaded from the burn-in system and the chips unloaded and visually inspected for defects.

♦ All the chips are returned to customers.


"Annual net profit after tax growth of 10% should be sustainable"
Avitech's burn-in services segment is therefore well-positioned to benefit from the increasing sophistication of vehicles and, ultimately, the advent of driverless vehicles. With other disruptive technologies in the IoT era, and the march towards cloud businesses and smart cities, we believe another wave of demand for semiconductor burn-in and other related services is coming, which would be a further boost to the group. We therefore believe that the long-term growth prospects are positive, in line with the macro trend of global digitalisation. As a result, we view that a conservative and stable annual NPAT growth of 10% should be sustainable at Avitech.
-- RHB Research report (28 March 2017)