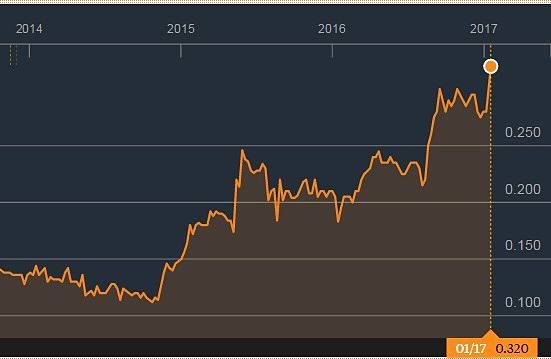 Avi-Tech hit 32 cents yesterday, a 5-year high. Chart: Bloomberg Avi-Tech Electronics, after a 100% gain in its stock price in the past one year, trades at a trailing PE of 9.3x.


Stock price

Trailing PE

Market cap

Dividend yield

Avi-Tech

32 c

9.3

S$55 m

5.62%

Sunright

31 c

27.5

S$38 m

0.65%

KESM (Bursa Malaysia)

RM10.00

13.2

RM430 m

0.3%

Source: Bloomberg (17 Jan 2017)
That doesn't look like a steal anymore on first impression. But it's still at a discount to certain peers (see table), as Avi-Tech management pointed out at a presentation yesterday (Jan 17).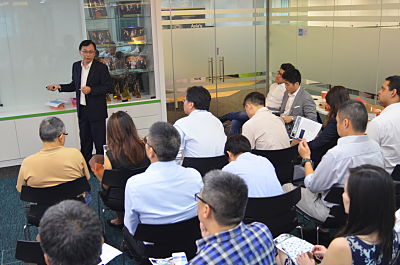 Good turnout by investors and analysts @ Avi-Tech's presentation yesterday (17 Jan). Photo by Sim Kih And if you take out its net $30.3 m cashpile as at end-Sept 2016 (55% of current market cap), Avi-Tech trades at about 4X earnings only.

That aside, the question is, what's the upside from its business fundamentals?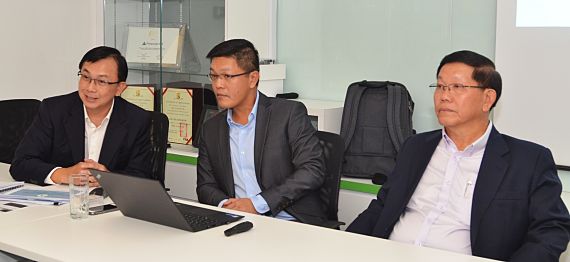 (L-R): Avi-Tech CFO Joseph Wang, COO Alvin Lim and CEO/founder Lim Eng Hong. Photo by Sim Kih Avi-Tech looks like a stable service business: all its clients are MNCs, many of which have proven to be sticky. And, given their blue-chip status, Avi-Tech has not had any bad debt all these years.

"These MNCs don't jump from one supplier to another. When they are with you, they will be with you for many, many years because to qualify a supplier is very tough," said Mr Lim Eng Hong, the CEO, in reply to a question.

Avi-Tech provides services (in Singapore) that stress-test the semiconductor chips produced by clients. These chips are largely for use in automobiles.

The automotive sector accounted for 67% of the 1Q2017 revenue for the so-called "burn-in" services.

Similarly, the automotive sector accounted for 75% of the revenue of "burn-in boards" that Avi-Tech manufactures (in Singapore too).



"We design our own burn-in systems, so our costs are lower. We have our own engineers who upgrade the systems to burn-in state-of-the-art devices. This is very important. If you have to go out and buy systems, and need to ask the vendor to come in to do upgrades, the cost is very high.
"
-- Lim Eng Hong,
CEO/founder, Avi-Tech Electronics.
(Photo by Sim Kih)
Management is optimistic that revenue and profitability can grow with the increasing adoption of electronics in vehicles for safety, infotainment, navigation and fuel efficiency.

The advent of driverless vehicles will further boost the use of electronic components.

Mr Lim also highlighted that the Internet of Things will generate tremendous data traffic and the creation of data centres which require high-end processors. The latter require burn-in services and boards.

Organic growth in Avi-Tech's business will, sooner or later, be accompanied by inorganic growth.

Said Mr Lim: "As a listed company, we are always looking at how to go up to the next level. In the US, we invested in R&D and we failed. We are wiser now. In future, we want to invest in companies that are synergistic with Avi-Tech, are profitable and generating positive cashflow."

Meanwhile, Avi-Tech can be relied on to pay dividends, though it does not have a stated payout ratio.

Since its listing in 2007, it has paid dividends every year, except FY2012-2014 when it suffered losses directly attributable to its acquisitions in the US. These have since been divested.

The current trailing dividend yield is 5.6%.

(Subsequent to our report, CIMB published its own report here.)