CWG International's stock rose 0.9 cent, or 5%, to 18.7 cents yesterday (31 March), a day after it announced a major acquisition of a tourism business in Suzhou.

CWG acquired a 60.0% stake in Suzhou Xinglun Tourism Co., Ltd. (previously known as Suzhou Industrial Park Commercial & Tourism Development Co.), owner of the iconic Suzhou Ferris Wheel Theme Park, for RMB197.2 million.


Photo: www.chinalinks360.com
Post-acquisition, CWG will also own two plots of land, with a total estimated Gross Floor Area ("GFA") of 75,797sqm, where it will build a landmark integrated development that comprises serviced apartments, premium residential units and retail space.

The project is situated on a prime site in East Jinji Lake Central Business District, next to the renowned Jinji Lake. Strategically located at the heart of the Eastern CBD, it enjoys high transportation connectivity and is within close proximity to the subway station as well as highways. The area is well known for its tourist spots and is well supported by a wide range of cultural, exhibition, catering and leisure facilities.


CWG International

18.7 cents

52-week range

5.7-20 cents

Market cap

S$124 million

PE (ttm)

5.4

Dividend yield

5.35%

1-year return

149%

Source: Bloomberg
The project is surrounded by numerous educational facilities, a hospital that is a 10-minute drive away, and within walking distance from the Suzhou's Ferris Wheel Amusement Park, China's largest Ferris wheel over water.

The first plot of land with an estimated GFA of 15,000 sqm, fully utilised for the development of retail units, will include a lifestyle fashion zone as well as tourism space linked to the Suzhou Ferris Wheel. This project is expected to be completed by 2021. The second plot of land with an estimated GFA of 60,797 sqm will be used for the development of 202 serviced apartments, 96 luxurious residential apartments and some retail units. This is expected to be completed by 2019.

Upon completion, the integrated development is set to become a prominent landmark in Suzhou, one of the leading tourist destinations in China. In 2014, Suzhou received 100.3 million domestic visitors and 1.5 million foreign visitors with total tourism income at RMB169.8 billion. Meanwhile, the residential market in Suzhou posted double digit growth in 2016, despite progressive measures introduced to tighten it. This uptrend in property prices is expected to sustain at a steady rate due to favourable housing market demand-supply inventory trends.

Mr. Gong Ming, China Country Managing Director of CWG International Ltd. said: "Leveraging on its strong industrial and manufacturing base backed by government initiatives and policies, Suzhou's economic transformation over the years has made it one of China's prominent commercial hubs. In 2015, Suzhou's nominal GDP grew 7.5%, with retail sales recording double-digit in the past few years. This growth is expected to be sustained on the back of continuous investments. Steady economic growth, urbanisation and strong population growth led by immigration will continue to drive underlying demand for housing in Suzhou.

"In addition, our market study shows that iconic residential developments surrounding our plots, which enjoy rare scenic lake views in Suzhou, enjoy higher price premiums – which are approximately between two to three times more than the average selling price of RMB21,775.0 per sqm for a residential unit in Suzhou. Therefore, we are confident about the retail prospects and residential demand for this project."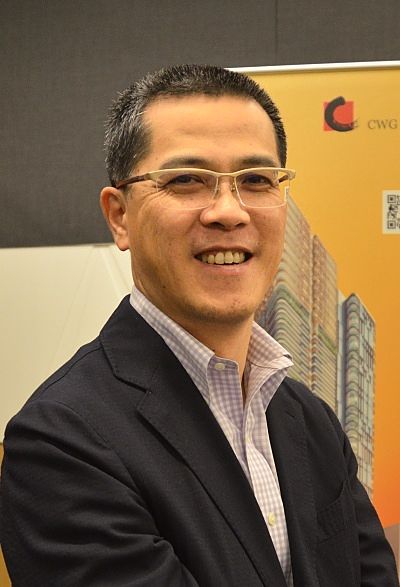 Mr. Qian Jianrong (photo), Executive Chairman and CEO of CWG International Ltd. said: "This development will leverage on our existing strong presence and management team in Suzhou, and bears out our strategy to continue scaling up within China. We continue to tap growth in cities that are still growing, with a disciplined and steady strategy in land acquisition. For 2017, in Suzhou, we have four projects to be launched and two other projects slated for delivery. While we remain cautious about the cooling measures, we are confident in our operational and execution abilities. To this end, we have set a target of RMB10.0 billion in advanced receipts for FY2017, inclusive of JV projects, and aim to reach RMB40.0 billion by FY2021."