Inaccuracies have appeared in print media reports on Healthway Medical. This week, we sat down with Healthway's President, Veronica Chan, and financial controller, Goh Lay Lan, to understand matters.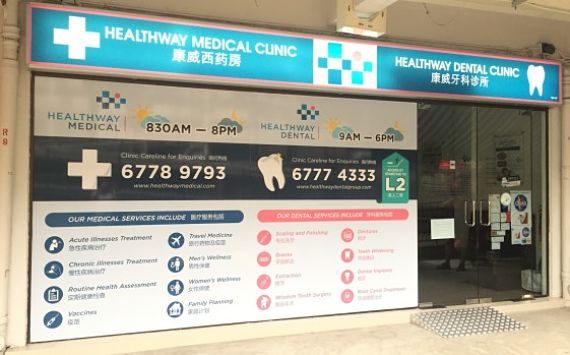 Healthway is Singapore's largest network of private medical centres and clinics offering services in primary healthcare, dental and specialist services.
Photo: CompanyHealthway is raising S$70 million from a fund called Gateway, and issuing notes to it. Contrary to a media report, the interest is not payable in cash.

Instead, the principal and interest are intended to be converted into zero-coupon convertible notes within six months.

"Zero coupon" equates to zero interest, which means Healthway pays no interest on the notes. Nor will it need to repay the principal in instalments.

The notes mature in five years, at which point the entire sum is repayable together with the redemption premium of 6% internal rate of return to Gateway -- or the notes can be converted into equity of Healthway prior to the maturity date.

To exchange all S$70 million of the notes and accrued interest into zero-coupon convertible notes, Healthway will first have to seek shareholder approval at an EGM, which is expected to be held in April 2017.

Shareholder support could be forthcoming since the conversion means Healthway pays no cash interest on the S$70 million notes.

If shareholder approval is not obtained, Healthway has to pay up to 16.5% interest a year on the S$70 million -- this is something which no shareholder in his right mind would want.

Gateway is set to release the entire S$70 million sum to Healthway on 9 March 2017.

The annual interest rates of 12% for the first three months and 16.5% for the subsequent three months look onerous.

However, Healthway says they are still more favourable than the terms offered by other institutions and funds, including some which wanted to privatise Healthway at low valuations.

Healthway says it has S$11.5 million of loan borrowings outstanding, and is expected to repay all of them using the Gateway cash infusion.

China:
In its FY2016 results statement on 24 Feb 2017, Healthway made an allowance for doubtful loan receivables of S$21.6 million from "Party B" which it named as Wei Yi Shi Ye Co. Ltd.

The identity of Party B is not a secret and was first revealed by Healthway several years ago.

Wei Yi Shi Ye operates and owns medical and dental practices and a hospital in Shanghai. This is a business which Healthway acquired and appointed a PRC national as the shareholder since Healthway, as a foreign enterprise, could not own it outright.

The PRC shareholder has no active role in the business while Healthway appointed a member of its own staff as the sole executive director to ensure the integrity of the operations.

Healthway funded this PRC business -- which started in 2009 -- to the tune of S$36.6 million, accounting for it as a loan receivable.

Because of operating losses in that business (high rental and doctors' salaries, etc) Healthway made allowances for doubtful loan receivables in past years. This is a non-cash accounting treatment.

In 2015, Wei Yi Shi Ye became the target of a possible acquisition by a third party, and a letter of intent was signed.

Healthway envisaged that the sales proceeds would be utilised to settle the loan receivables due from Wei Yi Shi Ye.

The acquisition, however, did not happen. The balance loan receivable as at 31 Dec 2016 was S$21.6 million, which Healthway chose to make an allowance for in its entirety.

This is so that in future, there is no further need to impair.

In fact, with the Chinese business reducing its losses substantially over the years, Healthway is hopeful it would break even this year.

As and when the PRC business returns to profitability, Healthway will be able to write back the loans receivable. And there may be real cashflow back to Healthway.


Healthway Medical Enterprises (HME)

Way back, around 2010, Healthway had started specialist services from scratch, hiring specialists, leasing shop space and buying equipment.

The business (Healthway Medical Enterprises), with its high capex and fixed operating costs, needed large financial support. Healthway decided to sell it with an option to buy it back.

In the meantime, it extended loans, which grew to about S$65.5 million, to HME.

Healthway, in its 2016 financial statement, made an allowance of doubtful loan and other receivables of S$15.0 million from HME.

The allowance is mainly due to the challenging operating environment which resulted in an increase in operating costs and an overall underperformance of the HME's clinics.

Healthway is set to acquire HME next month (March 2017) for S$3.54 million.

Healthway reckoned it would be able to recover about 75% of the outstanding loan and other receivables.

In fact, HME, which has reduced its losses to just about S$100,000 last year, could turn profitable in the near term.