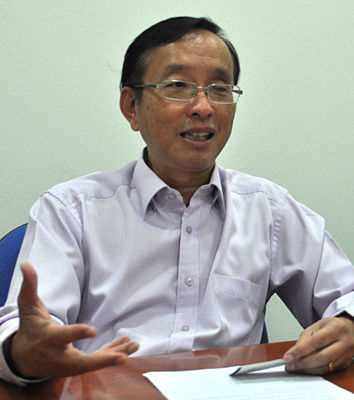 Healthway executive chairman Fan Kow Hin. NextInsight photo HEALTHWAY MEDICAL CORPORATION is one of the largest private medical groups in Singapore.

Its primary healthcare division has been doing nicely but the specialist and wellness division reported an EBTDA (earnings before tax, depreciation & amortisation) loss of $3.8 million on revenue of $29.6 million in 2012.

Going forward, a narrowing of the loss, or a recovery in profit, in the specialist division would have a strong impact on Healthway's bottomline.

No performance figures for the specialist and wellness division were given in the 2013 quarterly reports but the company has said that the division is growing.

"Our specialist clinics are seeing more patients and new doctors have joined our Group," said the company in its 2Q results statement.

In our meeting with Healthway executive chairman Fan Kow Hin recently, he said that 2-3 years ago, some specialists (orthopaedics and paediatrics) left the group but new ones have progressively come on board.

After a period of gestation, "the revenue per specialist now is significantly higher than that of the specialists who have left us. The specialist division has seen a steady ramp-up from last year and the momentum is growing," he said. "We expect to see its margins improve significantly this year."

Previously, business growth could have been impeded by personality issues and certain entrenched practices of some of those who have left.

Healthway's specialist division largely comprises paediatricians and orthopaedic specialists -- there are 15 paediatricians and 7 orthopaedic specialists.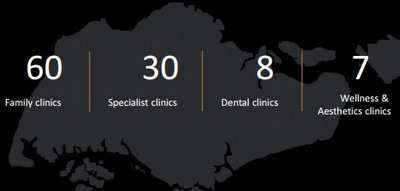 "Fee for service" provider

Healthway is the largest private employer of doctors and specialists -- there are 105 of them in total.

Healthway's primary healthcare division is doing nicely and revenue derived from corporate clients account for about half of the division's revenue.

Healthway practises a "fee for service" model for its corporate clients whereby its GPs charge what they deem to be appropriate for the treatment and consultation.

Re-organising the business

Mr Fan said Healthway has embarked on a plan to "co-locate" dental services within its GP clinics, and vice-versa. This will drive operating costs down as there will not be an increase in rental nor frontline staff.

Healthway has started doing so with its clinic in Fajar.

"Within 3 years, we hope to get almost all of our clinics to be like that, subject to the availability of dentists and doctors."

Clinics usually have enough under utilised space which can accommodate a dental room or a GP room. Where the clinic is not big enough, Healthway will consider moving to one which can allow both its dental and GP practices to co-locate, said Mr Fan.

A bigger clinic could in fact cost less on a psf basis. And though Healthway has faced rental escalation in the last few years (all its clinics are leased), it reckons it can manage rental costs better by moving to bigger clinics and to locations that are not necessarily as visible, and in environs as busy, as before.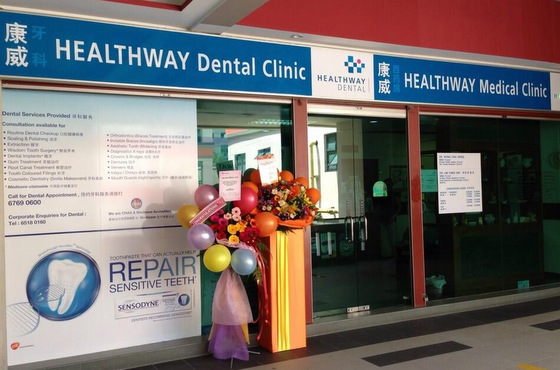 Co-location: This Healthway dental-cum-GP practice in Fajar shopping mall is the first of many co-located practices that Healthway is developing.
Photo: Company

Relocating some of its clinics is a work in progress and will be done for another reason -- Mr Fan expects them to simply serve more customers.

He highlighted several key waves of change in the industry. For example, there is the Community Health Assist Scheme (CHAS), a Ministry of Health programme to help provide accessible and affordable medical and dental care to Singaporeans.

About 1 m Singaporeans are eligible. For FAQs on the scheme, go to the CHAS website.

The "baby bonus" scheme and the availability of Medisave savings for treatment of chronic diseases -- all these spell lots of upside for Healthway. "There's still plenty of good growth potential out there," said Mr Fan.

Learning and improving in China

Healthway reported a loss in its China business but Mr Fan said the company -- which has been in China for the past 3-4 years -- continues to learn and improve.

In the meantime, in China it holds 10 operating licences for medical centres.

While a clinic in Singapore is typically of about 700 sq ft, Healthway's centres in Shanghai are each of about 15,000 sq ft. They thus hold scope for an expanded team of doctors and of specialist services.

Goodwill + stock price + dividends

We asked Mr Fan about several other things:

1. Goodwill on the balance sheet: Its intangible assets amounted to $122.5 million out of the group's assets of $268.8 million, contributing to low returns one quity and assets.

Mr Fan said a large amount of goodwill is not unusual for balance sheets of healthcare companies in Singapore and elsewhere, including the US.

The goodwill arose from its acquisition of medical practices in the past, and it is a big part of the company's assets only because Healthway doesn't own real estate.

2. Share price: Healthway's stock has not exactly been a market darling but Mr Fan said that as the company becomes stronger with its various strategies (expanding its specialists' division, growing in China, etc), the market would rate the stock higherr.

3. Dividends: Healthway last paid a dividend (scrip dividend) in May 2010. In July this year, shareholders received a special dividend in the form of International Healthway shares.

Given the ongoing "re-organisation" of the business (re-location, co-location, bigger medical centres, expanding its specialists division, etc), Healthway is not likely to resume paying cash dividends as yet.

But such investments are necessary and sensible.

"Today we are stronger than 5 years ago. We have set up good platforms and we have shown an ability to execute initiatives. Certainly, we are better placed now than before," said Mr Fan.


Previous story: HEALTHWAY MEDICAL: Insights into its good growth potential