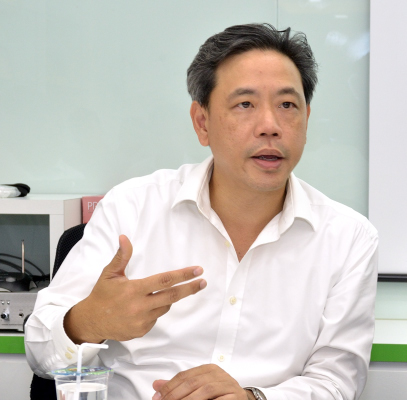 Loke Wai San, non-executive chairman of AEM Holdings. Photo by Sim Kih AEM Holdings' 2016 results reflected strong operating results, as expected by many investors.

Pre-tax profit rose 25.1% to S$6.1 million.

On a proforma basis, pre-tax profit jumped 50.5%.

People looking at just the bottomline would have wrongly concluded that profitability was squeezed.

Net profit after tax did decline 19.5% y-o-y to S$4.7 million.

But that is because of impairments, allowances for inventory obsolescence, reversal gains/losses and share of associates' loss. In addition, in FY2015, there was a net tax credit of S$1.8 million while in FY2016, there was a tax expense of S$1.3 million.


S$'000

2015

2016

1H2016

1H2017F

Profit before tax

4,868

6,091

2,034

6,500 *

Adjustment for impairment, allowance, and reversal (gain)/loss

Proforma profit before tax

4,050

6,079

*forecast by AEM

Prospects for AEM's operating results continue to look bright.

Guiding the market, AEM in a press release provided a forecast of its pre-tax profit for 1H2017.

It's "at least S$6.5 million", it said. That's 220% higher y-o-y and it's higher than the pre-tax profit of the entire 2016.

AEM's revenue forecast for 1H2017 is "at least S$70 million". Again, this is higher than the revenue for the entire 2016.

Taking those numbers, Maybank Kim Eng added in a note to clients last Friday: "Annualising the 1H17 profit guidance and applying an effective tax rate of 23.5% would take its 2017 net profit to $9.9m, translating to a 2017e P/E of 5.6x."

AEM continues to expect to do very well in 2017, because of a ramp-up in its delivery of its hot-selling product, mainly to Intel -- the "next generation of high density modular testers that are able to test various types of computer chips on a single machine."

It has just announced that its latest order book stood at $130 million for delivery in 2017.


♦ Higher dividends
Bonus issue and dividend

If you hold shares pre-bonus issue

1,000

Number of shares post-bonus issue

1,500

Proposed Final Dividend

1.3 cents per share

You will get

$19.50 dividend
(ie 1.3c x 1,500)
In its 2016 financial statement, AEM announced a bonus issue of 1 share for every 2 shares.

After the bonus issue, a dividend of 1.3 cents a share will be paid on 31 May 2017.

This is the final dividend for FY2016.

AEM has also announced a dividend policy -- at least 25% payout of its net profit after tax.
Taking the company's guidance of at least S$6.5 million in pre-tax profit for 1H2017, one can estimate a net profit after tax of about S$5 million.
On a 25% payout, the dividend is about $1.25 million, or nearly 3 cents a share just on the 1H2017 earnings.




For more details, see the Powerpoint presentation here.