It's a survivor, with no known financial scandals since its listing on the SGX in 2005.

Better still, in the last two years or so, it has become a market darling. Its share price reached as high as a record 56.5 cents today.

Its profitability looks set to turn up strongly Sunpower Group belongs to a rare breed of S-chips. on the back of a long track record of profitability (though not generous dividends).

More interestingly, Sunpower has gained a foothold in the vast industry of pollution control in China. Yesterday, it announced its latest contract in this area. (for more, click on story links at the bottom of this page).


In Dec 2016, Sunpower announced that an arm of CDH Investments would subscribe for US$110 million convertible bonds of the company.

CDH is a big name: It has US$19 billion of investments under management with over 20 years of experience. In fact, CDH is one of the most experienced and one of the largest Chinese private equity investors.

If the Sunpower bonds are fully converted, CDH will own 28.2% of Sunpower (conversion price: 50 cents a share).

On 3 Jan this year, the "performance targets" set under the CB agreement were made known.

They are captured in the image below of page 21 of Sunpower's presentation that was uploaded to the SGX website.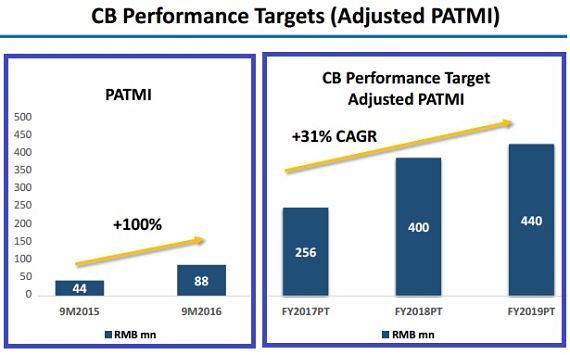 The first chart shows that 9M2016 net profit surged 100% -- this was announced a few months ago.

What's new and more interesting are the 2017-2019 performance targets agreed on by Sunpower and CDH.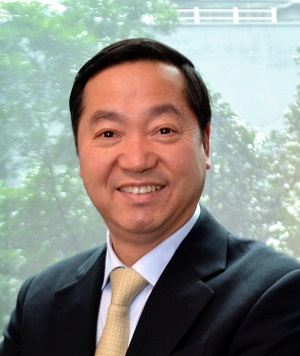 Guo Hongxin, executive chairman of Sunpower. NextInsight file photoThis year's target of RMB256 million looks to be around 100% higher than the 2016 full-year profit.

Based on the 737,657,142 shares outstanding, the 2017 earnings per share of Sunpower would be about 34.7 RMB cents, or 6.9 SGD cents.

This translates into a PE of about 7.8X based on the recent share price of 54 cents.

It would go lower to 5X if both the 2017 and 2018 performance targets are met.

Sunpower has stressed that while these targets were set out in the CB purchase agreement, they do not represent its profit forecasts.


What if Sunpower does not meet these targets? Unlike 2017, there is a penalty for underperformance in 2018 and 2019.


In 2018, for example, when the target is RMB400 m, if Sunpower fails to achieve at least RMB360,000, the bond conversion price will be adjusted lower for the benefit of CDH.

See details such as the formula here.