BEST WORLD INTERNATIONAL has emerged as a top gainer on SGX in the past year (if you exclude the 2,000% gain of ISR Capital which is under probe).

At the beginning of 2016, Best World's stock price was 26.8c. At end-2016, it closed at $1.34, up a whopping 5 times.

Its run is not over, according to Maybank and CIMB analysts. Their consensus target price is $2.185, translating into upside potential of 63%.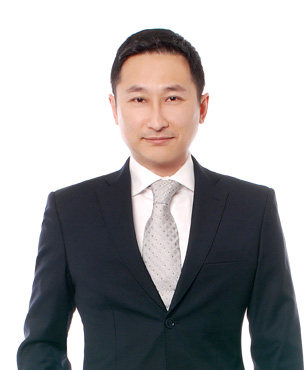 "We are targeting to be among China's top 20 direct sellers in 3 to 5 years and Taiwan's top 5 by 2017."
- Huang Ban Chin
Executive Director and COO
Best World International
China is the world's second largest direct-selling market, worth US$35.5 billion in 2015 and growing at 19% per annum.

In November, Best World secured a direct selling licence for Hangzhou, the capital of Zhejiang and the most populous city in the province.

The acceptance of Best World products has been gaining momentum in China.

Before receiving the licence, revenue contribution from China through its export model had been surging: it doubled to S$42.0 million (up 216.9%) year-on-year for 9MFY2016.

This represents 30.2% of Group revenue.

Management believes that the transition from an export model to a direct-selling business model in China, as well as having overcome initial regulatory hurdles for direct selling licenses for other PRC cities, will be reflected in its bottom line by FY2018.

The tables below show the top 20 gainers and losers of 2016. Top gainers with a PE ratio of less than 15 times are highlighted.

Top 20
Gainers

Total Return

Stock Price




(end-2016)

PE

BEST WORLD
416%
$1.34
14.0
MERCURIUS CAPITAL
200%
3c
-
S I2I
196.8%
174c
4.3
CITYNEON
195.3%
94.5c
30.4
AEM HOLDINGS
195.3%
86c
4.7
SING MEDICAL GROUP
166.9%
43.5c
169.0
CHINA KANGDA FOOD
159.1%
28.5c
-
EQUATION SUMMIT
140%
1.2c
-
JASPER INVESTMENT
137.5%
1.9c
726
CNMC GOLDMINE
136.8%
43.5c
8.5
TSH CORP
133.4%
2.8c
-
CWG INTERNATIONAL
127.8%
16.4c
-
MM2 ASIA
126.1%
45.5c
56.4
ALLIED TECH
120%
2.2c
--
KODA
114.5%
82c
8.4
FOOD EMPIRE
114.3%
45c
19.6
800 SUPER
107.2%
96.5c
10.3
CHINA AVIATION
105.5%
140c
10.1
GSH CORP
104.4%
51c
157.3
CHINA FLEXIBLE
101.2%
75.5c
-
Top 20
Losers

Total Return

Stock Price

PE

SERRANO
-96.9
0.2c
-
SWEE HONG
-92.9
0.9c
3.0
OKH GLOBAL
-91.0
6c
3.2
KOYO INTERNATIONAL
-83.9
5.9c
19.6
UNITED FOOD
-81.5
2.8c
-
A-SONIC AEROSPACE
-81.1
17.3c
-
INFORMATICS
-80.0
15.2c
-
STRATECH GROUP
-78.0
8.8c
-
USP GROUP
-77.2
9.8c
0.8
NICO STEEL
-76.7
1.4c
-
DRAGON GROUP
-75.4
1.4c
-
MARCO POLO MARINE
-75.2
5.2c
-
TRANSCORP
-75.2
3.3c
-
MAGNUS ENERGY
-75.0
0.1c
-
MMP RESOURCES
-75.0
0.3c
-
FAR EAST GROUP
-75.0
3.5c
-
LERENO BIO-CHEM
-71.4
2c
-
LIONGOLD CORP
-71.4
0.2c
-
AUSGROUP
-70.7
4.6c
-
GAYLIN
-69.8
12.4c
-
The above total return data from Bloomberg includes capital adjustments and dividends over the year to 30 Dec 2016.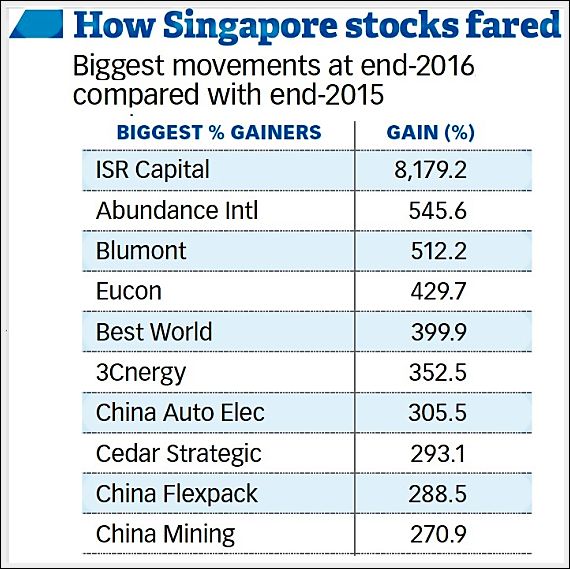 The Business Times last Saturday published its version of top gainers some of whose figures are very incorrect.

The BT table (left) showed ISR Capital as the top gainer with 8,179% gain. But from 0.6 cent to 12.7 cents is actually about 2,000%. (The stock has been suspended since late Nov and is under a cloud ).

Eucon, to which BT ascribed a gain of about 430%, actually had a negative return of 7% (from 3 cents to 2.8 cents).

Did Blumont turn in a 512% gain? Nope, it was minus 33%. And Abundance International's gain was nowhere near as abundant as reported.