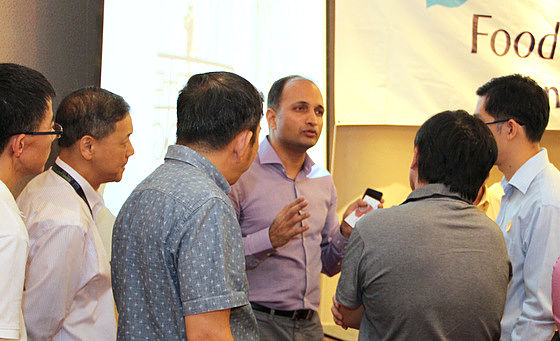 CEO Sudeep Nair speaking with shareholders after a Food Empire AGM. NextInsight file photo

Fri, Nov 11:
Release of 3Q results after market closed; stock price 30 cents.


Mon, Nov 14:
Stock 39 cents


Fri, Nov 18:
Stock 42.5 cents
In the first insider purchase since May 2012, Food Empire's CEO, Sudeep Nair, has bought 5,408,400 shares for a total of $2.1 million.

His purchases, made on Nov 14, 15 and 16, came hot on the heels of the release of the 3Q results of Food Empire.


Date

No. of shares bought

Average price

Cost

Stake (%)

16 Nov 2016

2,500,000

41.7 c

$1,042,250

44,494,799
(8.35%)

15 Nov 2016

1,350,000

40.3 c

$544,185

14 Nov 2016

1,558,400

35.2 c

$548,713
Food Empire reported US$5.8 million in net profit, a big improvement from the US$657,000 in the same quarter of 2015.

Similarly, the 9M2016 profit of US$11.6 million was a pretty picture compared to the US$3.4 million of a year ago.

The key contributor was the absence or lowering of forex losses:


Food Empire

43 cents

52-week range

19.5-44 cents

Market cap

S$218 million

PE (ttm)

18

Dividend yield

-

Net asset value

28.3 US cents/share

Source: Bloomberg, Company
♦ In 3Q 2016, forex loss was merely US$207,000 compared to US6.4 million previously;

♦ In 9M2016, forex loss was absent compared to US$10.6 million previously.

Forex loss mainly refers to the Russian currency, as the country is Food Empire's largest market.

It was 63.2 ruble per US dollar on 30 September 2016, compared with 72.9 ruble per US dollar on 31 December 2015.

Will the forex factor stay positive and Food Empire become a comeback story? The CEO's purchases signal his optimism on that.

See also: Getting to know SUDEEP NAIR, the new CEO of Food Empire


P/S: Subsequent to this article, Sudeep Nair bought 2.5 m shares for $1.08 million on 22 Nov.