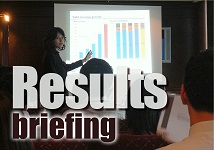 Event: Yangzijiang Shipbuilding 3Q2016 results briefing
Date: Wednesday, 9 November 2016
Time: 9:30am
Venue: Hong Leong Building
Yangzijiang Shipbuilding's 3Q2016 net profit attributable to shareholders may have declined by 59% year-on-year to RMB 281.2 million, but this is not stopping the leading shipbuilder from maintaining its dividend payout.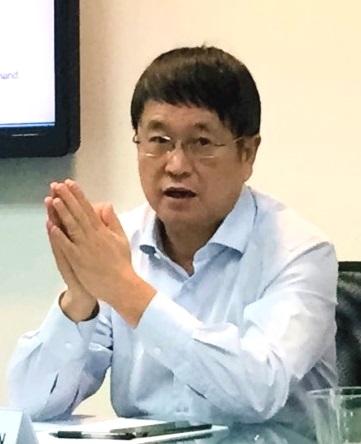 "A weakening of the RMB against the USD will improve our margins as the receivables for all our shipbuilding contracts are denominated in USD."


- Ren Yuanlin
Executive Chairman
(Photo by Colin Lum)
At its results briefing, Executive Chairman Ren Yuanlin said that he intends to maintain its dividend yield because of the emphasis that the Singapore market places on dividends.

At the beginning of this year, the Group had declared dividends of 4.5 cents per share for FY2015, which translated into a payout ratio of 33% and a dividend yield of 4.09% as at 31 December 2015.

Mr Ren qualified that the final dividend payout that the Group decides on is subject to its profitability and stock price.

Highlights for 3Q2016:
Group revenue of RMB 3.9 billion was down 6% yoy.
Shipbuilding segment gross profit margin expanded by 6 percentage points yoy to 24%.
Orderbook of US$4.4 billion as at 30 September 2016 remains no.1 in PRC (no.4 globally).
New orders for 3 containershps of 1,900 TEU were secured in September, lifting the value of orders secured this year to US$650 million.
For more information, refer to its 9M2016 financial statements here.

Below is a summary of the questions raised at the meeting, and the replies provided by Executive Chairman Ren Yuanlin and CFO Liu Hua.


Q: How profitable are your liquefied gas carrier vessels?


Mr Ren: The construction of our LNG vessels is progressing beautifully. Many visitors to our yard were impressed. A successful track record for these two maiden gas vessels of ours will help when we bid for oil tanker and gas carrier orders.

We are talking to potential customers from Bangladesh. When Xi Jinping visited Bangladesh last month, many commercial agreements for the One Belt One Road initiative were signed. One of these agreements involves 3 oil tankers and 3 bulk carrier vessels financed by the PRC government for construction by PRC shipyards.

Securing the first batch of these vessels will position us favourably for the tender of the second batch of similar vessels under the same agreement.



"Our New Yangzi yard recently renewed its 3-year preferential tax status for a PRC new high-tech entreprise, and our Xinfu yard is applying for the same. Our margin will be lifted by this preferential tax status."


- Liu Hua
CFO
(Photo by Colin Lum)
Q: Do you face technical challenges in the LNG vessel construction?

Mr Ren: The entire design of our LNG vessel is proprietary to us. This includes both the design of the spherical tank for the gas cargo as well as the ship structure.

Ms Liu: We are starting out with IMO's type B LNG vessel, which we have no problems with. We intend to progress to more advanced LNG types when we have accumulated more experience.


Q: What can you do with your excess capacity under the worst-case scenario?


Mr Ren: The industry is now at its worst-case scenario. Of China's 77 whitelisted yards, 52 have yet to receive orders this year and 6 have collapsed.

We have ceased operations at two out of four yards. There are no buyers for shipyards now. On the other hand, if someone with very good shipbuilding facilities wants to sell out, we will consider it. Shipbuilding facilities are currently priced at scrap metal prices.
Stock price

80.5c

52-week range

70.5c - S$1.215

Market cap

S$3.1 billion

PE (ttm)

12.56x

Dividend yield

5.63%

Source: Bloomberg
Q: What is your new order target for next year?

Mr Ren: We had targeted to secure US$2 billion of new orders this year, based on our current capacity. So far, we have only secured US$650 million.

Our competition is no longer from Japanese or Korean yards, but from PRC state-owned enterprises that are willing to subsidize the customer. We will do our best to secure orders as long as we can breakeven, but we will not accept loss making orders.