Oxley Holdings, which recently started marketing its first property venture in Dublin, Ireland, has unexpected good fortune heading its way because of Brexit.

The Singapore developer has just officially launched "Dublin Landings", its new docklands development in Dublin with an estimated gross development value of €700 million.

The project will consist of 700,000 sq ft of flexible Grade A office and retail space, and 273 luxury residential apartments.

Oxley, which secured the development rights in 2015, will jointly develop it with Ballymore Group, one of the largest privately-owned property groups in Europe.

Demand for its office space will likely intensify when Brexit causes many financial firms to leave London.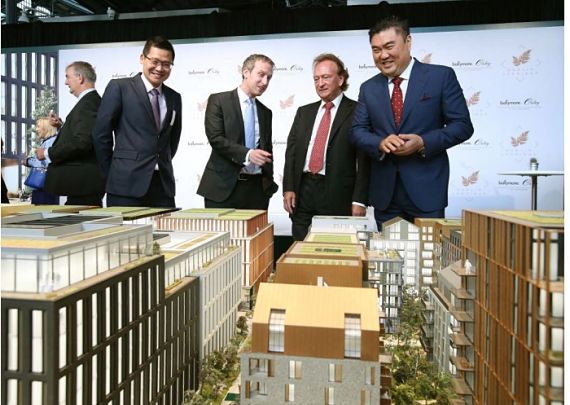 Oxley chairman Ching Chiat Kwong (extreme right) and deputy CEO Eric Low (extreme left) at the launch of the company's Dublin project this month (Oct). Photo: CompanyThe Guardian reported yesterday that Ireland is mounting "a vigorous charm offensive to lure thousands of financial jobs from London to Dublin, exploiting the growing uncertainty about Brexit and what it might mean for banking operations in Britain".


Oxley stock

45.5 cents

52-week range

38 – 49 cents

PE (ttm)

6.5

Market cap

S$1.3 billion

Shares outstanding

2.93 billion

Dividend yield
(FY16)

4.2%

Revalued Net Asset Value/share

$1.14 (RHB Research estimate)

Source: Bloomberg, RHB
Irish officials say US banks and other non-EU financial firms worried about the future possibility of using London to do business in Europe are already scoping out the option of moving some operations to Dublin after Britain leaves the EU.

"Our approach is very clear, we will go after every single piece of mobile [non-finalised] investment," says Martin Shanahan, the head of Ireland's Industrial Development Authority, who has been touring the US and China to sell Dublin as a gateway to the EU.


Undoubtedly there are more opportunities because of Brexit. You can be assured that any opportunities there are, Ireland will seek to take advantage of and we will be in the fray, as will others.
-- Martin Shanahan,
Head of Ireland's Industrial Development Authority
Last week, the Irish finance minister announced a tax relief programme designed to help foreign investors move staff from the US and elsewhere to Ireland is to be extended until the end of 2020.

It was part of an official "Getting Ireland Brexit Ready" programme announced on budget day that is designed to protect existing foreign investment and lure new business. Irish officials see new business as a possible consolation for the considerable economic and political hardships that Brexit will foist on the country.

Read more about The Guardian report here.