Excerpts from analysts'reports:

OCBC analyst: Andy Wong, CFA

Soilbuild REIT: 2Q16 results in-line with our expectations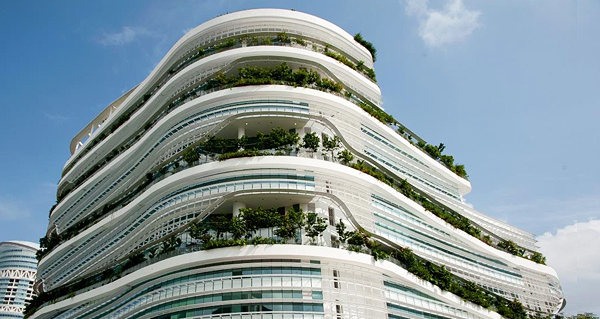 Located in Fusionopolis, Solaris is the most expensive building in the Soilbuild REIT portfolio. Company photoSoilbuild Business Space REIT (Soilbuild REIT) reported its 2Q16 results which met our expectations. Gross revenue was flat (-0.1% YoY) at S$19.6m but NPI grew 3.7% to S$17.3m due to a reduction in property tax expense for West Park BizCentral.

DPU was lower by 3.1% on a YoY basis to 1.565 S cents as a result of an enlarged unit base.


"Given this in-line set of results, we maintain our BUY rating and fair value estimate of S$0.76 on Soilbuild REIT. Based on our forecast, the stock is trading at FY16F distribution yield of 8.9%."

-- Andy Wong, CFA (photo)
For 1HFY16, Soilbuild REIT's gross revenue rose 3.9% to S$39.7m and accounted for 48.7% of our FY16 projection.

DPU of 3.122 S cents represented a decline of 3.9% and formed 50.3% of our full-year forecast.

During the quarter, Soilbuild REIT encountered negative rental reversions of 5.7% for its renewal leases, although the area renewed made up only ~1.2% of its overall portfolio NLA. Its occupancy stood at 92.0%, as at 30 Jun 2016, a dip of 2.8 ppt QoQ due to the challenging leasing environment.


♦ Phillip Securities: Valuation is now 79 cents
Analyst:
Richard Leow, CFTe, FRM


Update on Technics Offshore Property
The Manager has encashed the security deposit of S$11.8mn from Technics and continues to bill the tenant with rent in arrears.
The Manager is actively seeking new tenants to take over the property before the rental arrears exceeds the security deposit. Our view is that it would likely be challenging to find a single tenant to take up the entire Property.



"
The portfolio is generally stable, with no master leases expiring within the next two years and only 2% of leases expiring for the remainder of 2016."
--

Richard Leow (photo), CFTe, FRM
The Manager shared that "a couple of smaller users" have expressed interest in the Property, with one putting in an offer. The Manager is open to leasing out the space under a multi-tenancy, and is optimistic on achieving 75% to 80% occupancy.
Maintain "Accumulate" rating with lower DDM valuation of S$0.79
We have lowered our FY16/17/18 gross revenue assumptions by 2.4%/2.9%/3.6% from previous estimates, in view of the softer leasing market. DDM valuation is now S$0.79 (previously S$0.83).

Full report here.