The outlook for the construction industry is turning positive – and BRC Asia couldn't wait to flag that it would be paying a large jump in dividends because of its expected profitability.

In its 2Q19 results announcement, released on 13 May, BRC said it "intends to pay a final dividend of no less than 5 Singapore cents for FY2019".

That's at least 5x the 1 cent paid for FY2018.

As its financial year ends in September, the first and final dividend for FY2019 would be proposed sometime in Nov 2019.

So, BRC looks pretty assured of its business as Singapore's No.1 manufacturer and supplier of prefabricated reinforcing steel solutions.



Along with the "no less than 5-cent dividend" promise, BRC said it aims to pay out at least 30% of net profit attributable to shareholders, excluding non-recurring, one-off and exceptional items, for FY2019 and FY2020.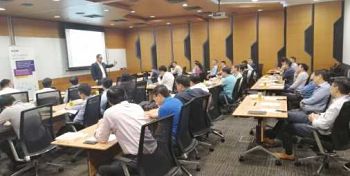 ♦ Arising from the $30-billion en-bloc transactions in the recent past, the pace of construction work awarded will be picking up from here on.

♦ Singapore has announced big infrastructure projects such as Cross Island Line, developments at Jurong Lake District and Changi Airport Terminal 5.

♦ Then there is the S$9 billion expansion plan by Singapore's two integrated resorts.
If, by coincidence or otherwise, 30% of BRC's net profit equals 5 cents per share, this implies that earnings per share would be at least 16.7 cents.

Given its 233.94 million shares outstanding, the implied full-year profit is at least $39.1 million.

1H profit was up 285% y-o-y at $11.5 million despite 1H having fewer working days because of the Christmas and Chinese New Year festive periods.

BRC's press release on its 1HFY19 results cited "synergistic value from Lee Metal acquisition". (BRC completed the acquisition of 100% of Lee Metal in July 2018).

The outlook: BRC is "well-poised to ride the next wave of construction projects in Singapore's continued large-scale development drive."

BRC's orderbook as of 31 March 2019: S$750 million, for execution up to 5 years.




BRC took its story to investors at an event co-organised by Financial PR and Singapore Exchange this week to highlight the construction and infrastructure sector.

Notably, in 1Q2019, the sector grew 2.9% year-on-year, the first quarter of y-o-y growth after 10 consecutive quarters of contraction, according to government statistics.

Soilbuild Construction was the other company that presented.

A highlight of the business is its S$98.8 million investment in land, building and automated plant & machineries for its Integrated Construction and Prefabrication Hub.

The manufacturing facilities at the Hub were commissioned in Dec 2018 -- so Soilbuild is going to ramp up as a major producer of prefabricated products for Singapore's building industry.

See also another construction/infrastructure play: ISOTEAM: Time For a Relook Following Strong 3QFY19