UNLIKE SOME of its peers, Singapore property developer Oxley Holdings has sold out most of its projects in Singapore -- and is sitting pretty waiting for a flood of cash to come in when a number of projects are granted TOP soon.
Oxley has proven to be nifty of foot, ceasing in 2012 to buy development land in Singapore when the government started implementing cooling measures.
Oxley turned boldly to opportunities overseas, even when it had no experience there, seeking instead to have "strong local execution partners," as its deputy CEO, Eric Low, describes it.
Oxley Holdings

Share price:
44 c
Source: RHB Research

Target:




91 c
Today, aside from having launched 29 projects in Singapore, it has projects, or completed projects, in UK, Malaysia, Indonesia, Cambodia, Myanmar, China and Japan.

It even has a sizeable project in a market which Singapore developers hardly go to -- Ireland.

Besides being known as aggressive, Oxley is viewed as an innovator -- it started the shoebox apartment trend, developed industrial buildings with (small) swimming pools and gyms, among others.

"Not only our projects are different from others. Within just three and a half years, we have gone from residential to industrial to offices to commercial and hotel. We tried these sectors for the first time and all our projects have been successful," said Oxley Holdings deputy CEO Eric Low at a presentation last Thursday (June 9).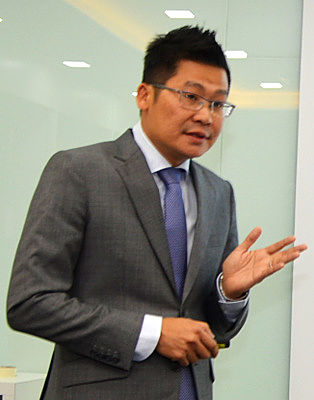 Deputy CEO Eric Low co-founded Oxley Holdings with Ching Chiat Kwong, the executive chairman and CEO. Photo by Cheng Kam Him. There's a building that bears Oxley Holdings' name in the CBD of Singapore and which Oxley has reserved three levels for its own use.

Sitting on freehold land in Robinson Road, Oxley Tower will achieve TOP in Nov or Dec this year.

"It's a project we are particularly proud of. It will contribute more than S$500 million to our topline, and give our balance sheet a big boost," said Mr Low.

The sum is attributable to the sales achieved for the 32-storey building, except for three floors (12 units) reserved for the company's use.

Oxley Tower is one of eight projects expected to achieve TOP in the next 12 months and will result in a S$2.1 billion revenue recognition for Oxley.

Besides an expected final dividend for FY2016 (ending June 2016), the cash inflow will go largely to repaying borrowings. These are substantial and have dampened investor enthusiasm -- understandably so, when the stock has a 3.5 debt-to-equity ratio.

As of end-March 2016, Oxley had S$1.13 billion of debt coming due within 12 months.

Beyond that 12-month period, it had S$1.35 billion borrowings outstanding.


Stock price

43.5 cents

52-week range

36.5 – 49 cents

PE (ttm)

8.6

Market cap

S$1.26 billion

Shares outstanding

2.93 billion

Dividend yield
(FY16-to-date)

3.8%

Revalued Net Asset Value/share

$1.14 (RHB Research estimate)

Source: Bloomberg, RHB
Aside from Oxley Tower, another big contributor will be its 100% owned Royal Wharf project along the River Thames in London.

"People had a lot of doubts about it when we bought the land at end-2013. We launched it in March 2014 and to-date, we have sold more than 2,000 units there, which is more than 88% of the launched units."

Townhouses and apartments from Phase 1 will be progressively handed over to buyers from August 2016 to mid-2017 and Oxley expects to recognise approximately £400 million in receivables upon completion.

"We told people we aimed to get TOP within two years, and true enough, we are getting it for Phase 1 next month. Whatever we told investors in the past two, three years, we have delivered. It's our precise execution."

The presentation materials are here.