KEPPEL CORPORATION released its 4Q2015 and FY2015 results last Thursday. The primary focus of investors was on its Offshore & Marine business.

Below we present analysts' latest target prices and summaries of their comments (note: Keppel share price closed at $5.02 on Friday, 22 Jan 2016, down 35% over the past 12 months).

We also have the words of Keppel Corp CEO Loh Chin Hua on its troubled client, Sete Brasil.


Research house

Target price

Rating

Comments

CIMB

$4.39

Hold

Our EPS is adjusted by +1.3% and -8% in FY16-17 on higher property profit offset by zero recognition from Sete Brasil in FY17. We believe the share price is likely to trade sideways, given the uncertainty in Sete Brasil's outcome.

Provisions made thus far could have provided some buffer, in our view. We deem our valuation of the O&M at 2.5x book value (implied 7.7 x CY17 net profit) fair vs. the O&M ROE average of 35%.

UOB Kay Hian

$6.05

Buy

Current share price implies a zero valuation for the O&M business. Our revised target price of S$6.05 values the O&M business at 2016F P/B of 0.85x, benchmarked to AFC trough P/B.

Excluding Keppel's O&M business, its non-O&M businesses are worth S$5.20/share. At current share price of S$4.80, investors would literally get the O&M business at zero cost.

OCBC

$4.38

Hold

As large SGX-listed property developers are mostly trading at 0.6-0.7x book, we lower our valuation for the property segment from 0.9x book to 0.7x. This results in a fair value estimate of S$4.38.

Maintain HOLD. In the worst case scenario of a complete write-down in O&M's book, our fair value estimate would fall to S$3.91.

Maybank Kim Eng

$4.24

Sell

Sete Brasil's potential bankruptcy remains fluid while uncertainties on the yet-to-bedelivered jackup rigs still loom. Keppel said it has recovery plans but could not share them at this point. As a result, we think key investor concerns will not be alleviated.

KGI Fraser

$4.26

Sell

We peg our fair value to SOTP valuation, based on a 30% discount to book for its property segment (in line with comparable peers with significant exposure to China e.g., CapitaLand), and a conservative 50% discount to book for its O&M segment as we see the need for more provisions and write-downs, as well as higher funding needs as customers defer deliveries.

We expect dividends to be cut to 22 SG cents (4.6% div yield), based on a 40-50% payout ratio, as it conserves cash to ride out the long harsh winter.
CEO Loh Chin Hua at FY15 results briefing: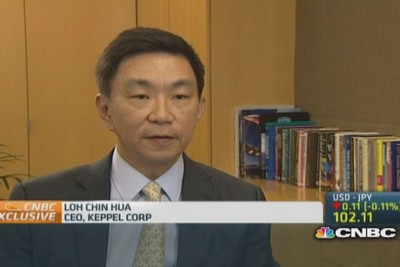 "Our projects for Sete Brasil: Keppel, being one of the earliest Singapore companies to enter the Brazilian market, has not been spared from this storm. We had taken steps to mitigate our exposure by slowing the construction of Sete's rigs after payments from our customer ceased over a year ago.

"On average, the construction of the first four semis has progressed by less than 4% each quarter since the start of 2015. It is worth noting that of these six projects, only the first two semis, which are also in the most advanced stages, have been sent to our yard in Brazil. Meanwhile, minimal work had been done on the last two semis.
"Prior to the disruption of milestone payments, we had already received about US$1.3 billion from Sete. As we await further clarity on the situation, we have stopped construction of Sete's projects by the end of 2015. We have also made a provision of about S$230 million for these projects in 4Q 2015, after assessing our construction progress, payment status and amounts due to our vendors amongst other areas.
"We understand that Sete's board will soon be meeting to discuss future plans for the company. It remains unclear when a final decision will be taken. Until we hear from Sete officially and the situation and options available to us become clearer, the above measures, in our opinion, are sound and adequate."