Excerpts from UOB KH report

Alpha Picks:
Add AEM, KEP And SPOST,
Remove AZTECH, BAL, CVL, FLT And SMM

In April, our Alpha Picks portfolio rose 1.9% mom and outperformed the STI which fell 1.5%.

For May 22, we add AEM as we believe that it will benefit from Intel's aggressive capex plans while Keppel has meaningful upside after its merger and divestment announcements.

We also include SingPost as a COVID-19 recovery play.

We have also taken the opportunity to rationalise our portfolio by taking out a number of stocks that have performed well or lack share price catalysts.

WHAT'S NEW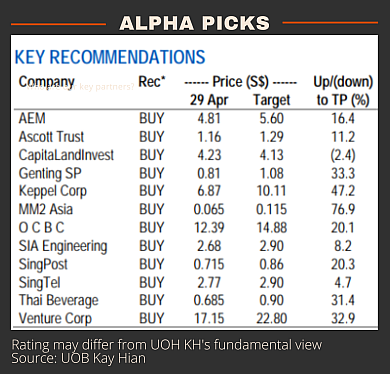 • Our Alpha Picks portfolio outperformed in April, rising by 1.9% mom vs the STI's 1.5% decline.

Key stocks that outperformed for us were Sembcorp Marine (+11% mom), CapitaLand Investment (+6%) and SIA Engineering (+5%), while ThaiBev (-4.2% mom) and Venture (-2.4%) underperformed.


• Adding AEM, KEP and SPOST. For May, we add AEM due to it being a beneficiary of Intel's aggressive capex plans while Keppel's inclusion stems from the large value accretion that we believe will materialise in the stock over the next 6-9 months post its recent merger and divestment announcement.

Lastly, for Singapore Post, we like it as a COVID-19 recovery play as well as it potentially benefitting from lower operating costs as a result of increased air freight capacity.

• Rationalising our portfolio. We have removed stocks such as Aztech, Civmec and Frasers Logistics & Commercial Trust which lack share-price catalysts in the next few months, and also took out Bumitama as we believe that its near-term share price movement will remain hostage to the vagaries of palm oil export policies in Indonesia.

While we continue to like Sembcorp Marine (+31% since inclusion into our portfolio), we believe that the risk-reward favours Keppel in the next 6-9 months.

Full report here.