Excerpts from analyst's report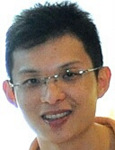 Maybank Kim Eng analyst: John Cheong (left)

Rating & TP: Maintain BUY with SOTP TP of SGD1.35. SGD0.96 for core business at 25x FY6/15E EPS, lower than peers' 26-44x. Stake in CCBC valued at SGD0.47, based on USD6/share, lowest Bloomberg TP and 1.30 exchange rate.

We hosted Mr Jeremy Yee, Group CEO, Ms Thet Hnin Yi, CFO and Ms Mitchelle Ho, Financial Controller, at Invest ASEAN 2015, our second annual flagship conference.


Market penetration, new products

Cordlife has increased its cord blood storage market share and penetration rate, especially in India. India is one of its fastest-growing markets. New sign-ups jumped 2x in 1HFY6/15 after active promotions.

Revenue is expected to improve as there is a 3-6-month time lag between registrations and baby deliveries. In Indonesia and the Philippines, Cordlife plans to expand into more cities and has hired new general managers for both countries. It wants to roll out new and complementary products such as MetaScreen. It also highlighted two new products in the pipeline.

Lower advertising expenses, better earnings


Stock price
(6 Apr 2015)

$1.02

52-week range

82.5 – $1.27

PE (ttm)

25.3

Estimated P/E (06/2015)

26.8

Market cap

S$265 million

Price/book

2.1

Dividend yield 1.96%*
1HFY6/15 earnings were dragged down by selling and marketing expenses in India of SGD2.5m. About SGD1.2m was for TV commercials. Management has pared down such spending and expects to conclude its one-off campaign in 4QFY6/15. Without this major expense, profits should start to grow.

Quality provider; Premium pricing

Cordlife is able to command price premiums through its: § Highly recognised AABB accreditation. It was the first Asian cord blood bank to be accredited in 2005. § Listing status with transparent financials. § Record of 14 transplants. § Position as the only cord blood bank with a strong Asian presence.

Highlighting convertible-bond benefits

CBs were the cheapest way to raise its stake in CCBC, China's largest cord blood storage provider with monopoly licences in four regions. Without them, Cordlife's stake would have been diluted from 10% to 6% upon full conversion of CCBC's CBs. The CBs it has acquired will raise its stake to 14% on a diluted basis.

Its USD46.5m loan to CCBC's chairman to acquire his share of CBs serves to ensure an alignment of interests. Cordlife has sufficient safeguards in place.

Aside from benefitting from coupon payments, potential share-price appreciation and any dividend income, its strategic stake should allow Cordlife to harness CCBC's platform for marketing its products.

Cordlife formed an alliance with CCBC in Mar 2014 to offer its cord tissue storage in China.

Share price has recovered since Oct 2014, when it first announced its acquisition and lending to CCBC's chairman. This indicates the market's regained confidence.

Clients' response: Confident in growth

Clients were optimistic on its expansion through complementary products and competitive advantages. Management also managed to assuage their concerns over its CCBC CBs.