There was a strong tailwind for Cordlife Group in 2H2022 as Covid restriction measures were lifted, allowing for large-scale events where Cordlife could engage with potential customers.

Mid-2022 sign-ups for its cordblood banking etc services translated into higher revenue in 2H2022 versus 1H2022 as customers delivered babies (chart below).

That happy turnaround looks set to extend into 2023 as Cordlife plans to participate in many more baby expos and the like in various markets.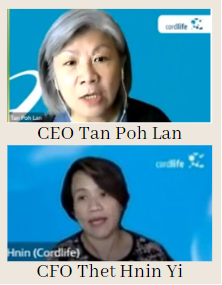 "We've mentioned many times that the penetration rate of cord blood banking, our core business, is not high other than in Singapore, which is our major market. That's why when Omicron hit us in the first half of last year, our P&L was affected quite drastically," said CEO Tan Poh Lan at an investor briefing this week.

"The thing is we are very clear: the market is there, there are people who can afford our services and our challenge is how to encourage that."

The revenue contributions from various markets are shown in the graphic below. Of note, Hong Kong is now a promising market as its border with China has reopened, said Ms Tan.

The re-opening enables mainlanders with one parent being a Hongkonger to head back to Hong Kong to deliver their babies, as they had been inclined to do pre-pandemic.

That's why in 2019, Hong Kong contributed S$9.3 million revenue, far above the S$7.3 million in 2022.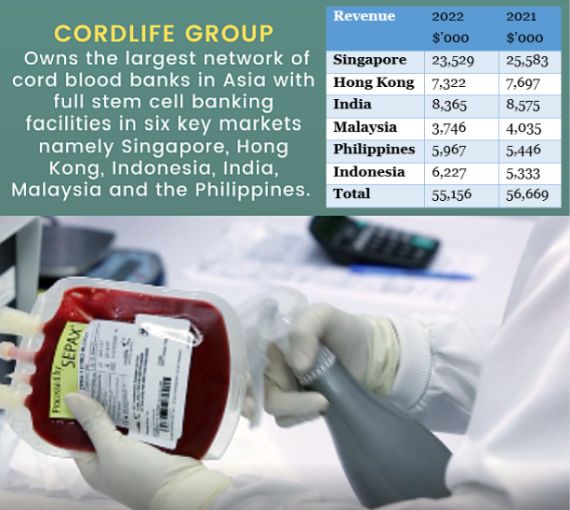 Cord blood banking is the process of storing your child's umbilical cord blood, which is a rich source of stem cells, should the need for a stem cell transplant ever arise. Cord blood can be used to treat over 85 types of diseases such as leukaemia, lymphoma and thalassaemia, as well as metabolic and immune disorders. Cord blood is particularly rich in Haematopoietic Stem Cells (HSCs), which are responsible for replenishing blood and regenerating the immune system. HSCs are known as 'precursor cells' as they have the unique ability to differentiate into the different types of cells found in the body.

Here's a snapshot of how things went in 2022 for Cordlife: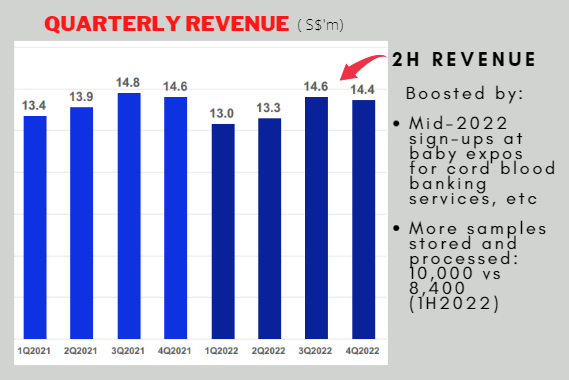 With revenue boosted in 2H2022, that half year's net profit, accordingly, rose too to $3 million (1H2022: $1.9 million).

Compared to full-year FY2021, the FY2022 profit was down 20.4% because of drops in revenue and gross margin (see chart), the latter due to inflationary costs.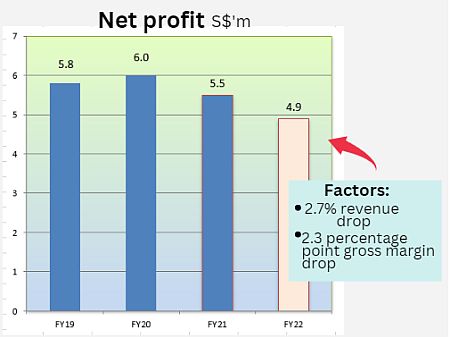 Stock price

35.5 c

52-week range

29 - 42 c

PE

18.6

Market cap

S$90.9 m

Net cash

S$79.3 m

Dividend
yield

--

1-year return

-1.4%

Source: Yahoo!
Of note, Cordlife had S$79.3 million net cash (+S$4.7m from 31 Dec 2021) on its balance sheet as of end-2022. It has held back from paying a dividend for 2022, likely in view of a M&A possibility.

For more, see Cordlife's Powerpoint deck here.