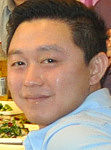 KGI Fraser analyst: Renfred Tay (left)

We initiate coverage on CDW, a Japanese manufacturer of LCD backlight units (BLU) to a major Japanese LCD manufacturer, with production facilities based in China.

The company has previously focused its BLU production on gamesets, but is now positioned for a switchover to smartphones.


Transitory disappointment for FY14.
The demand for gamesets is on a downtrend as consumers switch to playing their games on smartphones from traditional handheld gamesets. CDW's attempt to switch to smartphones hit a snag in 2014 due a supply shortage in light guide panels (LGP) that are 0.3mm or thinner. We are expecting FY14's performance to be weak as a result.

Strong comeback in FY15. CDW will be injecting RMB15m (c.US$2.4m) into its key supplier for LGPs to ease its supply bottleneck. This should secure about 24m LGP units (or about 60% of total BLU production in 2013) per year for CDW. Higher BLU ASP is also expected for smartphone BLUs.

Based on our production projection and ASP for FY15F, we are expecting FY15F core profits to rise back to US$9.6m from US$6.7m in FY14F (+42% yoy).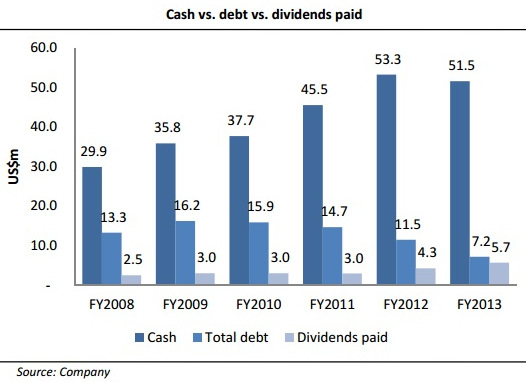 Get paid in USD while you wait. CDW's USD dividends should also be a major boon for investors, given the expected USD appreciation against SGD. Dividend pay‐out has also been increasing since FY09 from 0.5 UScts to 1.2 UScts in FY12 and FY13. CDW has a minimum pay‐out ratio of 40% of net profit and tries to at least match the same pay‐out as the previous year.

Although we expect a weak set of results for FY14, we believe the company will be able to maintain its 1.2 UScts pay out (8+% yield), given its large net cash position, and strong cash flows.

Attractive valuation. CDW is currently trading at 7.2x FY15F P/E, still very attractive given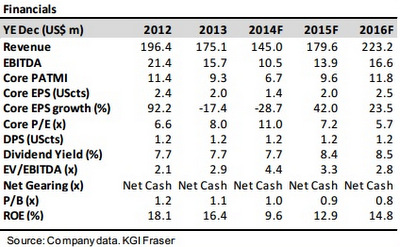 1) Its impending turnaround with a 47% growth in core net profit in FY15F,

2) its strong balance sheet and cash flows

3) its high dividend yield that is likely to be maintained,

4) dividends paid in USD (USD appreciation vs. SGD since 2012) and

5) net cash of approx. S$0.13 per share vs. share price of S$0.196.

We believe a re‐rating of the stock is on the cards as more discover this hidden gem. Our target price for CDW is set at S$0.25 based on 9x FY15F P/E.
Excerpts from analyst's report