Time & date: 9 am, 30 Dec 2014
Venue: 6 Battery Road, #10-01.




THE EGM was to seek shareholders' approval for the placement of 86 million shares at 40.35 cents a share to Thai investors PM Group and Thoresen Thai Agencies.

At the meeting, shareholders asked a number of questions in answer to one of which Sino Grandness chairman Huang Yupeng said that the company would start to pay a dividend in 2016 based on FY2015 financial results.

The dividend would amount to at least 10% of its net profit. We capture here some highlights of the Q&A portion of the EGM:

» Mano Sabnani (shareholder): China is a very competitive market and you have done very well. F&B is a good business but it's not rocket science and someone else can also produce the same thing that is popular.

How is Sino Grandness going to increase its competitive advantage and maintain the fat margin which is quite unbelievable but I still have to believe it because your accounts have been audited.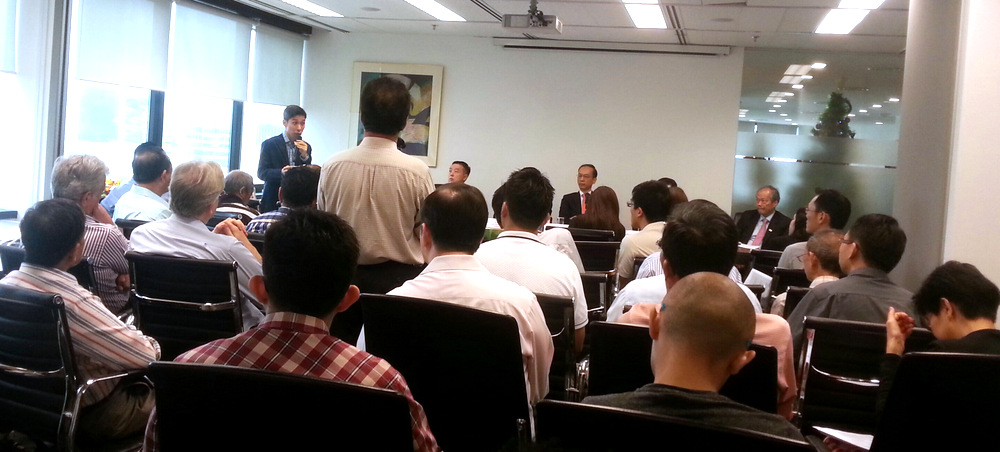 Parry Ng (VP for investor relations, standing & facing shareholders) translates Chairman's answers to Mano Sabnani (standing). Photo by Leong Chan Teik

» Huang Yupeng (as translated by Parry Ng): I agree that the F&B market in China is very competitive but China is such a huge market – from one end to the other end, you have to fly 5-6 hours. It's like flying from Singapore to Australia! We also have 1.4 billion consumers and that's why it has a lot of potential and attracts a lot of players.

We are the first mover in the loquat juice market. By the way, 70% of the Garden Fresh brand comes from loquat drinks – pure and blended. We have 78% market share in the loquat market.

For a beverage to be successful, a key factor is 'taste recognition'. If you are the first mover in the market, and consumers like the taste, that becomes the industry standard. Just like Coca Cola, if you drink another cola, it doesn't taste like Coca-Cola -- it's not the original taste.

I believe Garden Fresh, after five years, has already established this status as the industry leader. There could be other loquat drink companies which emerge in the future but over time, more consumers will accept Garden Fresh as the industry standard for loquat drinks. As the company invests in brand building and distribution expansion, there is a lot of potential ahead.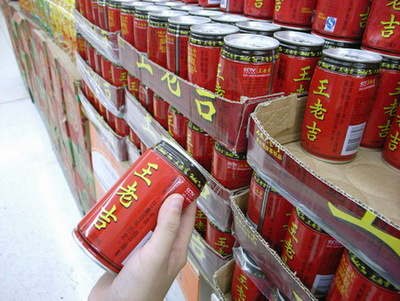 Wang Lao Ji's herbal drink is No.1 among herbal drinks in China. Photo: InternetI would like to cite the case of Wang Lao Ji which produces a herbal drink. First year, sales were 1 m RMB, last year it was 26 billion RMB. Wang Lao Ji has only 1 SKU. Thus, if a particular beverage such as herbal drinks is successfully promoted – as being good for your health -- by not just one player but many players, more and more people will drink it.

As for loquat juice, the Chinese people know it has health benefits, which is a key reason why we use it as a core platform. It's one of the few fruits that are available abundantly in China only, and people have been consuming it in sweet and paste forms but not as juice.

You mentioned about our gross margin – yes, it 40-41%. In Hong Kong, there are F&B companies whose margins are in the high 30s and even 40s also. And there is the Singapore-listed China Minzhong which has a loquat beverage segment with a gross margin of about 45% -- it's even higher than ours.

» Mano Sabnani: Isn't it too risky to depend just on loquat drinks?

» Huang Yupeng (as translated by Parry Ng): We have pure loquat drinks but we also have drinks where loquat juice is blended with mango juice, with strawberries, blended peach… And last year, we launched our aloe vera beverage. Going forward, we plan to launch non-loquat based beverages -- just like Coca-Cola, which also sells orange juice under the Minute Maid brand.

Recent story: SINO GRANDNESS: To Launch New Drinks With Thais?