Loquat Fan contributed this article to NextInsight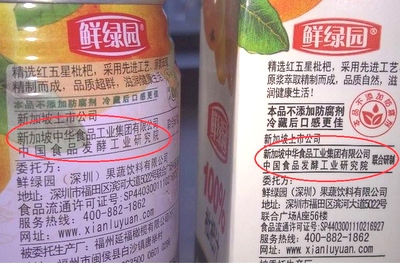 Loquat juice by Garden Fresh. Photo: Adrian LeeGARDEN FRESH products bear the following description: 中华食品工业集团有限公司 中国食品发酵工业研究院 联合研发, which translates into "jointly developed by Sino Grandness and China National Research Institute of Food & Fermentation Industries." (See circled text in picture)

Established in 1955, this institute is the oldest and largest national research institution engaged in food and bioengineering research and development work in China.

The institute has seven R&D departments covering areas such as food engineering, fermentation engineering, brewery engineering, food safety, and standards. It integrates R & D, quality testing and standard formulation in order to promote food innovation and safety, market access and standards setting in China.

Sino Grandness established a strategic tie-up with the institute in 2012 to jointly set up a research centre to develop beverage products under the "Garden Fresh" brand, and the affirmation of institute's involvement in product development provides assurance to consumers.

The relationship between Sino Grandness and the institute seems strong, as Dr Liu Ling, a senior official of the institute is also an independent director of Sino Grandness.

A deputy director of food engineering R&D as well as director of hi-tech food engineering, Dr Liu joined the Sino Grandness board in March 2013. Dr Liu graduated from the University of Tokyo with a doctoral degree in agriculture in 1999.

Garden Fresh's pure loquat drinks or loquat drinks blended with other fruits such as pear, mango, and peach, are the results of the joint effort between the company and the institute.
» More than just loquat juice

Will there be more drinks to be developed by them given that the new strategic shareholders of Sino Grandness are from Thailand where there is an abundance of fruits?

If so, that would help address a concern raised by a shareholder during this week's EGM to approve the issue of shares to the Thai investors (PM Group and TTA). The shareholder was concerned about Sino Grandness' overreliance on loquat beverages.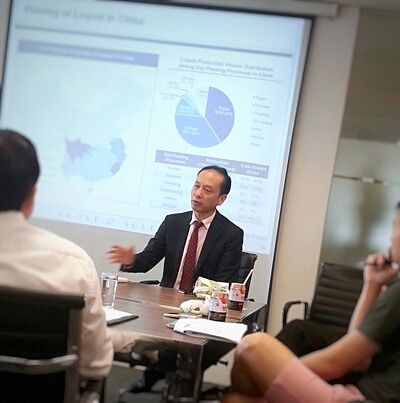 Chairman & CEO Huang Yupeng. NextInsight file photoChairman Huang Yupeng shared that the loquat series, now making up 70% of Sino's overall juice sales, will continue to be the flagship products because of the therapeutic efficacy of the loquat fruit. Over time, as other fruit drinks are added to the product range, the dominance of loquat juice may diminish.
In a recent business update issued in the wake of anonymous short-seller Newman9's report that cast doubts on various aspects of Sino Grandness business, Chairman Huang stated the following:
"I was asked recently why is loquat juice not being mentioned or Garden Fresh brand not being highlighted in some other market research reports. The reason is because loquat juice is a relatively new juice segment within the fruit juice market in China as Garden Fresh was the first brand to actively promote loquat juice in 2010. And since it only accounts for less than 2% of the market, it is possible that some research companies may have missed out certain newer or smaller sub-segment juices when they conduct their researches based on previous methodologies.
"I wish to add that Asian specialty juice is a new segment which is gaining popularity in China because it comprises fruits which are mainly planted in Asia and Asian consumers believe these fruits such as longan, loquat, hawthorn, kumquat and plum may be beneficial to their health. This explains why Garden Fresh's other fruit juice category which comprise hawthorn fruits is also selling well in China in recent years."
Sino Grandness announced in Oct 2014 that market research agency Frost & Sullivan has done an in-depth report on the juice market in China, covering new product categories and sub-markets such as "Asian Specialty Juice" and "Loquat Juice". It said that Garden Fresh commands a strong market share of 10.7% in the Asian Specialty Juice market and 78.2% in the Loquat Juice market."
As some Asian Specialty fruits are grown in abundance in Thailand, it is conceivable that with the help of the China National Research Institute of Food & Fermentation Industries, beverages made from juices of these popular fruits will be produced under the "Garden Fresh" brand for sale in China, leveraging on the existing distribution channels of Sino Grandness.

Recent story: SINO GRANDNESS: When will Garden Fresh's IPO be?