SWISSCO HOLDINGS is now trading at around 22 cents SGD. Is its share price undervalued and does it reflect the group's existing fundamentals?

In order to answer the question, we first look at the significant chronological order of events and corporate moves leading to where Swissco is currently.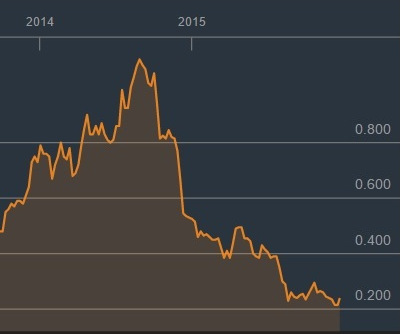 At 22 cents in share price, Swissco has a market cap of S$148 million and a trailing PE of less than 3. Chart: Bloomberg.In June 2014, SGX approved a proposal by Swissco to acquire Scott & English Energy for S$285 million, the consideration to be made via an allotment of 452.4 million new Swissco shares to the seller based on S$0.63 per share.

In July 2014, Swissco shares, excluding the ones allotted to acquire Scott & English Energy, underwent a reverse stock split of 2 shares to 1, reducing its number of shares to 216.65 million.

In the process, its share price was adjusted from 43 cents to 93 cents, and continued climbing up to around $1.10 before it started to trend lower from September 2014 to where it is currently.

The injection of Scott & English Energy into Swissco is a way of bringing the operating subsidiary of Kim Seng Holdings into a listed vehicle.

The family of Tan Kim Seng now controls Swissco, while bringing operating synergy to minority shareholders of Swissco.

There are about 2,100 shareholders and its free float is about 23% or 86 million shares.

In August 2014, 22 million redeemable preference shares were issued to S&E Offshore which will ultimately be converted to about 31 million Swissco shares.

The pricing of the issue at at that time was based on Swissco share price of slightly over 90 cents.

In December 2014, Swissco announced that its Deputy CFO had misappropriated S$1.68 million of which S$900,000 had been recovered. Impact on Swissco financials was insignificant.


♦ "Let's see whether Swissco is worth a buy..."
In February 2015, Swissco announced full-year 2014 net profit of US$15.9 million vs FY2013 of US$15.4 million.
Earnings per share then was 2.9 cents USD and NAV per share was US$0.32.
In May 2015, 1.018 million new shares were issued under its performance share plan, and was priced at S$0.485 a share for the purpose of record in its financials.
Its H1 2015 results were released in August 2015.
H1 2015 net profit was US$35 million, of which US$23.5 million came from share of profits in Associates and JVs. This reflected a marked improvement over H1 2014 with a net profit of US$7.7 million of which US$9.4 million came from share of profits in Associates and JVs.
H1 2015 earnings per share was about 5 cents USD, while its NAV per share was US$0.36 (S$0.50).
Assuming Swissco's full year EPS comes in at around 8 cents USD (S$0.11), its PE ratio at current price is 2 times, while its price-to-book ratio is 0.44.
Looks like the share price is at deep discount to its NAV and price earnings. If not, we could argue that its allotment of shares to acquire Scott & English Marine at S$0.63 a share is to a great disadvantage to the sellers of Scott & English Marine.
We may see whether Swissco is worth a buy when its next quarter or full year results are released.
So long as its share of profits from Associates and JVs doesn't drop, Swissco should be profitable even though the oil and gas industry is in the doldrums.
Among all the related oil and gas stocks, Swissco is a company to watch and place on my radar screen for further progress or whether the company will pay decent dividends to shareholders. Now is not a right timing to accumulate.

Prior to his retirement, Chan Kit Whye (left) worked more than 30 years as Regional Finance Director, Financial Controller and Manager in a multinational specialty chemical business. He has played an active role in CPA (Australia) Singapore Branch, taking up positions in its Continuing Professional Development and Social Committees. Kit Whye is a Fellow of CPA Australia, CA of Institute of Singapore Chartered Accountants and CA of the Malaysian Institute of Accountants. He holds a BBus(Transport) Degree from RMIT, MAcc Degree from Charles Sturt University and MBA from Durham Business School.