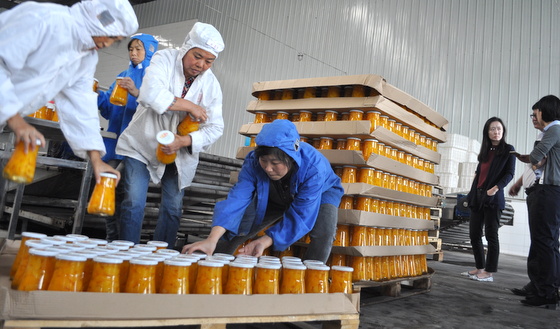 @ Hubei plant: Workers packing bottled oranges. Labels are fixed at a later stage.
Photo by Leong Chan Teik
This is part 2 of our coverage of our visit (with analysts) to Sino Grandness' plant in Hubei last weekend. Part 1 was:SINO GRANDNESS visit: Video of loquat juice production

FRUITS IN BOTTLES or transparent jars are a novelty in Singapore where we are familiar with canned fruits from the likes of Del Monte.

Sino Grandness, however, produces bottled fruits. Being able to see the fruit inside probably goes a long way to persuade the consumer to buy the product.

The following notes go with the video we took of the production of bottled oranges in Sino Grandness' plant in Hubei:

| | | |
| --- | --- | --- |
| (RMB'm) | 1H2015 | Change (y-o-y) |
| Beverages | 1,048.1 | +21.8% |
| Overseas canned products | 238.7 | -7.2% |
| Domestic canned products | 175.2 | +47.2% |
| Total | 1,507.0 | +17.2% |
1. The plant produces loquat beverages as well as fruits in bottles. We saw oranges being bottled but during other seasons, the plant will produce peaches, pears and pineapples in bottles.
It's a labour-intensive business, unlike the highly-automated production of beverages.

2. The plant has the capacity to produce more than 100,000 tonnes of bottled fruits a year.

3. Bottled fruits targeted at the China market are a fast-growing business segment for Sino Grandness.

Sales in 1H2015 rose 47% year-on-year to RMB 175m. Gross margin was a handsome 41%, just a shade below the equally spectacular 45% margin for the beverage segment.

Turns out that Asdew Acquisition and several institutional investors had bet their money correctly via a share placement in early 2013 on this business segment.

Asdew had subscribed for 16 m placement shares (out of 57 m which were available) at 41 cents apiece (figures adjusted for the subsequent stock split). The bulk of the net proceeds was for investing in the bottled fruit business. (Asdew currently owns a 6.57% stake, or 44,217,000 shares, in Sino Grandness)

4. Sino Grandness is no stranger to the canned business, having long established itself as the top PRC exporter of canned asparagus and long beans and one of the top 3 exporters of canned mushrooms.

For 18 years, Sino Grandness has been producing canned vegetables under the house brands of leading overseas supermarket chains, such as Lidl of Germany, which operates more than 10,000 stores. Strict compliance to the stringent import requirements, especially to the European Union, must be observed.

And now, check out our 1 minute 42 seconds video....


In the next few days, we will upload two more videos from our visit -- 1) the trade show which Sino Grandness took part in last week, and 2) our checks of convenience stores in HK which carry Sino Grandness' beverages.