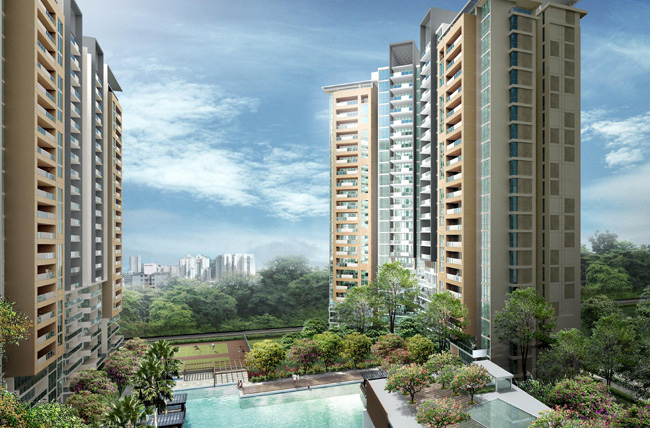 Following Keppel Land's footsteps of overseas foray via joint venture, Lian Beng's proposed development in Nhà Bè, Ho Chi Minh is about 40 minutes' drive from Keppel Land's hugely successful high-end condo, The Estella. Lian Beng will ride on the expertise of partners that include Chip Eng Seng and its former CEO Raymond Chia, parties which ventured into Vietnam as early as 2007. Photo: Keppel Land
FOLLOWING ITS investments in overseas real estate (Brisbane and Melbourne in Australia, as well as London and Leeds in the UK), Lian Beng is now setting foot in Vietnam's Ho Chi Minh City.

Ho Chi Minh is Vietnam's economic centre, and is its largest and most populous metropolitan area, with a current population exceeding 9 million. The city is urbanizing rapidly: Its population is expected to reach 13.9 million over the next decade.

Lian Beng's foray into Vietnam comes hot on the heels of Vietnam's successful reforms to turn its property market around following the bubble bust about 4 years ago.

Two long-awaited pieces of legislation that open up Vietnam's real estate market to overseas investment were effected from 1 July 2015: The new Housing Law and the Real Estate Business Law. Some of the changes to the foreign ownership law in Vietnam's housing market are as follows.
1 – Foreign individuals who are granted a visa to Vietnam are allowed to buy residential properties in the country.

2 – All foreign investment funds, banks, Vietnamese branches and representative offices of overseas companies are eligible to buy.

3 – Foreign investment is now available to all types of residential units, including condominiums and landed property such as villa and townhouses compared to investments in only condominiums previously.

4 – There is no limit on the number of dwelling units a foreigner can buy, but the total number of dwelling units owned by foreigners must not exceed 30% of the total units in one condominium complex, or not exceed 250 landed property units in one particular administrative (or the equivalent of) ward. Previously, an eligible foreigner could buy only one condominium in Vietnam.

5 - The properties owned by foreigners can be sub-leased, inherited and collateralised. Previously, investment was only for owner occupancy.

6 – The tenure allowed to foreign individuals buying homes remains unchanged at 50 years of leasehold with renewal possibility upon expiration. Foreign individuals married to Vietnamese citizens are entitled to freehold tenure.
Lian Beng's wholly-owned Goldprime Development inked a shareholders' agreement yesterday to invest in a plot of land in Ho Chi Minh City via a 15%-owned joint venture. Its joint venture partners include the following parties.
LGB (Vietnam) - investment vehicle of former Chip Eng Seng CEO, Raymond Chia, will hold 25% in the JV
CES-Vietnam Holdings - Chip Eng Seng's wholly owned subsidiary with a 20% stake in the JV
KH Capital - Keong Hong Holdings'

wholly owned subsidiary

with 15% in the JV

KSH Vietnam Investment - KSH Holdings'

wholly owned subsidiary

with 15% in the JV

Seacare Properties (Vietnam) - an unit of Seacare Co-operative, formed to promote seafarers' welfare, holds 10%

LGB-NB, the investment vehicle jointly owned by the above parties, will acquire a plot of land of about 11,800 sqm at the Ho Chi Minh suburban district of Nhà Bè.