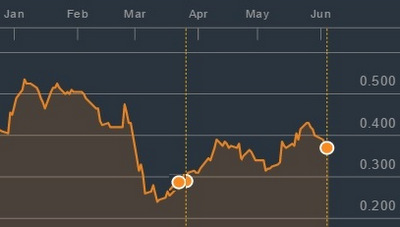 Soleado's purchases of Sino Grandness: March 24 & 26: 850K & 740K shares at 29 cents average, respectively. June 4: 447,7000 shares at 37.5 cents average. Chart: BloombergTRADING FOR A prolonged period of nearly a year at trailing PE ratios 3-4X, Sino Grandness surprisingly hasn't attracted hordes of investors.

Investors are perhaps waiting on the sidelines for the company to report significant positive progress on two matters -- redemption of its convertible bonds due at the end of this month (June) and the IPO of its beverage subsidiary, Garden Fresh.

Sino Grandness' substantial shareholder from Thailand, however, recently resumed buying Sino Grandness shares, which may signal its understanding that those matters are progressing well.

Last Thursday (June 4), Soleado Holdings bought 447,700 shares at 37.5 cents on average, raising its stake to 9.303%.

In March this year, Soleado had bought 1.59 million shares at 29 cents on average.

These transacted prices are way below the 40.35 cents that Soleado paid for its 9.0% stake in Sino Grandness at the end of 2014 when it took up a placement of new shares.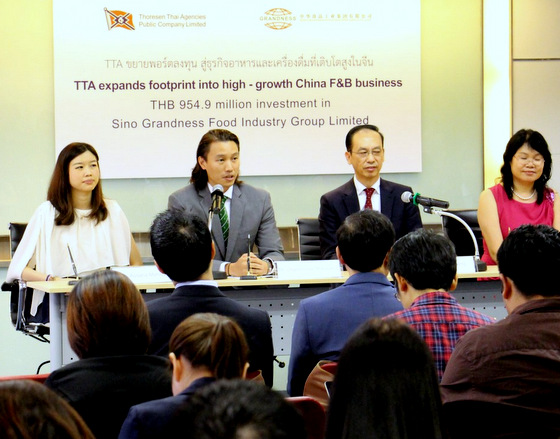 Flashback: Agreement signing ceremony to invest in Sino Grandness.
L-R: Ausana Mahagitsiri (MD of PM Group) | Chalermchai Mahagitsiri (CEO, Thoresen Thai Agencies) | Huang Yupeng (CEO, Sino Grandness) | Huang Yushan (Executive Director, Sino Grandness). Photo: Sino Grandness.
Soleado is wholly-owned by Thorensen Thai Agencies which is listed on the Thailand Stock Exchange.

Soleado is closely linked to another company, PM Group, which also bought placement shares at the same time, giving it a 3.77% stake in Sino Grandness.

Both Soleado and PM Group are controlled by the billionaire Mahagitsiri family, one of the richest in Thailand (see Forbes article).

Soleado/TTA is also a controlling shareholder of Mermaid Maritime, a listed company on the Singapore Exchange which focuses on providing offshore drilling, subsea, maintenance and logistics services.

Soleado on 4 June bought 632,100 shares of Mermaid at an unspecified price. This ups the total it had bought to 10.194 million shares in the past 1 year.