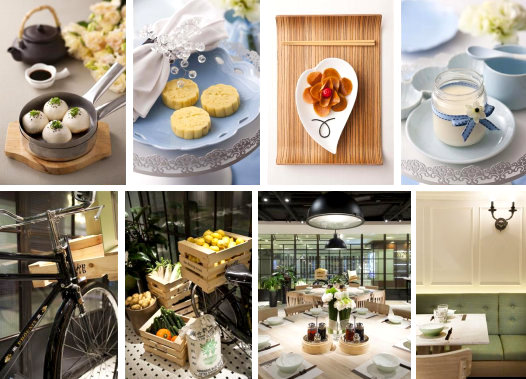 Xiao Nan Guo's "the dining room" offers authentic and affordable Shanghai fare.
Photos: Xiao Nan Guo

CHINA'S CATERING industry has been feeling the bite of a prolonged austerity campaign launched by the Chinese government to curb lavish spending and entertainment.

A recent CNNMoney article noted: "Government representatives have been told to stop holding extravagant banquets, riding in showy cars and giving or accepting luxury gifts. Flower arrangements and exotic Chinese dishes like shark fin have been banned from official functions. Officials have even been ordered to stop holding lavish funerals."

The impact has been felt far and wide. Take the case of Xiao Nan Guo Restaurants Holdings (HK: 3666) which has just issued a profit warning for its 2013 results.

It is the second profit warning, with the first being issued in July 2013.

"It is presently expected for the year ended 31 December 2013 the Group may record a significant decline in consolidated net profit attributable to shareholders as compared to that for the corresponding period in 2012.

"The expected decline is mainly attributable to:

(i) the decline in the Group's sales revenue led by the Chinese government's initiatives to crack down on expenditures for entertainment and catering purposes;
(ii) closure of certain restaurants which triggered asset write offs and one-off expenses," Xiao Nan Guo said.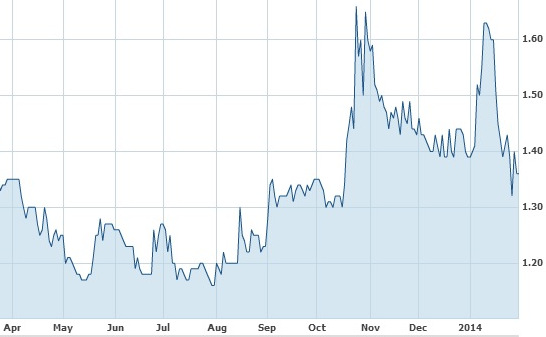 Xiao Nan Guo (HK$1.36) trades at a trailing PE of 11.5 and has a market cap of HK$2 billion, according to Bloomberg data. Dividend yield is 1.76%. Chart: Yahoo

The decline had become evident in its 2013 interim results -- net profit fell 43.3% year-on-year to 31.8 million yuan (see table below).

Xiao Nan Guo quoted the China Cuisine Association (CCA) reporting that the catering industry achieved revenue growth of 8.7% to RMB1.18 trillion in the first half of 2013, a growth rate that was 4.5%-points lower than a year earlier.

Furthermore, a survey report by the CCA indicated that revenue for mid to high-end restaurants slid 22.6% compared to last year and average spending per customer dropped 15% to 30%.

Other reasons cited by Xiao Nan Guo for its deteriorated bottom line in the first half of last year included the economic slowdown and a wave of avian flu cases impacting cities, especially in eastern China.

As China's economy undergoes fundamental changes, Xiao Nan Guo's management expects continued headwinds in the catering and restaurant industry given the economic slowdown and curb in lavish spending and entertainment.

The company does have some positive news to share, though. It said it believes that in 2013, the Group achieved an increase in same-store customer traffic at its Shanghai Min restaurants and Maison De L'Hui restaurants.

Xiao Nan Guo's 2013 annual results announcement is expected to be released in March 2014.

Xiao Nan Guo's 2012 performance was a lot more cheery with revenue rising 22.4% year-on-year to 1.33 billion yuan while the bottom line was up 10.8% at 118.5 million.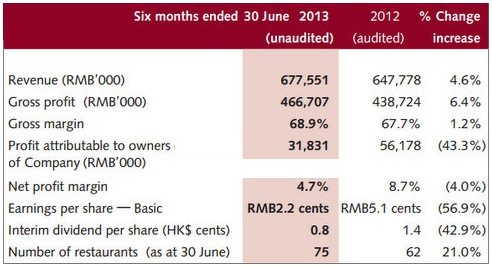 Founded in 1987, Xiao Nan Guo Restaurants Holdings Ltd was listed on the Main Board of the Hong Kong Stock Exchange on July 4, 2012. Xiao Nan Guo is one of the leading, self-owned, mid-to-high-end, full-service restaurant chains headquartered in China. As of June 30, 2013, the Company operated six central kitchens and five central warehouses, serving a restaurant network of 69 Shanghai Min restaurants, four Maison De L"Hui restaurants and four "the dining room" restaurants in some of the most affluent and fastest-growing cities in Greater China, including Shanghai, Beijing, Dalian, Suzhou, Nanjing, Tianjin, Ningbo, Wuxi, Shenzhen, Hong Kong, Shijiazhuang, Changzhou and Xian.


Previous story: XIAO NAN GUO'S 'The Dining Room' Gets Cooking In Shenzhen