HI-P INTERNATIONAL is expecting its FY2014 net profit to exceed FY2013, thanks to its appointment as one of only two suppliers for Xiaomi's new flagship Mi 4 mobile phone's premium stainless steel frame.

The Mi 4 features killer specifications that give other top-selling smartphones a run for their money.

Xiaomi employs a sales strategy that is very unlike other smartphone makers such as Samsung and Apple.

Xiaomi prices the phone almost at bill-of-material prices, which means it retails at a fraction of the price of the competition.

Its price competitiveness for top-notch quality has propelled it to one of the top 5 spots for smartphone vendors in China within the short 4 years that the company has been around.

Industry insiders expect Xiaomi to overtake Lenovo to become the second largest smartphone vendor in China, behind Samsung.

To make profits, Xiaomi sells a model for up to 18 months, instead of 6 months as practised by Samsung, to profit from the fall in the costs of components that occurs over time. 

When Xiaomi identified Hi-P and Foxconn as the two suppliers for the Mi 4 stainless steel case, Hi-P's stock price surged by 8.6% to reach a high of 69 cents over the two weeks leading to its results announcement on Tuesday.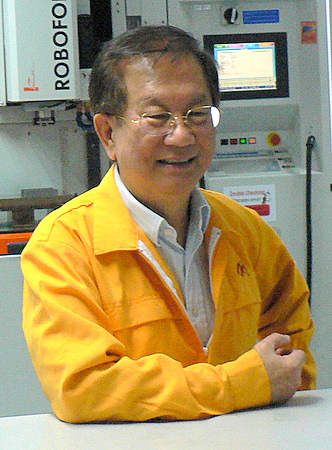 Executive chairman Yao Hsiao Tung.
NextInsight file photo"The project that we are handling for Xiaomi is very critical for us," said Hi-P's executive chairman Yao Hsiao Tung at the Group's results briefing yesterday (Tuesday) at The Fullerton.

"Because of its aesthetic requirements, the metal components manufacturing process is more difficult than for other mobile phone metal parts in the market," he added.

According to Xiaomi, Mi 4's metal casing requires 40 193-step procedures and is processed in a CNC machine 8 times.

Hi-P's 2Q results and plans for investing in production lines for Xiaomi components

Hi-P narrowed its 2QFY2014 loss after tax to S$3.0 millon (1QFY2014: S$12.3 million). This is its 3rd consecutive quarter of net loss.

"We expect FY2014 net profit to exceed FY2013, but revenue will be lower," said Mr Yao.

Net cash doubled to S$72.1 million as at 30 June over the past 6 months (S$35.7 million as at 31 December 2013).

"The major part of our capex budget in 2HFY2014 will go to our metal components manufacturing facilities," said Hi-P Deputy CEO Tay Ewee Liang.

Hi-P has budgeted for a capex of S$115 million for FY2014, of which S$22.6 million has already been incurred during 1HFY2014.

On Monday, OSK-DMG upgraded Hi-P to 'Buy' with a target price of 87 cents (from 67 cents).

Below is a summary of questions raised at the results briefing and the replies provided by Mr Yao, Mr Tay, CFO Samuel Yuen and COO Gary Ho.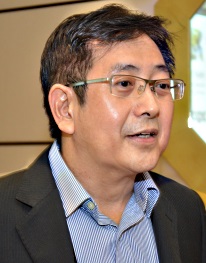 Mr Tay Ewee Liang, formerly a vice-president at Motorola Electronics Singapore, was appointed on 2 May as Hi-P's deputy CEO.
Photo by Sim Kih
Q:  You expect 2HFY2014 revenue to be lower but net profit to be higher. Where is your higher margin for 2HFY2014 coming from?
This year, we have higher loading due to orders from existing customers as well as new customers like Xiaomi. We will also have better cost management.

During 4QFY2013, we incurred a loss due to write-off. We expect the profit from 2HFY2014 to more than cover the losses in 1HFY2014.

FY2014 profit will be better than last year.
Q: Please give more details about your Xiaomi orders.
Mi 4 was launched on 22 July and will go to market this month through various mobile service operators. We are one of two suppliers of metal casing components for Mi 4.

Xiaomi's founder has said the company expects to ship one million Mi 4 in August and September, and 1.5 million Mi 4 smartphones per month in 4Q2014.
Q: Do you foresee any learning curve for the Xiaomi component production?

Yes, there is a learning curve that we typically go through for new products.
Q: What are your chances of gaining market share?

Suppliers compete on speed of delivery, quality and cost. We have an equal chance with the competition of getting a fair share of the market.  We were selected by Xiaomi based on our experience in producing metal pieces for another top consumer electronics brand. 

Recent story: Hi-P To Turn Around Spectacularly In 2H, Says DBS Vickers