COMTEC SOLAR Systems Group Ltd (HK: 712) strongly believes thinner is better -- and so is being more efficient -- when it comes to making solar wafers. And its flagship Super Monocrystalline products will be the primary focus going forward, management said.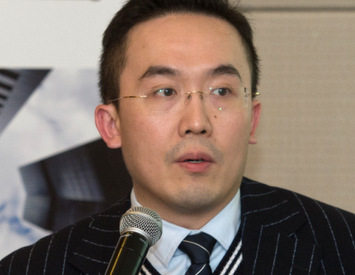 Since 2007, Keith Chau has been Executive Director and CFO of Comtec Solar, which currently has a market cap of HK$1.77 billion. Photo: Aries ConsultingCFO Mr. Keith Chau said Comtec enjoys a very strong market position given its status as a China-based pure-play monocrystalline solar ingot and wafer manufacturer.

"We focus on the design, development, manufacturing and marketing of high-quality solar wafers.

"Comtec Solar is one of the first such manufacturers in China to be able to mass produce 156 mm 156 mm monocrystalline solar wafers with a thickness of approximately 170 microns," he said on January 10 in Shenzhen at the Aries Consulting-organized "3rd Scaling New Heights – Asia Investment Forum 2014."

"We continue to shift focus to 'Super Mono Wafers' which only have a limited number of qualified suppliers to international customers in the market.

"Based on feedback from one of our major customers, our highly efficient 'Super Mono Wafers' and cells can achieve average conversion efficiency of over 23%, with the thickness of such wafers now reduced to approximately 150 microns," Mr. Chau added.

Comtec began as a semiconductor ingot and wafer maker in 1999.
From an original focus on semiconductors, Comtec "saw the light" and began manufacturing solar sector products, including ingots and wafers, in 2004.
"Since then, our main focus has shifted to the solar industry to cater to the increasing demand for our top-quality products.

"We have also taken advantage of the advanced technology, knowledge base and manufacturing experience we developed and accumulated during the manufacture of semiconductor wafers," Mr. Chau said at the Jan. 10 Shenzhen conference.

He added that the successful transfer of know-how allows Comtec to provide its customers with top-quality solar products.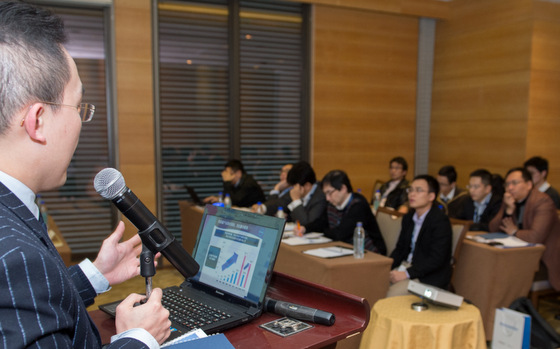 Comtec Solar's CFO, Keith Chau, speaking with investors in Shenzhen. Photo: Aries Consulting

Challenging Market Environment

Comtec's July-September 2013 quarterly top line slumped 22.1% year-on-year to 242.9 million yuan.

This produced a 45.8% smaller gross profit of 17.26 million yuan and a gross profit margin 3.1 percentage points lower at 7.1%.

However, management said ongoing restructuring in the sector was expected and Comtec wasn't particularly worried given its continued profitability.

"During the period, the industry consolidation continued.

"However, Comtec still achieved profitable operations and a reasonable profit margin under the challenging market environment," said Comtec Chairman Mr. John Zhang in the firm's third quarter results announcement released on Nov. 21, 2013.

Comtec suffered a net loss of RMB7,635,000 mainly due to the non-cash accounting losses on fair value changes of the new warrants issued on 14 March 2012 of approximately RMB10,300,000.

Adjusted net profit was approximately RMB2,665,000 after excluding the non-cash accounting losses.



The share price recently began declining following the Nov.21 quarterly results announcement in which Comtec's gross profit fell 45.8%. Chart: FT.com

Mr. Zhang attributed the firm's ongoing ability to achieve a gross profit to its competitive advantages in technology, costs and quality and a shift of focus to its premium products -- "Super Mono Wafers" -- which have much higher requirements on production technology and higher barriers to entry.

As at 30 September 2013, Comtec was in a net cash position of approximately 40,416,000 yuan which included cash and cash equivalents, notes receivable endorsed by banks, bonds, other financial assets of approximately 501,989,000 yuan, short-term bank loans of approximately 447,531,000 yuan and long-term bank loans of approximately 14,042,000 yuan.

Comtec has not been immune to the raw material oversupply and falling silicon prices plaguing the industry these past few years.
However, its most recent interim results (Jan - June 2013) point to a brighter financial future relative to its peers as it managed to come much closer to breaking even, doubling its H1 shipments year-on-year to over 443 MW and slashing its net loss by a whopping 90% to just over 12 million yuan.

To continue pursuing high-end, high-conversion wafers with their much friendlier profit margins, Mr. Chau said Comtec continues to expand its customer base for its "Super Mono Wafers."

Comtec recently completed diamond-wire wafer qualification procedures with a reputable Japan-based customer.

"Shipments to this Japanese customer increased in 2013 and will keep increasing in 2014."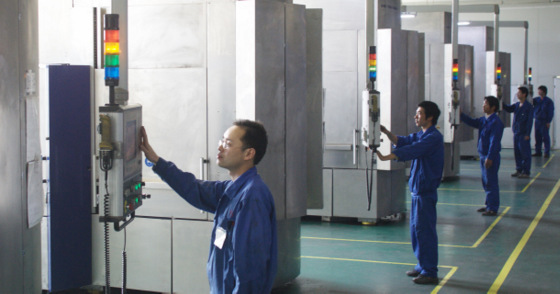 Comtec workers operating wafer slicers. The company has been manufacturing solar sector products, including ingots and wafers, since 2004. Photo: Company

And the firm began the new year on an upbeat note, recently inking a three-year wafer supply deal to supply Mission Solar Energy LLC with 500 MW of 156mm×156mm N-type mono crystalline silicon wafers for use in solar cells from June 2014 to July 2017.

Mr Chau added that Comtec's ability to manufacture more advanced and highly-efficient products would further differentiate it from its rivals and raise the barrier to entry for the industry.

In addition to focusing on higher-margin output, Comtec was continuing its cost reduction strategy.

"We have achieved continuous cost savings from improvements in technology, manufacturing processes and higher conversion efficiency of wafers.

"Cost competitiveness driven by technical advancement will be crucial to the development of the solar industry."

But despite China being one of the leading markets for solar product demand, that didn't mean Comtec was not open to production bases elsewhere, if it made sound financial sense.

"We are planning to expand production capacity in Malaysia, with 300 MW targeted, which will lower production costs and increase our scale of operations."

See also:

COMTEC SOLAR, YUEYUN TRANSPORTATION, MING FAI: Latest Happenings.....