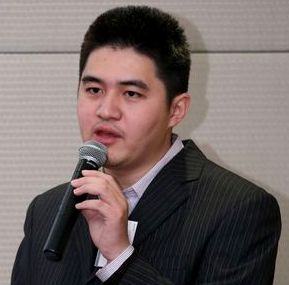 Toread Secretary of Securities Affairs Mr. Tao Xu. Aries Consulting file photoBEIJING TOREAD expects 40% full-year profit jump

Beijing Toread Outdoor Products Co Ltd (SZA: 300005) expects its 2013 full-year revenue and net profit to increase 35% and 40%, respectively, to 1.5 billion yuan and 238 million yuan, financial media cited Toread's Secretary of Securities Affairs Mr. Tao Xu as saying.

Beijing Toread Outdoor Products' performance at present basically meets previously announced annual estimates.
In the January-September period, it posted operating revenue of 833 million yuan and net profit of 142 million yuan, growing 33.4% and 74.2%, respectively.

Beijing Toread has been seeing sales buoyed by China's ongoing urbanization, an aggressive marketing campaign and rising enthusiam for outdoor activities by a growing number of Chinese.



Beijing Toread specializes in the development and sale of outdoor products including tents, hiking boots, all-weather jackets and protective gear. Its business model is based on a combination of outsourced manufacturing, franchising, and directly managed distribution. Its self-owned brand is 'Toread'. At end-2012, it operated 1,395 stores, including 159 directly managed stores and 1,236 franchised stores.


---

Comtec's Q3 net loss was mainly due to warrant issues.COMTEC SOLAR swings to Q3 loss

Comtec Solar Systems Group Ltd (HK: 712) swung to a third quarter unaudited net loss of 7.64 million yuan from a net profit of 14.82 million a year earlier, mainly due to non-cash accounting losses on fair value changes of new warrants issued on March 14, 2012 of approximately 10.3 million yuan.

Excluding the said warrants factor, adjusted third quarter earnings stood at 2.67 million yuan.

For the July-September period, Comtec's turnover fell 22% year-on-year to 243 million yuan.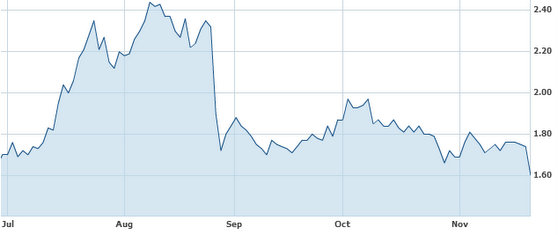 Comtec's recent Hong Kong share performance. Source: Yahoo Finance

The gross profit margin stood at 7.1%.

"During the period, industry consolidation continued.

"However, the company still achieved profitable operations and a reasonable profit margin under the challenging market environment," said Comtec Solar Chairman Mr. John Zhang.



Comtec recently 1.66 hkdHe added that the board considered such preliminary results mainly attributable to Comtec's competitive advantage in technology, costs and quality and a shift of focus to its premium ''Super Mono Wafers'' products which have much more stringent requirements on production technology and higher entry barriers.

The premium products have generated strong and increasing purchase orders, with wafer shipments of approximately 120.3MW in the third quarter.

Mr. Zhang added that Comtec exercised effective controls on its production costs during the period.

"The company prudently managed its financial positions," he said.

As at September 30, 2013, Comtec was in a net cash position of approximately 40.42 million yuan which included cash and cash equivalents, note receivables endorsed by two banks, bonds, other financial assets of approximately 502 million yuan, short-term bank loans of approximately 447.5 million yuan and long-term bank loans of approximately 14.0 million yuan.


---

See also:

BEIJING TOREAD: Outdoor Products Play Eyeing Higher Peaks

COMTEC SOLAR Sees Sunnier Prospects With Near Break-Even Half