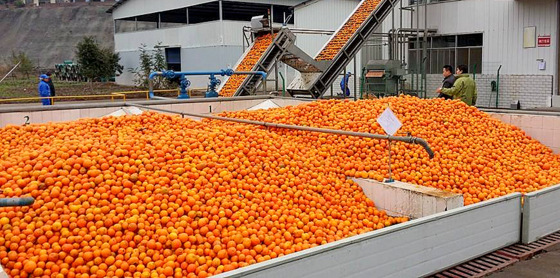 Tianyi Group's concentrated orange juice processing facilities are sited in China's three major citrus plantation areas (Chongqing, Fujian, and Hunan). Photo: Aries Consulting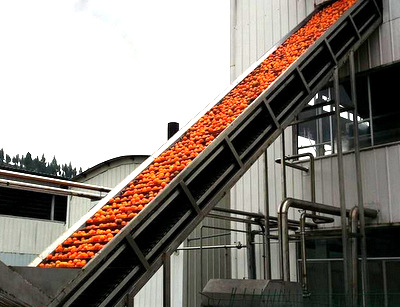 Tianyi Group's advanced equipment are imported from the US, Switzerland, Italy and Germany.
Photo: Aries ConsultingCHINA TIANYI Holdings (HK: 756), the country's top frozen concentrated orange juice (FCOJ) play with a 40% domestic market share, expects its major orange grove investments to pay off on fast rising demand for the beverage in the PRC, management told investors.

"Demand among Chinese for orange juice continues to rise, with orange juice concentrate seeing the biggest increases," said China Tianyi Chairman Mr. Sin Ke.

He said that between the years 2003 to 2012, demand for FCOJ surged 194% in China while that for pure orange juice also jumped 147%, and Tianyi was well situated – cultivation wise – to meet market needs.

"Our five abundant-yield, highly-efficient production facilities are strategically based in three of Mainland China's established orange-growing regions of Chongqing, Hunan and Fujian," he told investors on January 10 in Shenzhen at the Aries Consulting-organized "3rd Scaling New Heights – Asia Investment Forum 2014."

The facilities are equipped with advanced equipment imported from the US, Switzerland, Italy and Germany, he said.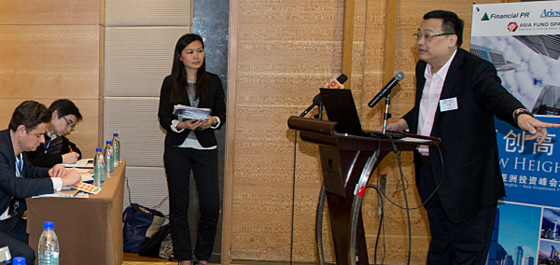 China Tianyi Chairman Mr. Sin Ke explains the beverage firm's growth strategy to investors in Shenzhen. Photo: Aries Consulting

Despite the seemingly straightforward nature of processing oranges into juice and juice concentrate, the technological requirements behind the business were always moving forward, thus providing a prohibitive barrier to entry for would-be newcomers and competitors to Tianyi.

But the industry also required a long-term commitment to be successful given the unpredictability of Mother Nature.

Newly planted orange trees require three to five years to bear fruit of commercially viable quantities and 15-20 years to achieve peak production levels.

That means orange grove operations -- like cocoa and coffee -- require a long-term development period and extensive land and labor resources.

Tree plantings, number of fruit-bearing trees, age of trees, per tree yield, fruit size, droppage rates, juice yield per orange and tree loss due to weather or disease all help determine downstream prices and the profitability of the company.

Therefore, Tianyi exercised extreme due diligence when choosing the location and productivity of its orange cultivation assets.

"We currently have invested a total of 630 million yuan in our Chongqing new orange grove, with the figure already surpassing two-thirds of our total investment in the region.

"And we have an existing 55,000 mu of orange plantations in planned regions in Chongqing," Mr. Sin added.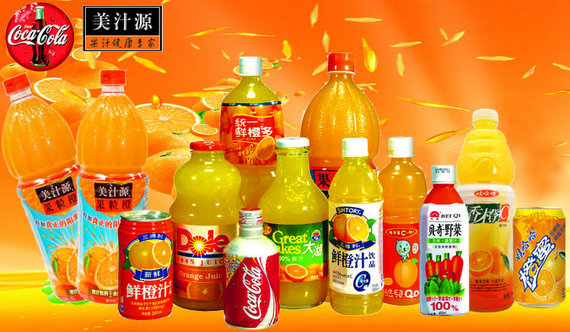 Tianyi supplies to a number of well-recognised clients including Coca-Cola in China, Wahaha and Japan-based Suntory. Photo: Company


Tianyi is a very popular supply partner to international players looking to quench the collective thirst of China.

The firm has been supplying raw materials to large beverage product manufacturers including Coca-Cola in China, Japan-based Suntory and Wahaha in recent years.

It also exports its products to the UK and across Asia.

In 2012, China consumed just over 100,000 metric tonnes of orange juice, compared to nearly 800,000 metric tonnes in the US.

"There is tremendous room for growth in China's orange juice market," Mr. Sin said.

Over the next few years, he said Tianyi will invest considerable resources in expanding its fruit cultivation base and developing overseas production bases in order to meet demand for concentrated orange juice and related products from China and the Asian region.

"We aim to expand and consolidate our businesses and will continue to establish 'Summi' (Tianyi's downstream brand) as a household brand name for concentrated fruit juice in Asia, and strengthen our core competitiveness."

Technologically Savvy Citrus Play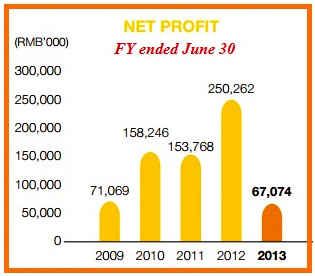 Tianyi's net profit fell in FY2013 owing to a drop in its selling prices after futures of international frozen concentrated orange juice dropped and there was news of "potential contamination of the pesticide carbendazim in orange juice imported from Brazil," said Tianyi in its annual report.On the technological side, Tianyi is an industry leader in the PRC.

"We have nearly 20 years of experience in handling the production demands of orange juice concentrate which is closely based on our R&D efforts. This allows us to possess processing equipment that delivers processed orange juice of superior quality.

"And we exercise a highly-effective integrated operational model which helps us ensure uniformity of quality and effective management up and down the production stream."

FCOJ itself has only been around for a little over half a century as an agricultural commodity.

The traditional model for production and consumption of bottled orange juice was akin to that for fresh milk -- locally made, locally drank.

However, following the invention of FCOJ in the US state of Florida shortly after World War Two, consumers turned to FCOJ for reasons of convenience and taste.

Since then the global FCOJ industry has enjoyed tremendous expansion thanks to technological improvements in storage, packaging and bulk transport.


See also:

Juiced Up: CHINA TIANYI Crushing Peers In PRC Orange Juice Market