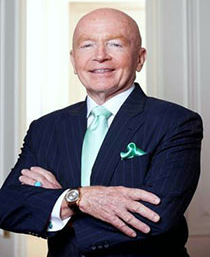 Dr. Mark Mobius heads Templeton Emerging Markets Group.
Photo: TempletonTEMPLETON STRATEGIC Emerging Markets Fund will invest over 116 million hkd into China Tianyi by subscribing for 103,888,000 new shares for a 7.77% stake in the company's enlarged share capital.

Announcing this on February 24, China Tianyi Holdings Ltd (HK: 756) said that the investment is targeted to be completed within 20 business days.
The subscription price of 1.12 hkd represents:

(i) a discount of 8.20% to the closing price of 1.22 hkd per share as quoted on the HK Stock Exchange on 21 February 2014; and
(ii) a discount of 6.67% to the average closing price of 1.20 hkd per share as quoted on the stock exchange for the last five trading days up to and including 20 February 2014.

A nominee from Templeton will join Tianyi's Board as a non-executive director once the deal is completed.

The entry of Templeton as a strategic investor will allow Tianyi to leverage upon Templeton's global knowledge and expertise in business expansion and corporate governance, said Tianyi in its announcement.

The net proceeds from the subscription will be used by Tianyi for capital expenditure and working capital, and other general business purposes.

Tianyi's Directors consider that the subscription agreement represents an opportunity for the company to broaden its capital base and shareholder base.

The subscription is conditional upon the stock exchange granting the listing of, and permission to deal in, the subscription shares.


The Subscriber is a fund formed to make strategic investments throughout emerging markets. The Subscriber is managed by Templeton Asset Management Ltd's Emerging Markets Group, which has more than 50 investment professionals based in 18 offices located throughout emerging market countries. Templeton Emerging Markets Group is headed by Dr. Mark Mobius, who has over 40 years of emerging markets investment experience. The group managed over US$47 billion as of December 31, 2013.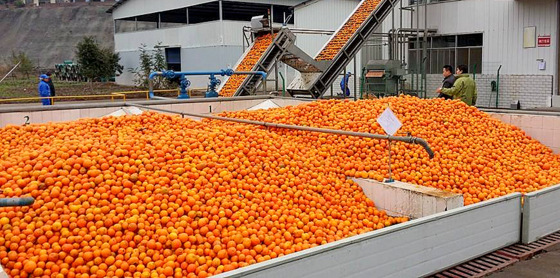 Tonnes of oranges are transported to China Tianyi's processing plant in Wanzhou, Chongqing. File photo
---

CHINA TIANYI Interim Bottom Line Rises 12.6%

China Tianyi Holdings Ltd's (HK: 756)

revenue for the July-Dec 2013 period (1HFY14)

jumped 18.4% year-on-year to over 279 million yuan, leading to a 12.6% bottom line increase to over 69 million.

The processor and seller of orange juice and its related products, including fresh oranges and orange peels, benefitted from a stronger business environment in its home market.

"China's domestic consumer market has regained upward momentum in 2013, and along with the gradual implementation of the Twelfth Five-Year Plan, the determination of the PRC government to accelerate urbanization has created huge market demand.

"The rise in per capita income resulted in a higher willingness of Chinese people to increase their spending in pursuit of better living standards, giving rise to profitable business opportunities in the domestic beverage market," said China Tianyi Chairman Mr. Sin Ke.

Tianyi boasts a total of three production plants strategically located in China's major citrus growing areas (Chongqing, Fujian and Hunan), and the company adopts an integrated business model as one of the few concentrated orange juice processors operating its own orange farms.

July-Dec 2013 sales derived from 3 segments:

1) Orange juice products, including frozen concentrated orange juice (FCOJ), orange juice pulp and orange fibre: Sales increased from 150.6 million yuan a year earlier to 160.0 million.



Sales of FCOJ increased 35.3% year-on-year to 129.5 million yuan.





2) Fresh oranges: There was an increase in the average selling price and the sales quantities of fresh oranges in the July-December period.





Sales increased by 20.9% year-on-year to 101.4 million yuan.



3) Other products including orange residue, orange baking fillings and OEM of grapefruit juice: Sales amounted to RMB17.9 million.

Tianyi's gross profit increased 15.6% year-on-year to 91.3 million yuan, while the gross profit margin slipped 0.8 percentage point to 32.7%.

The Board did not declare an interim dividend though it did so for 1HFY13 (HK$1.5 cents a share).


More information can be found in the company's results announcement here.



See also:



CHINA TIANYI Sees Sales Of Frozen Orange Juice Heating Up