CENTURION CORPORATION and Lian Beng Group Ltd said they have been selected to develop a workers accommodation and training centre in Jalan Papan, Singapore, with convenient access to Jurong Island.

The proposed development will be held through a 51-49% joint venture between Centurion and Lian Beng, respectively.

This marks the second collaboration between the two companies on workers accommodation development. The first was the Westlite Mandai dormitory which opened in April this year.

In strategic partnership with ASPRI Dormitory Pte. Ltd., the Centurion-Lian Beng JV will design, build and operate a 7,900-bed purpose built workers accommodation in Jalan Papan to cater to workers from the process industry.

The integrated development, which is expected to be strongly supported by Association of Process Industry (ASPRI) members, will also house a 3,000 sqm centre providing training courses for workers from the process industry who are also residents of the facility.


The process industry encompasses plants involved in the manufacturing of petroleum, petrochemicals, specialty chemicals and pharmaceutical products, and companies providing process construction and maintenance works to the plants.

The development with extensive recreational facilities and amenities will sit on approximately 1.5 hectares of land, with a lease tenure of 23 years. It is scheduled to be completed by mid-2016 and has easy access to Jurong Island where most of its workers are expected to commute to for work.

The project comes on the back of Singapore's fast growing chemical industry which saw an annual output of over S$102 billion in 2012, or about 34% of Singapore's total manufacturing output.
Against this backdrop, the Centurion-Lian Beng JV remains positive on the long-term workers accommodation business in Singapore. Presently, approximately 200,000 blue collar foreign workers are living in a mix of non-purpose built accommodation types including factory converted dormitories, on-site quarters on construction sites, shop-houses, and residential homes.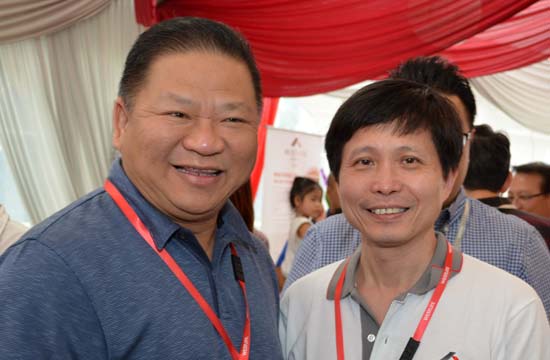 Ong Pang_Aik (executive chairman of Lian Beng Group) and Kong Chee Min (CEO of Centurion Corp) seen at the opening of Westlite Mandai dormitory in April 2014. NextInsight file photo.» Mr Kong Chee Min (江志明), CEO of Centurion Corporation Limited, said, "We believe that our Jalan Papan development is well-positioned to capture the future growth in the process industry. We are confident that our track record and capabilities stand out from other dormitory operators through our expertise in providing quality facilities and services, and ensuring workers are comfortable and well looked after. We look forward to a fruitful partnership with ASPRI to support the growth of the process industry in Singapore."

» Mr Ong Pang Aik (王邦益), Lian Beng's Executive Chairman, said, "Both Centurion and Lian Beng share a common vision to develop workers accommodation with comprehensive facilities to offer better living conditions for foreign workers in Singapore. We are excited to embark on our second joint venture with Centurion and look forward to the development and completion of this workers accommodation. This project is expected to contribute to Lian Beng's long-term recurring income."
Mr Charles Quek (郭锦清), President of ASPRI, added, "We are thankful to our Government and the Process Construction and Maintenance Management Committee ("PCMMC") that ASPRI has been given the opportunity to build a dedicated dormitory for the Process Construction and Maintenance ("PCM") industry. With this strategic partnership and the future growth of the PCM industry, I am confident that it will be a success. This is particularly so since with ASPRI's training facility housed within the dormitory, the industry workforce is geared to become more skilful and productive through comprehensive, customised training programmes. I look forward to a strong partnership to deliver the project on time."