This article was recently published on www.nracapital.com and is republished with permission.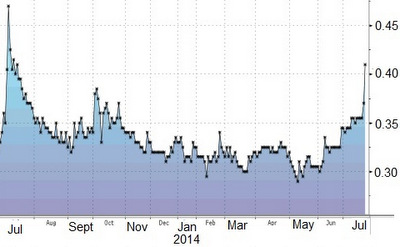 Chart: Bloomberg. The chart shows that Innotek shares have risen about 30% since late may 2014 but only started rising sharply last week.

Some corporate action is possible because:
a) in May 2014 - its Managing Director Yong Kok Hoon resigned
b) in July 2014 it sold its 15mn Sebana Reits at S$1.05
When the shares started to rise last week -Innotek was queried by the SGX.

Innotek's first response was that it was not aware of any reason for the price movement. It subsequently announced that Gazelle Capital, one of its substantial shareholders was in discussions.
Looking at its 2013 annual report - the shareholder numbers are as follows:
a) Chandaria Trust owns 37.5%
b) Gazelle Capital owns 5.56%
From this and the Gazelle announcement, my view is that any corporate development involving Innotek must involve the Chandaria's.

Let's wait and see but looking at the share price movement since May and the corporate developments listed above - it appears likely that something is brewing.

With its NAV at S$0.69 as at the end of Q1-2014.......it's worth waiting to see what will happen.

Recent story: Kevin Scully: Adding SERIAL SYSTEM to my yield portfolio