Stamford Tyres' board of directors and VIP guests beat on drums for a rousing start to the open house.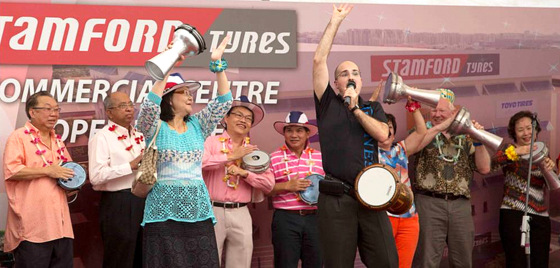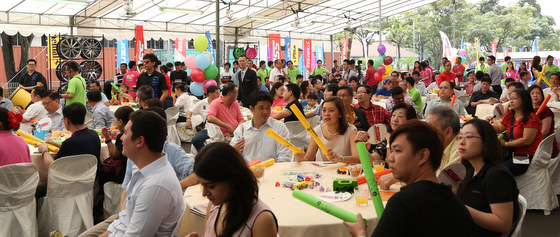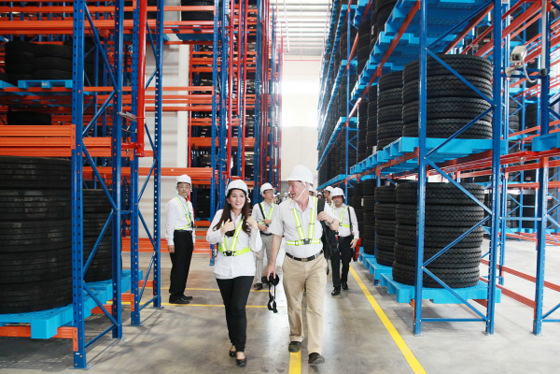 The new 4-storey warehouse, which cost S$25m to construct, can store 600,000 tyres. It is probably the largest tyre warehouse in Southeast Asia operated by a non-tyre manufacturer.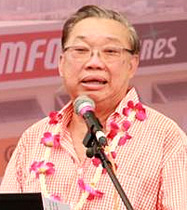 Wee Kok Wah, President and CEO of Stamford Tyres.The following is Mr Wee Kok Wah's speech at the open house of Stamford Tyres' new commercial centre on Sunday, 27 April 2014. Photos courtesy of Stamford Tyres.

Dear friends, I'm so happy to see so many supporters here. Thank you for spending your Sunday morning with us.
Recently, there has been much talk in Singapore about the pioneer generation. Stamford Tyres is truly a pioneer company.
My father, Wee Boon Kwee, started Stamford Tyres in the 1930s as a petrol station and tyre shop in Stamford Road. The company moved to Seah Street and started a backyard tyre retreading plant.

When Singapore gained independence and there was a push for industrialisation, we moved to a modern factory with EDB's (Economic Development Board) help in the 1960s.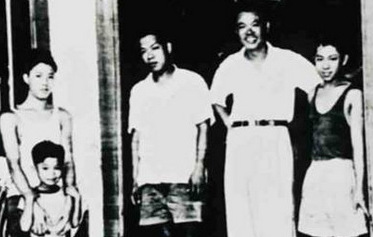 Mr Wee Kok Wah (left) as a boy with his father Wee Boon Kwee (second from right) at the Seah Street shop.It was opened by Singapore's then Finance Minister Dr Goh Keng Swee. It was a family business – my mother Ong Chwee Sien gave my father the seed money of $800 to start the business.

Many family members worked in the company then. I would like to specially mention my sister, Wee Beng Choo, who was a great help to my father in the early years in Kallang.

Her son, John, is our head of retail operations.
Then in the 1980s, we expanded to our present Jurong premises – this time with JTC's assistance.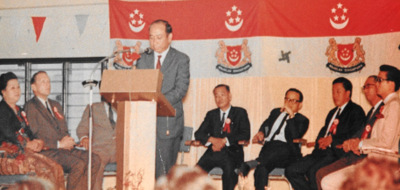 Dr Goh Keng Swee officiating at the opening of Stamford Tyres' retread plant and office in Kallang in the 1960s.Today, Stamford Tyres operates in 13 countries employing more than 1,200 people. This includes our aluminium wheel factory (SSW) in Thailand which complements our tyre distribution business. Our focus has not changed over the years – always tyres – all tyres – passengers, commercial and OTR (off the road).
Today, we are showing off our new commercial centre – with a total floor area of 22,600 sqm warehousing space for our commercial tyres plus a 6-bay truck servicing centre.

Also as support for the commercial fleet business, we have a brand new truck tyre retreading plant.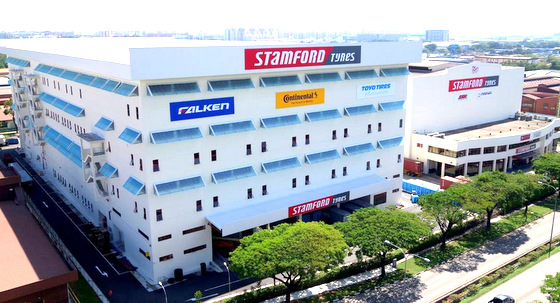 New warehouse is on the left of picture while Stamford Tyre's HQ is on the right, in Lok Yang Way.
Commercial tyres have always been an important part of our business – it has grown to include mining and construction equipment tyres. We have a giant tyre retreading plant in Timika, Indonesia and we sell large off-the-road tyres to mine sites in Indonesia and Africa.
My wife complains that I can spend the whole day talking about the business so today I want to talk more about "relationships". At my age, I tend to be reflective and maybe even sentimental.
What you see is impressive "bricks & mortar" but it was not all "facts & figures," nor "management acumen & strategies" that made us successful.
Much of Stamford Tyres' success over the years is attributed to building strong, inter-dependable and trusting relationships with my staff, directors and business partners.
Staff
Firstly, I would like to thank my colleagues who share my vision, passion and commitment over the years. They are the people who are instrumental in making Stamford Tyres successful.
Last Friday, which was an "auspicious" day, we performed a multi-religion opening ceremony. And we asked our staff in Singapore who has been with us for more than 30 years to participate.
There are 10 of us with over 30 years' service. For your information, we have 17 staff with over 20 years' service and 80 with over 10 years. Stamford's success is due to all their hard work & commitment.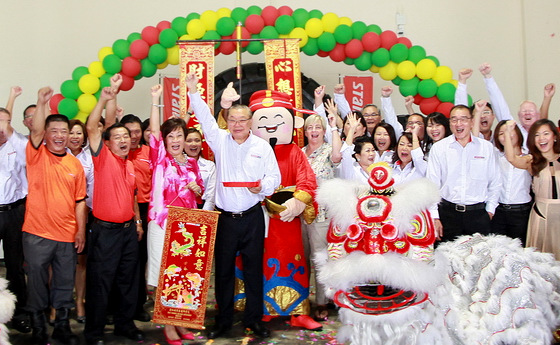 Opening of warehouse: A multi-religious ceremony with participation of long-serving employees.
Directors
I would also like to thank our directors who have been our guiding light. Our former Chairman, Mr Chua Kim Yeow – when he retired from an illustrious career in the civil service and banking in the late 1980s, I persuaded him to be our Chairman to lend stature to our board – which he graciously did and is still here with us as our Senior Advisor.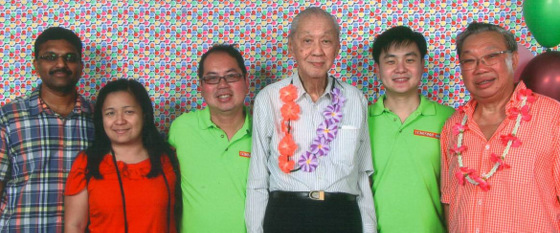 Chua Kim Yeow, Senior Advisor of Stamford Tyres Corp, is 4th from the left with (L-R) Gajendran Vyapuri (Audit Partner of Ernst & Young LLP), Mr and Mrs Conson Tiu Sia (Senior VP of South African operations, Stamford Tyres Corp), Frank Ng (Group Financial Controller of Stamford Tyres Corp) & Wee Kok Wah (President of Stamford Tyres Corp)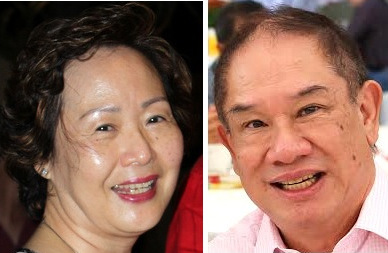 Datin Anne Huang & Timothy Chia (Chairman, Hup Soon Global Corp).And not forgetting our Directors – present and former. Timothy Chia – who believed in me and was our first corporate investor through Prudential Asset Management Asia in the late 1980s.

This set the stage for our public listing in 1991.

Through Tim Chia we met our Malaysian director Datin Anne Huang.

Our present Chairman, Sam Chong Keen, brought the Comfort Group to be a major shareholder in 2003. The timing was perfect.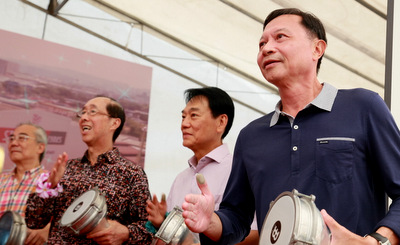 L-R: Stamford Tyres independent directors Leslie Mah, Goh Chee Wee and Tay Puan Siong, and non-executive chairman Sam Chong Keen.We needed more working
capital then - many thanks, Sam.

And also to our Thai Directors, Khun Suraphon and Khun Supredee,who have supported us for more than 20 years.

Khun Nonin is our new Thai Director – but already 4 years on board.
Bruce Stephens -- our South Africa director who also been our legal advisor since the 1990s.
My grateful thanks for your guidance and support.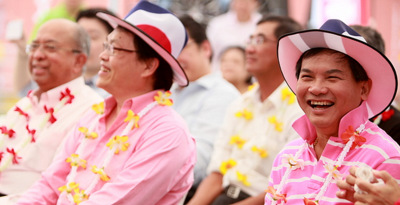 Thai directors of Stamford Tyres (L-R): Nonin Liemphetcharat, Suraphon Rittipongchusit, Supreedee Nimitkul.Very importantly, I would like to thank our business partners. Firstly our major suppliers:


Sumitomo Rubber Industries (SRI)
Falken Brand through SRI – I knocked on their doors in the 1970s. That started the relationship and we are now distributing Falken brand tyres in 23 countries.

They also took a small stake in Stamford in 2012, showing their strong commitment to working long term with us. Small stake but BIG in meaning and significance behind it for us.
SRI is represented today by its Tokyo office executives Tanaka-san - Deputy General Manager (SRI) -- and Furuhama-san – Manager (Asia) Overseas Tire Sales HQ.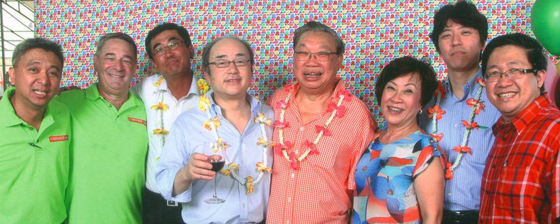 L-R: Cham Soon Kian (Senior VP and CEO of Malaysia, Stamford Tyres Corp), Patrick Berriman (Senior VP of Sales and Marketing, Stamford Tyres Corp), Shinji Suzuki (GM (Southeast Asia) & Director of Sumitomo Rubber Thailand), Yasushi Tanaka, (Deputy GM Overseas Tire Sales HQ of Sumitomo Rubber Industries), Wee Kok Wah (President, Stamford Tyres Corp), Mrs Dawn Wee (Executive VP, Stamford Tyres Corp), Kenichi Furuhama (Manager (Asia) Overseas Tire Sales HQ of Sumitomo Rubber Industires), Colin Choo (GM, Stamford Sport Wheels)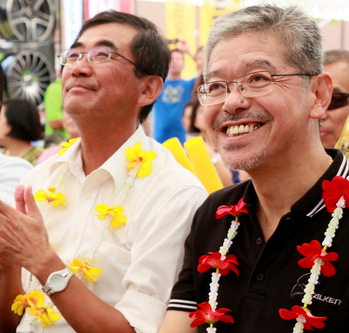 (L-R): Suzuki-san and Nemoto-san.From its Thailand office:

Suzuki-san – General Manager (Southeast Asia) & Director of SRT (Sumitomo Rubber Thailand)
From its Singapore office - Sumitomo Rubber Asia (Tyre) Pte Ltd.
Nemoto-san – Managing Director
Wu-san – Manager, Sales & Marketing
We also distribute SRI's Dunlop brand through our JV company with Tan Chong International Limited in China/ Hong Kong / Vietnam / Cambodia.

Thank you, Joseph Ong – Deputy Chairman & Managing Director of Tan Chong International & also our former director for being a good friend.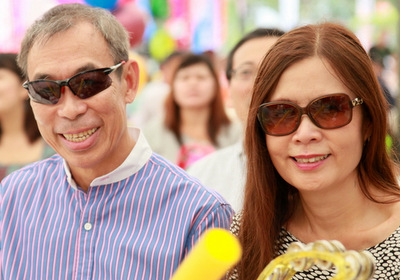 Joseph Ong & wife Lilian.The German Brand Continental, Welcome:
Mr Benoit Henry – Executive Vice President BR Asia Pacific Truck Tire & Chief Executive Officer – Continental Tyre Malaysia Sdn Bhd and his wife Nadine.
Ralf Benack – Head of Sales & Marketing – Business Region Asia Pacific Truck Tires
Winson Khoo – Export Manager – Export Business, Truck Tyres
Choong Kee Seng – Director, Sales Region
Adam Tan – Market Manager – Singapore/Hong Kong/Brunei
The company has been our business partner for over 40 years.



From Continental (L-R): Choong Kee Seng, Adam Tan, Benoit Henry and Ralf Benack.
So hasToyo Tyres through Mitsubishi Corporation, Welcome:
Shoji Hirao – General Manager – Tire Planning Division
Takasago-san – Team Leader of General Merchandise Department, Mitsubishi Japan
Araki-san- Department Head of General Merchandise Department Singapore Branch
Lance – Manager of General Merchandise Singapore Branch.
All the major brands which we distribute today have been our business partners for over 40 years!!
I must also mention our bankers, especially UOB and Maybank who have supported us through thick and thin; and a special mention for Hong Leong Finance who was my main financier during the early days when cash flow was always tight! We still do business with them.



Left pic: Alan Soo (Area Commercial Manager, Commercial Banking Centre Puchong, CIMB KL), Mrs Dawn Wee, Chng Lee Lee (Finance Manager, Stamford Tyres Malaysia), Lim Teck Soon (Head, Central Region, Commercial Banking, CIMB KL).

Right pic: Joyce Ng (Team Head, Corporate Banking, Maybank), Chelsia Tan (Treasury Manager, Stamford Tyres Corp), Jennifer Koh (Relationship Manager, Corporate Banking, Maybank), Sandy Toh (VP, Large Corporates, Commercial Banking, HSBC)
And thank you to our customers / tyre dealers who have supported us all these years. I started selling tyres to your fathers and now your children and soon your grandchildren are managing the shops. My team and I look forward to working closely with you the new generation.
Even my architect Ronnie Goh who designed the corporate office, warehouse and retail centre after the disastrous fire in 1996 which burnt down our warehouse. He built this Commercial Centre too.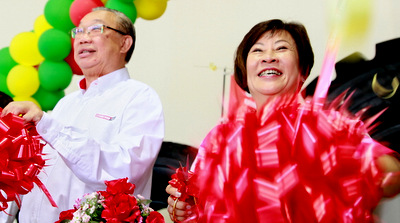 Mrs Dawn Wee, Executive VP of Stamford Tyres and spouse of Mr Wee.Last but definitely not least, my family – Dawn, my wife & business partner for 43 years.

My children -- Li Ann, who sits on our Stamford Tyres main board, Li Lin, who contributes to the creativity of Stamford Tyres, and JY, who works in the systems team.
Thank you for your love, patience and understanding.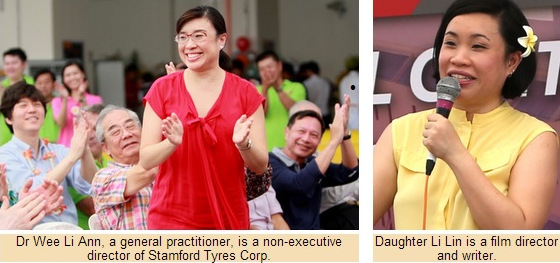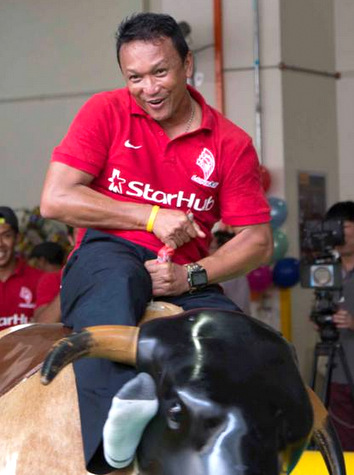 Guest Fandi Ahmad, head coach of Lions XII soccer team, rode the bull, as did many guests at the fun activities at the open house.I have just celebrated my 68th birthday. At this age, many people are retired/taking it easy….

I have a very effective, committed and young team to lead Stamford Tyres. But I am not ready to take a back seat yet!

I am enjoying myself too much, having fun interacting with all the younger team members.

I am still growing the business, taking up new challenges to build a stronger and more profitable Stamford Tyres for the future.

These future plans will be focused on –
· -- providing better services to customers, business partners, stakeholders & shareholders;
-- growing the business with our major suppliers, business associates and bankers; and
· -- improving profits and increasing dividends for our stakeholders, and overall enhancing of value for our shareholders.
All these long term relationships built up through our history have carried us through to the present.

I am confident this will be the solid foundation that will propel us to greater heights.
Please enjoy yourselves! I love my hawker food – so there is a good spread of the local favourites -- satay, roti prata, char kway teow, poh piah etc. Also enjoy the fun events & music. Thank you!


Left pic: Galvin Leong (Relationship Manager, Commercial Banking, CIMB), Conson Sia (SVP of South African operations, Stamford Tyres), Mr Raymond Chan (Team Head, Business Development,CIMB), Ms Gena Tan (Senior Relationship Manager, Commercial Banking, CIMB).

Right pic: How Seen Tiat (First VP, Corporate Banking, KBC Bank), Mrs Dawn Wee, Koh Ban Aik (Senior VP, Head of Corporate Banking, KBC Bank)


Left pic: Conson Sia (SVP of South African operations, Stamford Tyres Corp), Jase Kam (Senior VP, Trade Sales, HSBC), Yau Mei Yoke (Head of Corporate, HSBC).

Right pic: Kelvin Lam (Director, Corporate Sales, Financial Markets, SCB), Wong Er-Kai (Senior Associate, Institutional Banking Group, DBS), Jennifer Koh (Relationship Manager, Corporate Banking, Maybank),


Left pic: Alan Soo (Area Commercial Manager, Commercial Banking Centre Puchong, CIMB KL), Mr Wee Kok Wah (President, Stamford Tyres Corp), Chng Lee Lee (Finance Manager, Stamford Tyres Malaysia), Lim Teck Soon (Head, Central Region, Commercial Banking, CIMB KL)

Right pic: Christopher Chang (Associate Director, Corporate Sales, Financial Markets, SCB), Kelvin Lam (Director, Corporate Sales, Financial Markets,SCB), Frank Ng (Group Financial Controller, Stamford Tyres Corp), Seah Swee Huat (Treasury Consultant, Stamford Tyres Corp)

Previous stories:

MTQ's latest M&A deal, Stamford Tyres is LionsXII Partner