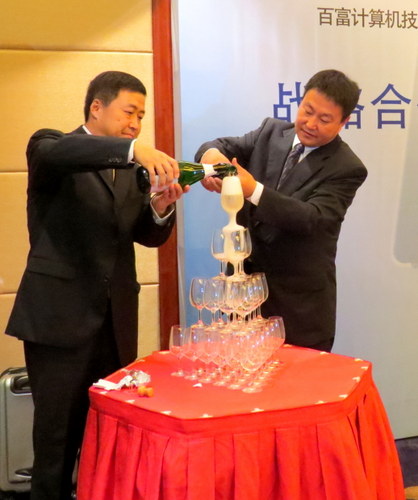 PAX Global CEO Mr. Lu Jie (left) and Hisense Intelligent Commercial System Co Ltd General Manager Mr. Zhang Jiren mark their strategic tieup in Shenzhen.
Photo: Canace Xie, Aries ConsultingPAX GLOBAL Technology Ltd (HK: 327), a leading Electronic Funds Transfer Point of Sale (EFT-POS) terminal solutions provider in China, saw wholly-owned unit PAX Computer Technology (Shenzhen) Co Ltd sign an agreement to form a strategic alliance with Hisense Group.

Hisense – China's leading commercial information systems and integrated solutions provider -- will purchase 100,000 units of the Mobile POS device "D200" from PAX.

The two parties signed the landmark deal at The Kempinski Hotel in the South Chinese city of Shenzhen on Friday, Oct 25.

"We are very diversified on the order front and have orders of all volumes. As far as meeting the new capacity needs for this major order from Hisense, it's just a matter of boosting output from the current few thousand to a few ten thousand. It's no challenge for us.

"We will be working closely with Hisense to conduct new project development, new technology research and looking at ways to expand market channels to provide customers with one-stop service solutions," said PAX Global CEO Mr. Lu Jie.

He added that the two made ideal partners for future market exploration.

"Hisense and PAX are both market leaders in their respective industries and this tieup is a win-win following constant communication and consultation between both parties.

"It will allow both Hisense and PAX to extend into new markets that are more accessible now that we are working in tandem."

Mr. Zhang Jiren, General Manager of Hisense Intelligent Commercial System Co Ltd, said the alliance came about as PAX Global and Hisense recognize the synergies arising from combining their respective expertise in product technologies and marketing strength.

"This creates a powerful alliance around product, technology and marketing," Mr. Zhang added.

The tieup between PAX Global and Hisense Group -- China's leading commercial information systems and integrated solutions provider -- will forge a strong partnership to realize the integration of commercial information flows and the financial payments industry.

This alliance will help the two corporations further explore existing markets and develop new markets, and improve service quality for their customers.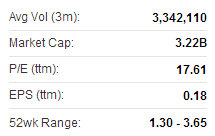 PAX recently 3.02 hkdPAX's D200 is now a Visa Ready and MasterCard approved MPOS terminal, packed with the latest international certifications including Contactless, PCI PTS 3.x, SRED and EMV levels 1 & 2.

Payments initiated by mobile applications on smart devices can be completed on the D200 devices via EMV smart card readers, magnetic stripes or inbuilt contactless systems. Multiple connectivity options include Wi-Fi, Bluetooth and USB cable.

PAX Global Technology Ltd is an electronic funds transfer point-of-sale (EFT-POS) terminal solutions provider. PAX is principally engaged in the development and sale of EFT-POS terminal products and the provision of solution services. PAX was listed on the main board of The Stock Exchange of Hong Kong Limited on 20 December 2010. The Group currently collaborates with over 35 partners worldwide on EFT-POS solutions. PAX Global ranked No.4 globally by shipment volume of EFT-POS terminals. PAX's EFT-POS products are sold to more than 70 countries and regions including the US, Singapore, Taiwan, Japan, South Korea, New Zealand, EMEA and Central Asia.



---

See also:

PAX Wins Major Indian Order