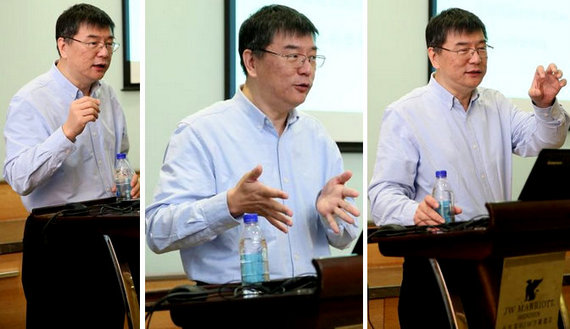 BlueFocus Communication founder, Chairman & CEO Mr. Zhao Wenquan explains to investors in Shenzhen earlier this year the PR firm's growth strategy. Photos: Aries Consulting

BLUEFOCUS COMMUNICATION Group (SZA: 300058) made the just-released Forbes Asia 200 Best Under A Billion list, sporting a market value of three billion usd and sales of 346 million last year.

And Asia's biggest PR firm and the world's No. 19 player is still on an enviable growth trajectory, said founder, Chairman & CEO Mr. Zhao Wenquan.

As icing on the cake, the Shenzhen-listed firm has enjoyed the highest average sales growth – nearly 40% -- over the past few years among the world's leading 20 PR firms, and has retained its leading market position in the fast-growing Asia Pacific PR sector over the past several years.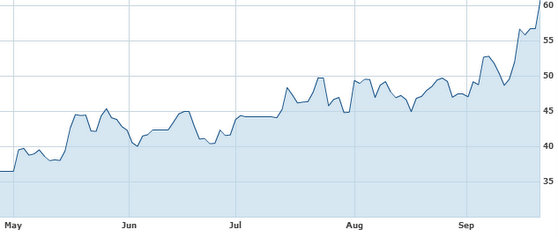 A-shares of BlueFocus have a 52-week range of 16.70-64.10 yuan. Source: Yahoo Finance

The Forbes list is a selection of 200 leading companies from a universe of 15,000 public companies in the Asia Pacific region with annual revenue between US$5 million to US$1 billion.

The qualified firms are measured comparatively based on the following criteria: five-year average return on equity and pretax margin greater than 10%, positive sales and earnings per share growth for both the most recent fiscal one and three-year periods, debt less than 75% of shareholders' equity and a trading history of at least one year.

BlueFocus is one of six investor relations clients of Singapore's Financial PR which have made it into the Forbes list.

The other five are Beijing SJ Environmental Protection and New Material and Beijing Toread Outdoor Products listed on the Shenzhen Stock Exchange, PAX Global Technology listed on the Hong Kong Stock Exchange, and Dukang Distillers and Memstar Technology listed on the Singapore Stock Exchange.

BlueFocus founder Mr. Zhao is a graduate of Peking University, considered by many to be China's most prestigious institution of higher learning.

And he is not letting his alma mater pedigree go to waste, having just last week launched the Beijing-based PR firm's largest nationwide recruiting campaign for the Class of 2014 right on the campus of Peking University.

But his decision to seek new employees to fuel the firm's growth at the university is also a long-term, strategic move.

"We are targeting innovative, digitally-savvy and globally-minded college graduates to become our future employees," he said.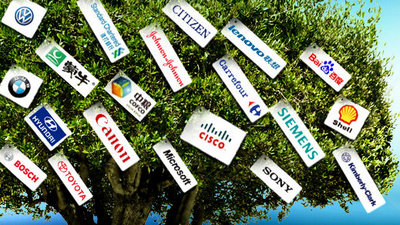 The client list for BlueFocus reads like a Who's Who of blue chips. Photo: BlueFocusLocated in Beijing's Haidian District alongside Zhongguancun (a.k.a. "China's Silicon Valley"), the choice of Peking University as a launching pad for a major hiring initiative is clear, given the increasingly digitalization of PR, investor relations (IR) and communications as a whole.

Mr. Zhao is very bullish on his firm's growth prospects going forward.

"With the high-speed growth of the Chinese economy, the standing and influence of Chinese companies in the world are also growing and the PRC now has its own multinationals and quasi-international brands.

"More and more Chinese companies have made the Fortune 500 list, but unfortunately, we are still far away from world-class players in terms of professional services such as investment banking, accounting, legal services, various intermediary services, as well as advertising, PR, and market research."

And despite a relative lack of domestic rivals, BlueFocus still faced strong global competition, given the sector's relative newcomer status in the PRC.

"Even in the local market, it's still very hard for us to compete with top global brands, let alone participating in global competition as we are simply not at the same level with them in terms of brand influence.

"At Blue Focus, our dream is to build a world-class brand of the Chinese themselves in the PR industry, and we have been making efforts over the past 12 years in order to make this dream come true with nearly 400 BlueFocus employees around the country today still working toward this direction," he said.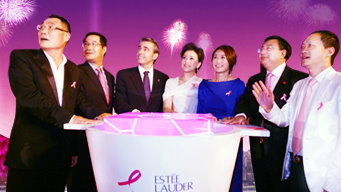 High end consumer brands rely on BlueFocus to cater to their PR needs. Photo: BlueFocusBlueFocus and the Blue Ocean

Since its establishment in 1996, BlueFocus has been a pioneer in its field.

At the time, the concept of investor relations (IR) was still relatively unknown in the region, leaving a big communications gap between listco management and the investors and analysts who both buy and cover their shares.

So BlueFocus had a relatively Blue Ocean market position at the outset, with a very scattered domestic PR scene and few firms crossing over into true IR work.

But with the early success of BlueFocus, several would-be rivals jumped in to get a piece of the expanding pie.

Mr. Zhao had a simple solution – buy up the rivals.

The PR and IR firm, which went public in Shenzhen in 2010, has seen much of its rapid growth over the years come from an aggressive M&A campaign.

This allows BlueFocus to lessen competition, boost market share and enhance brand image all in one fell swoop.

Early this year, BlueFocus made a major foray into the dedicated advertising field with its biggest acquisition to date – a 100% stake in Beijing Bojie Media– for around 1.8 billion yuan.

Bojie has several advertising contracts with various channels on China's state-run CCTV network.

And in April, BlueFocus made a significant foray into the global arena by investing £36.5 million for a 19.8% stake in UK-based PR firm Huntsworth plc.

"We have created one miracle after another in China's PR market, and we are getting closer and closer to fulfilling our dream, slowly but resolutely.

"We strongly believe that in the near future, the name of BlueFocus will make the list of world class PR firms," Mr. Zhao added.


About Mr. Zhao: BlueFocus Communication Group Chairman & CEO Mr. Zhao Wenquan was born in 1970 and graduated from the Department of Political Science and Public Administration, Peking University, with a BA degree. Prior to BlueFocus, he had served as senior manager at Sida Advertising, general manager at Lucun (a local PR consulting firm) and COO at Yabuy.com (an on-line auction company). Mr. Zhao acted as CEO of BlueFocus Public Relations Consulting from 1996 to 1999 and from 2002 to 2007 respectively. He is currently the Chairman and CEO of BlueFocus Communication Group, and also acts as executive member of China International Public Relations Association (CIPRA) and trustee of Communication University of China (CUC). Mr. Zhao has 20-years of experience in public relations practice and management, and he founded BlueFocus in 1996 which is the largest local professional public relations firm in mainland China.

About BlueFocus: BlueFocus PR Consulting Co Ltd provides public relations services by using media and on-site activities in China. Its services include planning specialties, publicity, event planning, media relations, crisis management, government relations, investor relations, training, public affairs management, enterprise image management, and public relations strategy services. The company serves information technology, automobile, finance, healthcare, home appliance, consumer products, telecommunications, government, and non-profit agencies. BlueFocus PR Consulting Co. Ltd. was founded in 1996 and is based in Beijing, China. It has additional offices in Beijing, Shanghai, and Guangzhou in China. BlueFocus PR Consulting Co. Ltd. operates as a subsidiary of BlueFocus Communication Group Co. Ltd.


---

See also:

BLUEFOCUS: Breaks Into Global PR Top 20