Macquarie: COMTEC SOLAR 'Outperform', preferred stock

Macquarie Research said it has an "Outperform" recommendation on Comtec Solar (HK: 712) with a target price of 2.25 hkd (recent share price 2.04).



We reiterate our positive view on China's solar sector with Comtec among our 'preferred stocks'," Macquarie said.

China's State Council – the country's Cabinet -- recently raised the domestic solar industry production target by over 60% to above 35GW by 2015 (10GW pa in 2013-15), from the 12th Five-Year Plan target of above 21GW.



"We believe this is the strongest government support in history, and it also increases bargaining power during the China/EU trade negotiations," the research note said.

The State Council also highlighted continued strict controls over capacity expansion of polysilicon, cells and modules through stricter standards which only allow new capacity with over 20%/18%/12% conversion rates of monocrystalline, multi-crystalline and thin film cells, respectively.

This is very good news for Comtec as its monocrystalline wafers are well above this level, achieving an average conversion rate of approximately 23%.



The State Council is encouraging solar power generation for self-consumption through the construction of 100 distributed solar power demonstrative regions and 1,000 solar power demonstrative towns/villages.

"We are comfortable with 9GW installation forecast in 2013. Given previous policy uncertainties, we estimate around 2.5GW (~1GW ground mounted solar projects and ~1.5GW out of 3GW approved rooftop projects) have been installed in 1H13.

"We expect a large volume of solar projects to be installed in 2H13 after the likely announcement the new solar subsidy scheme and new project list in the next few weeks," Macquarie added.

Comtec likely to see growing demand for high efficiency products

Currently Comtec only supplies mono-wafers of 23% (N-type) conversion rates to the US/Japan markets.

"We expect Comtec could start to receive a small amount of orders from the domestic market from 2014 with the introduction of tariff-based subsidy schemes which are likely to drive solar operators to focus on returns, given China's focus on high efficiency," the research note said.

Founded in 1999 and tapped into the solar wafer industry in 2004, Comtec Solar is a leading high quality monocrystalline solar ingot and wafer manufacturer in the PRC and one of the pioneer manufacturers in the PRC able to massively produce Super Mono Wafers which achieve an average conversion rate of approximately 23%. With its production bases in Shanghai and Jiangsu, Comtec Solar focuses on the design, development, manufacture and marketing of high-quality solar wafers and has accumulated strong industry experience in the manufacture of semiconductor ingots and wafers. Currently, the Company supplies most of its solar products to the leading solar cell/module manufacturers. Listed on the Main Board of the HKSE on 30 October 2009, the Company is committed to enhancing product quality as well as developing new and innovative solar wafers. As it is well positioned to benefit from the growth of the solar PV industry, the Company aims to broaden its customer base internationally.


---

Yuexiu: Latest on KINGWELL's golden plan

Yuexiu Securities recently met with Kingwell Group (HK: 1195) management in Shenzhen at an Aries Consulting-sponsored investment conference, asking several questions about the former electronics firm's transition to gold mining and processing.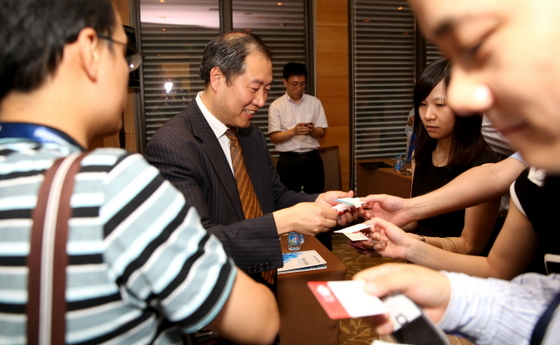 Kingwell Executive Director Mr. Yang Xuejun (center) meets investors in Shenzhen recently. Photo: Aries Consulting

Yuexiu: How is your business transformation progressing?

Kingwell Executive Director Mr. Yang Xuejun: In June 2011, we decided to make the shift from making printed circuit boards (PCBs) to gold mining, processing and sales in order to distance ourselves from the increasingly unprofitable PCB business. Our first move came in June 2012 with a 51% stake purchase a gold sands mining site in Russia's Amur Region. Then in March of this year we acquired a 70%-stake in three mines in Shandong Province and in April we announced our plan to buy a 51% stake in Toronto-listed Brazilian Gold Corp.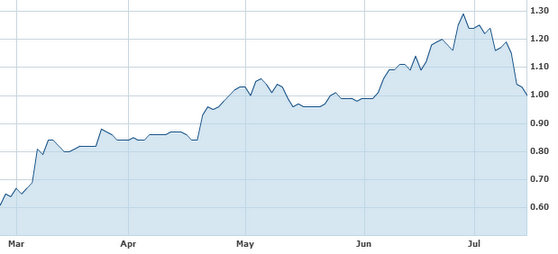 Kingwell's shares surged 8% on July 16.      Source: Yahoo Finance

Our 270,000 square meter property asset in Anlu, Hubei Province contributed some 22 million yuan in profit last year which helps us maintain a positive cash flow, and we plan to maintain this business sector in the future. At the peak of our PCB business, we had four plants in Guangdong and Fujian Provinces. But this industry started to decline in 2008, and we have sold off three factories already and we are looking for buyers for the fourth.

What made you decide to switch to a gold?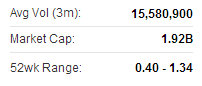 Kingwell recently 1.08 hkdMr. Yang: We were founded in the 1990s when electronics were very strong and we originally listed on Hong Kong's GEM board. PCB board production in particular was very profitable from 2000 to 2008. Eventually, we simply saw the writing on the wall and decided to sell off our loss-making PCB operations and switch to gold mining and processing.

What are Kingwell's expectations for the gold market going forward?

Mr. Yang: We are optimistic on current gold trends. We feel that global gold prices recently hit a yielding point and that prompted us to aggressively move to acquire mining assets. As for our Russian acquisition, that country become a WTO member last year, Hence, foreign firms operating on Russian soil will be afforded domestic company treatment, and the safety and legal rights environment for multinationals will be enhanced.


---

See also:

COMTEC SOLAR Swings To Q1 Net Profit

Gold Rush: KINGWELL 'Buy'