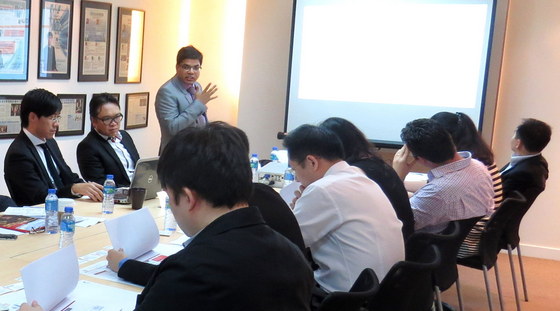 Agritrade Chief Strategy & Investment Officer Mr. Ashok Kumar Sahoo (standing) said cost controls were a key part of the coal firm's recent bottom line success. Photo: Christy Chen, Aries Consulting

INDONESIAN COAL MINING play Agritrade Resources Ltd (HK: 1131) is banking on continued strong demand for greener, cleaner-burning coal from two BRIC countries – China and India – along with an aggressive capacity expansion plan to fuel further growth.

The HK-listco is also upbeat on prospects in its home market of Indonesia, and must be on the right track as its bottom line surged over 41-fold in the year-to-March to nearly 90 million hkd.

Agritrade is very keen on containing costs, a major factor in helping the firm improve its gross margin in FY2013 to 28.0% from 20.4% a year earlier.

"There are eight steps involved in our pit-to-port operations and every segment has its own cost. So it's very important that we manage every part of the process," said Chief Strategy & Investment Officer Mr. Ashok Kumar Sahoo during an investor meeting in Hong Kong sponsored by Aries Consulting.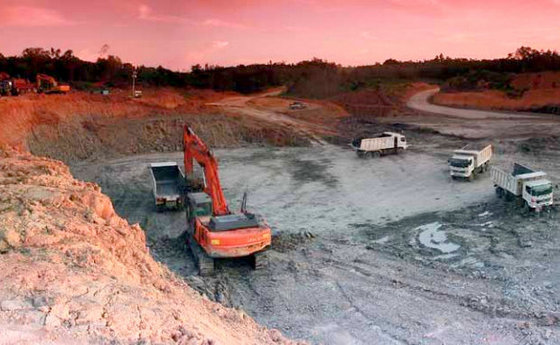 Agritrade focuses on thermal coal extraction in Indonesia via surface mining -- a more cost-effective, efficient way of getting to the commodity.
Photo: Agritrade

In the year ending March 2013, Agritrade's revenue surged 41.2% to 757.2 million hkd.

Mining operations contributed 90% to the top line, up from 79.6% a year earlier, while shipping was responsible for 2.5% of total revenue versus 1.6% in the year-earlier period.

Meanwhile, the firm discontinued its textile operations, with contributions to the top line from this segment shrinking to just 7.5% in FY2013 from 18.8% in FY2012.

Agritrade is the owner and operator of PT Senamas Energindo Mineral (SEM), a 2,000-hectare coal mine in Central Kalimantan, Indonesia.

Produced and sold under its own brand, SEM coal is a sub-bituminous, low-sulphur, low-ash, low-pollutant thermal coal with a calorific value of approximately 3,700 kcal/kg in its raw form.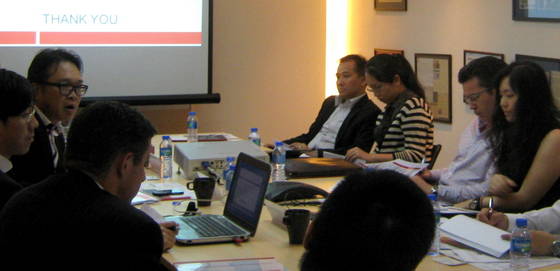 Agritrade CFO Manfred Shiu (second from left, speaking) with investors in Hong Kong. Photo: Andrew Vanburen

Together with its subsidiaries, Agritrade provides integrated services from pit to port, including coal origination, processing and logistics services, and is currently applying the use of coal upgrading technology to process and produce higher-quality, greater-efficiency and cleaner-burning coal.

China has surged over the past decade to become the world's No.2 economy, and its sprawling factories and spreading urban areas are quickly creating the most energy-hungry country on earth.

However, a historical heavy reliance on heavier-polluting brown coal, often called "dirty coal," has left skies over the capital city and several other areas chronically choked with air pollution.

This has created huge market potential for producers of cleaner-burning and more efficient black coal like Agritrade.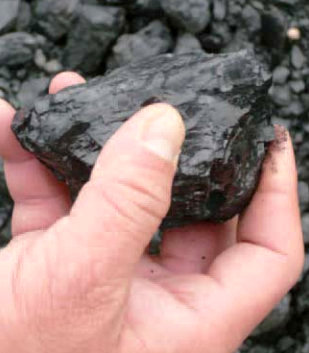 Agritrade's SEM coal has much lower ash and sulphur content than products mined in China and India. Photo: Agritrade"Most of our buyers in Mainland China approach us for blending purposes. They buy our black coal, mix it with their brown coal, and the result is a cleaner, more efficient product," Mr. Ashok added.

Agritrade is a dedicated miner of thermal coal, the commodity that ends up in power plants as feedstock.

Therefore, for the time being at least, it was not targeting the extraction and sale of other types of coal.

"There is coking coal (used in steelmaking) in Indonesia. However, it is deeper and we focus on surface mining which is much more cost effective.

"So we plan to continue to focus on thermal, surface mining coal in Indonesia," he said.

Agritrade's SEM-branded coal has many advantages for thermal power plants under pressure from their own governments or environmental lobby groups to cut down on air pollutants.

SEM coal's ash content of 4-6% is much lower than coal from China or India where it typically exceeds 10-30%.

A low ash content translates into cost savings on ash disposal and maintenance caused by pollution.

Furthermore, a much more unhealthy component of burnt coal – sulphur – is just 0.1-0.3% of SEM's coal, also significantly lower than coal from China or India where content of the chemical typically ranges between 1-8%.

A low sulphur content means less cost for the power plants that process our coal, and greater ease of blending our coal with other types of coal with higher sulphur content, Mr. Ashok added.

Agritrade sells its SEM coal to domestic traders and power generation plants in Indonesia, and also serves major international markets such as China and India.

It is also aggressively expanding its production capacity, with a current production of 2.8 million tons per year while targeting six million tons by 2014.


Stock price

HK$0.33

52-week range

27c – 55 c

PE (ttm)

3.6X

Market cap

HK$193 m

Source: Bloomberg
And given the insatiable thirst for energy in fast-growing economies like China, India and Indonesia, Agritrade is very sanguine on growth potential going forward.

"We can't control the market price for coal. However, we can control our own mining and shipping costs and that is why we place such big importance on cost control management," he said.

The Hong Kong-listed firm's ultimate goal is to be a top-tier international quality coal producer, and is committed to meeting today's market demands and the highest environmental standards in its operations.

Ultimately, Agritrade aims for sustainable solutions for the community, environment and its customers through strategic collaborations with the various stakeholders.

Agritrade's home coal market of Indonesia witnessed a stable rebound in FY2013 after an adjustment in the second quarter of 2012.

In April 2013, the Indonesian Coal Mining Association (APBI) forecast that Indonesia's coal production should hit 400 million tons this year, an increase of 4.4% from 2012.

In further good news for Agritrade, APBI also noted that the Indonesian coal export's trend over the last five years was shifting from bituminous coal with heating content ranged between 5,000 kilocalories per kilogram to 5,500 kcal/kg, to sub-bituminous coal with a heating content ranged between 3,800-4,200 kcal/kg.

"We believe this will further favor our development in the Indonesian sub-bituminous coal segment." Mr. Ashok added.


---

See also:

GEO ENERGY: Growth Strategy To Counter Volatile Growth Coal Prices

Coal Play: GREEN TEAM Banking On Green Push For Profits